G R O U N D Z E R O
Modi is hot on climate change, that's good
What Modi should push for is a plan of the magnitude of the Manhattan Project, but for peaceful purposes. Given that the future of life on earth is at stake, we need to bring together the world's best scientists to come up with affordable clean energy solutions.
Raj Chengappa

In the hoopla over Prime Minister Narendra Modi's visit to Australia that saw him do a repeat of the Madison Square Garden act at the Allphones Arena in Olympic Park, Sydney, and an address in English to a joint sitting of Australian Parliament, his visit to the island nation of Fiji almost went unnoticed.
No one grudges the splash Modi made in Australia — it is in fact a shame that it took 26 long years for another Indian Prime Minister to visit a nation rich in natural resources that could assure us a stable, long-term supply to meet our needs. Having closer ties with Australia and Japan is good strategy for India. Among other things it will make China feel a bit threatened over its quest to be the dominant power of Asia-Pacific.
While Modi wowed Australia, his visit to Fiji also proved fruitful. Fiji, an archipelago of 332 islands in the South-Pacific Ocean, has a troubled history, particularly for its Indian-origin community which accounts for 38 per cent of its total population. In the 1990s when the community began to dominate the political arena, Mahendra Chaudhry became the first Indo-Fijian Prime Minister in 1997. But he was toppled in a coup in 2000 by those who demanded ethnic Fijian domination of the political system. The current Prime Minister, Commodore Frank Bainimarama, first came to power in a coup in 2006 and only this May held a general election where he led his Fiji-first party to a victory that was acknowledged by the international community as legitimate.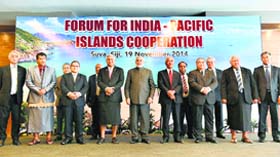 Prime Minister Narendra Modi poses with representatives of the Forum for India -Pacific Islands Cooperation in Fiji. PTI
Modi's visit did much to reassure the Indo-Fijian community of his government's concern for their welfare by engaging with the Fijian government. There was, however, another event in Suva, the Fijian capital, which also did not quite get the attention it deserved. In a first of its kind, Modi held a meeting of leaders of 12 Pacific island nations, including those from Papua New Guinea, Vanuatu Republic, Kiribati, Tonga and Marshalls Islands.
The occasion was a good photo op with the representatives of these nations, many of who wore their traditional attire that resembled the Indian 'lungi'. But more important was the business session with them where Modi outlined his concerns about climate change and how India could collaborate with them to mitigate its impact. Pointing out that India too had a long coastline with over 1,000 islands, Modi set up a Special Adaptation Fund of $1 million to provide technical assistance and training for capacity building for these Pacific islands to help combat climate change.
Even in his meeting with G20 leaders in Australia, just prior to his visit to Fiji, Modi emphasised the need for all countries to cooperate to ensure access to affordable clean energy supply as a primary goal. Modi talked of setting up an ambitious and innovative effort to make solar energy as competitive as conventional energy. In that context he mentioned establishing a global virtual centre for clean energy research and development with adequate public funding.
It is good that Modi is hot on climate change issues and is willing to push hard for development of clean energy. With the recent assessment by the Intergovernmental Panel on Climate Change (IPCC) warning that the problem is only getting worse, it calls for urgent action by all nations to curb their carbon footprint and come up with affordable clean-energy solutions.
While a global centre for clean energy R&D is a good suggestion, what Modi should push for is for a project of the magnitude of the Manhattan Project, but for clean-energy purposes. The Manhattan Project in the 1940s brought the best brains among Western nations together to build the most destructive weapon in the world, the atom bomb. Given that the future of life on earth is at stake with climate change upon us, India should push for a global collaborative effort consisting of the world's best scientists to come up with an affordable clean-energy solution that could save the world. Today if the world has almost eradicated the polio virus, it is because the WHO ensured that the oral polio vaccine was distributed almost free to all countries.
Solar energy offers one of the best solutions. If scientists could work on a global collaborative effort to build a cheap, portable, durable, maintenance-free, multi-purpose solar battery pack that can power five to six home utility devices simultaneously for several hours, much of Asia and Africa's poor could light up their houses with it. Along with technology for energy efficient and luminous lighting fixtures these could drastically reduce dependence on coal-based electricity supply. At G20, Modi talked of a vision in which like the cell-phone revolution, we all could be liberated from the vagaries of electricity grids by having individual solar energy packs to meet our requirements. A peaceful Manhattan-like project could make that vision a reality and Modi should push for it.