Oops, sorry, we've killed you
16 women dying in a sterilisation camp in Chhattisgarh was no isolated incident, 15 women die on an average across the country every month during and after botched-up family planning operations
By Aditi Tandon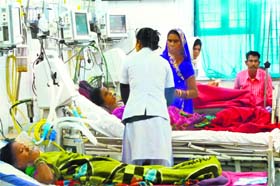 Patients recovering at a Bilaspur hospital after complications following sterilisation operations at a special camp. Sixteen women who underwent sterilisation in the camp died. AFP
Shocking stories of disregard for human life continue to surface from Chhattisgarh's Bilaspur, where 16 women recently lost their lives following a botched-up sterilisation camp at a local hospital.
Those who survived told investigators how they woke up during the procedure to feel unbearable pain and see fallopian tubes coming out of their abdomen. Their shared memory of laparoscopic tubectomy, a common family planning practice in India's seven high focus states with the largest share of population, is of horror, pain and shocking neglect.
None of these women were told by the operating doctor if they were fit to undertake the procedure, though it is mandatory under Government of India manuals to inform acceptors of female sterilisation the status of their health before they agree to a procedure.
But in testimony after testimony from Bilaspur, survivors have spoken of their urine and blood samples being taken but no reports being shared.
All they remember is they were hastily herded towards unclean beds where they lay shoulder to shoulder as someone administered them injections (local anaesthesia). That the sedation was ineffective is clear from the fact that majority of these women woke up in pain screaming for relief while the doctor, now arrested, continued the procedure, finishing 83 tubectomies in five hours.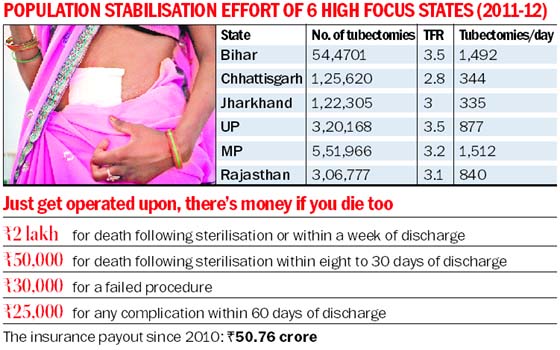 All participants were discharged within minutes of the operation despite the requirement of overnight post-operative care under the Government of India rules. They went off with sachets of medicines later found contaminated with rat poison.
Although the Bilaspur deaths remain by far the darkest chapter in the history of female sterilisations in India, deaths and complications in tubectomy camp settings are routine.
Every month, around 15 women on an average die on account of botched-up sterilisations, a permanent method of birth control which forms 37.3 per cent of India's 48.4 per cent contraception figure.
Records of the Family Planning Division of Ministry of Health reveal that between 2008 and March of 2012, 675 cases of deaths of women post-sterilisation procedures were accounted for.
Families of these victims were legally compensated under the little-known National Family Planning Insurance Scheme the ICICI Lombard Bank runs in collaboration with the Centre. The scheme, effective since November 29, 2005, offers the following packages – Rs 2 lakh for death following sterilisation in the hospital or within a week of discharge; Rs 50,000 for death following sterilisation within eight to 30 days of discharge; Rs 30,000 for a failed procedure; and Rs 25,000 for any complication within 60 days of discharge from the hospital.
By the Health Ministry's admission, payment worth over Rs 50.76 crore was made between 2010-11 and 2013-14 for 363 deaths and 14,901 surgery failures. During this period, 15,264 cases of sterilisation deaths, failures and severe complications were officially recorded and for each case, an average of Rs 33,255 per person was paid.
Needless to say, the maximum burden of complications was reported from the six very high focus states which practice female sterilisations with impunity to meet the national Total Fertility Rate (average number of children per woman) target of 2.1. These states are Bihar, Uttar Pradesh, Madhya Pradesh, Rajasthan, Jharkhand and Chhattisgarh.
Women survivors of Chhattisgarh sterilisations recently said they went for surgeries because they had no other option and wanted to control their families. All of them admitted to having been motivated by Accredited Social Health Activists whom the Centre pays incentives to encourage couples to opt for birth control methods.
A Community Health Centre doctor in the state when asked if targets were prescribed acknowledged the trend, saying, "I personally have a target of around 800 sterilisations a year. One can never achieve more than 60 per cent. Non-achievers are publicly humiliated by government functionaries while achievers are publicly rewarded."
Dr RK Gupta, under whose watch 16 out of 83 acceptors of tubectomies died in Bilaspur, was last year rewarded by Chhattisgarh Chief Minister Raman Singh for completing 50,000 tubectomies.
Major Violations
Feb 2012
Sterilisation camp at Kaparfora govt middle school, Araria, Bihar: 53 women operated in two hours; pregnant Dalit miscarries; many suffer physical harm
2010
Bundi camp, Rajasthan: 88 pc women not told of permanence of procedure; only 3 of 11 mandated pre-operative tests done; mother of three dies
Aug 2013
Odisha: Researchers document cases where women in labour are forced to agree to tubal ligation after they deliver the second child at a health facility
Nov 2013
Shanti Mahanand dies of excessive bleeding after sterilisation at Bargarh, Odisha. Vein cut in haste to operate
2011-12
In UP, 79 women aged 15 to 19 sterilised against GOI manuals which allow procedures only on women above 25 years.