Loss of faith, and a lot of face
The long arm of law was rather strained in catching up with 'godman' Rampal. Charged with many crimes, the defiant preacher is now at the mercy of the very judiciary he was contemptuous of.
By Sushil Manav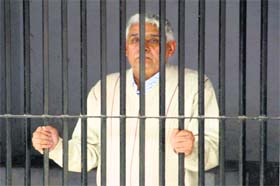 Rampal in lockup.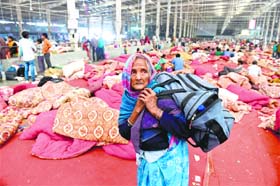 Call of faith: An elderly disciple at the ashram in Barwala, Hisar. Rampal is reported to have about 25 lakh followers across India. AFP
Not many in the country had heard about Rampal, a junior engineer-turned-preacher, till the police carried out a massive operation at his Satlok Ashram, where he had holed himself up using innocent women and children as human shields.
Rampal and his ashram at Barwala, Haryana, hogged the headlines after he defied non-bailable warrants by the Punjab and Haryana High Court twice, forcing an infuriated court to ask the Haryana Police to bring him out of his hideout.
With a huge following, Rampal began to consider himself above the law of the land and even formed an army of commandos. He had many facets — an incarnation of God for his followers, a hated personality for those living near his ashram, and a fugitive in the eyes of the law.
The making of 'godman'
Known as Jagatguru Rampal ji Maharaj, the 63-year-old "godman" worked in the Irrigation Department in Haryana till 2000.
Born on September 8, 1951, in Sonepat, he was removed from his job at the age of 48 for "carelessness". By then, however, his life had taken a "spiritual" turn and till recently, his disciples considered him the incarnation of the poet Kabir.
Rampal established his first ashram in Rohtak district's Karontha village in 1999. Later, he set up several ashrams across the state, including the one at Barwala. However, Arya Samajis near his Karontha ashram took him on after he allegedly made derogatory remarks against Swami Dayanand Saraswati and his book "Satyarth Prakash".
In 2006, the rift between the two groups culminated in a clash that claimed one life. He was arrested after charges of murder and attempt to murder were slapped against him. Rampal, who accused former Chief Minister Bhupinder Singh Hooda of hostility, was released on bail in 2008, after which he shifted base to Barwala.
Acting on his application, the high court and later the Supreme Court ordered the Rohtak administration to hand over Karontha ashram to Rampal. However, in a clash that ensued between Arya Samajis and his followers on May 12, 2013, two persons were killed and around 100 injured.
In July this year, Rampal and his followers went on the rampage in a Hisar court, where he was to appear for a trial. It was during the hearing of a contempt of court case against him that Rampal evaded summons and non-bailable warrants, inviting the wrath of the high court. He is said to have over 25 lakh followers in Haryana, UP, Rajasthan, Madhya Pradesh, Himachal Pradesh, Punjab and Delhi.
Running down judiciary
In two books published by the ashram, Rampal demeans the judiciary and some judges of the state. Before the police laid siege to the ashram this month, the books "Corrupt Judges on Wrong Path" and "Nyayalya ki Girti Garima, Desh ka Durbhagya" were distributed by his followers among those passing the ashram.
The 122-page "Nyayalaya ki Girti Garima" is a memorandum to the Prime Minster and bears the names and signatures of 1,000 persons. It reproduces news reports regarding the Supreme Court's observation on corruption in judiciary.
"Corrupt Judges on Wrong Path" is a memorandum to the President of India, in which the ashram interprets judgments in its cases. The book uses derogative and contemptuous language for the judiciary.
His followers believe it. "Who is bigger, law or God? Law is for people like us, but Rampal is an incarnation of God. No law applies to him," says Ram Avtar, a disciple.