Pass percentage for main judicial exams reduced by 5%
Mandi, November 22
The High Court has reduced the pass percentage for the HP Judicial Service (HPJS) main examinations. In a notification issued recently, the HC has reduced the pass percentage of marks in the main examination by 5 per cent. The court said: "No candidate shall be credited with any marks in any paper in main examination unless he obtains at least 40 per cent marks in that paper, except Hindi language paper, in which candidate should obtain 33 per cent marks."
Mandi police launches Operation Mukti
Mandi, November 22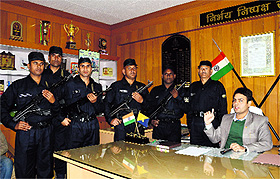 The Mandi police launched Operation Mukti, a drive to make the district free from drugs and drug suppliers, here today. Talking to mediapersons, Superintendent of Police (SP) Mohit Chawla said it was a citizen-centric initiative which would involve all segments of society in a fight against drugs, contrabands and other illicit products.

SP Mohit Chawla introduces special commandos for Operation Mukti in Mandi on Saturday. Photo: Jai Kumar

Kullu tourism to get impetus, says Industries Minister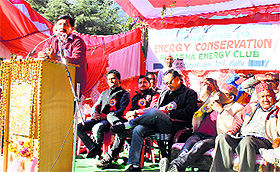 Kullu, November 22
New investors will be encouraged to set up their ventures in the state and a major industrial hub will be developed at Shamshi in Kullu.






Industries Minister Mukesh Agnihotri addresses a gathering during the centenary celebrations of the middle school at Jari in Kullu on Saturday

Special paid holiday announced
Shimla, November 22
The Himachal Government has declared a special paid holiday on November 25 and December 20, whichever is a poll day, in border areas of Lahaul-Spiti and Chamba districts adjoining Jammu and Kashmir. The holiday, announced on account of the J&K Vidhan Sabha elections, is for those employees who are working in industrial establishments and are registered voters of J&K.
Forest Dept for DC's report on tree felling
Shimla, November 22
The Forest Department has sought an independent report from the Deputy Commissioner, Shimla, to find out the reasons for illegal felling of 477 trees by the owners of a private land adjoining the Tara Devi temple complex near here.
Board examination will improve quality of education: Experts
Shimla, November 22
Educationists and academicians in the state have hailed the reported move of the Union Human Resource Development Ministry to seek suggestions from states and other stakeholders on reintroducing the Class X Board examinations.
Students given tips on career
Nurpur, November 22
The Kangra district police organised a workshop on personality development and career at Noorpur Public School here yesterday. Manoj Joshi, sub-divisional police officer, delivered a lecture to students and motivated them to be punctual and learn human values.
Rs 27-cr benefits given to bank staff: Pathania
Hamirpur, November 22
Kangra Central Cooperative Bank has given benefits worth Rs 27 crore to its employees which had been pending for many years. This was stated by Vice-Chairman of the bank Kuldeep Singh Pathania at a press conference here today.
Health check-up camp for schoolgirls held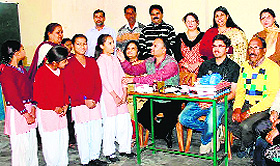 Una, November 22
The women's wing of the District Red Cross Society organised a health check-up camp at Government Senior Secondary School for Girls here today. More than 550 students were screened and given free medicines for various health ailments.



Schoolchildren being examined at a health check-up camp in Una on Saturday. Photo: Rajesh Sharma