four-day cii agro tech underway in chandigarh
Go for organic farming: Experts
Chandigarh, November 23
Experts from the Confederation of Indian Industry (CII) while interacting with farmers at Agro Tech 2014 stated that the use of new-age methods such as organic farming and solar energy in farm operations was the need of the hour.
Akal Takht nominees wrest control of R'sthan gurdwara
Abohar, November 23
A 15-member ad hoc committee constituted by Akal Takht today took control of the historic Gurdwara Buddha Johad in Raisinghnagar segment of Sriganganagar in Rajasthan.
Policemen try to stop Sikhs from heading towards Gurdwara Buddha Johad in Sriganganagar on Sunday; and (right) after removing barricades, Sikhs move towards the gurdwara. Tribune Photos
Akalis back YAD leader booked for dowry death
Goniana, November 23
Senior SAD leaders today expressed support for the family of Youth Akali Dal (YAD) leader Balkar Singh and his family members who have been booked under Section 304-B, which is a non-bailable offence (death of a woman within seven years of marriage).
Defunct posts a drain on state exchequer: Phoolka

Ludhiana, November 23
Aam Aadmi Party leader HS Phoolka today alleged even as grants to universities and colleges were inadequate and shrinking, the SAD-BJP government was spending huge money on defunct political posts.




Aam Aadmi Party leader HS Phoolka addresses a press conference in Ludhiana on Sunday. Photo: Inderjeet verma
Mismatch of weapons in Faridkot gunhouse theft triggers controversy
Faridkot, November 23
Theft in a gunhouse in Kotkapura and recovery of stolen weapons by the police from alleged gangsters in Amritsar and Faridkot has stirred a controversy. There is a mismatch in the weapons recovered by the police and those alleged to have been stolen in the 45 days old case.
Family planning mainly women's job in state
Chandigarh, November 23
As is the trend at the national level, not many men in Punjab have been opting for sterilisation. The task has been mostly left to women, as suggested by data gathered from the state Health Department.
9,017 applications for regularising property
Chandigarh, November 23
The state government today said 9,017 applications had been received to date in response to the new policy for regularisation of illegal colonies and plots. The scheme was announced last month. An official spokesman said the policy was for announced for owners who could not get their property regularised earlier.
Online registration for Attari Retreat soon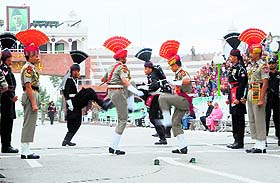 Amritsar, November 23
Following the terror strike at Wagah Border in Pakistan earlier this month, the BSF is now making concerted efforts to introduce the online registration system for the famous Retreat ceremony at the Attari-Wagah Joint Check Post that draws thousands of tourists from across the country daily.


BSF personnel in action during Retreat ceremony at the Attari-Wagah border near Amritsar. A Tribune photograph
Govt signs MoU to boost health sector
New Delhi, November 23
The Punjab government today signed a memorandum of understanding (MoU) with the Health Sector Skill Council, headed by medical expert Dr Naresh Trehan, and the National Skill Development Corporation to beef up infrastructure in the state.
Former panches 'banish' couple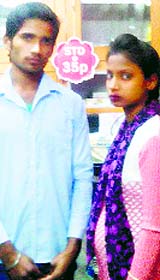 Jalandhar, November 23
Two panches of Panch-Dera village near Phillaur and some former panches have 'banished' a couple who tied the knot against the will of the girl's parents. The 10 panches reportedly signed the 'panchayat verdict' in connivance with the girl's family. The police and the village panchayat learnt about the matter after the girl filed a police complaint against the "panchayat decision."

Chandiram, the village sarpanch, said that Nitish Paswan, 23, and Anjali Rajak,19, belonged to different castes. They lived near the Railway Colony. They got married in an Amritsar court in August this year, despite opposition by Anjali's parents."Anjali's family connived with some former panches to throw the couple and the boy's family out of the village," he said.


Nitish and Anjali of Panch-Dera village who have been 'banned' from entering the village. A Tribune Photo

Summon Sidhu, AISSF to Jathedar
Amritsar, November 23
Former Member of Parliament (MP) from Amritsar Navjot Singh Sidhu has landed himself in yet another controversy. Citing his address at the inaugural function of the Jagannath Rath Yatra in Ludhiana, the All-India Sikh Students' Federation (AISSF) has approached the Akal Takht chief, Giani Gurbachan Singh, alleging that Sidhu had distorted Gurbani.

Bagha gets Guru Ravidass Award
Chandigarh, November 23
Rajesh Bagha, Chairman, Punjab Scheduled Caste Commission, has been chosen for Guru Ravidass Ratan National Award-2014. Bagha will be awarded by former Chief Justice of India, Justice KG Balakrishnan, at a function to be organised by Babu Jagjivan Ram Kala Sanskriti and Sahitya Academy at New Delhi on November 25.

Basmati producers holding back stock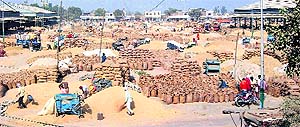 Fazilka, November 23
Fazilka, one of the biggest markets in the state for the 1121 variety of basmati, is attracting big private traders. But farmers have started holding back their produce in anticipation of better prices in days to come.


Heaps of paddy at the Fazilka grain market. A Tribune photo
tarn taran case
Wife of missing eyewitness threatens stir
Tarn Taran, November 23
The local police have failed to trace Jagjit Singh, a key eyewitness in the Tarn Taran assault case, who was reported missing three days ago. His wife Ramandeep Kaur said she feared that he might have been kidnapped. Blaming the state government and the Centre for the family's miserable plight, she threatened to sit on an indefinite dharna in front of the deputy commissioner's office, if the police failed to trace her husband.
Attempt to smuggle black scorpions
Accused walked into honey trap laid by Pak woman: Cops
Chandigarh, November 23
The questioning of Shivnarayan (45) and Arjun (38), arrested for trying to smuggle black scorpions, has revealed that they had visited Ferozepur and Wagah in September too. For Shivnarayan, it was a love story gone horribly wrong. He reportedly met a women on the internet who identified herself as Dr Jaya Mishra from Garden town, Lahore. She claimed she was a divorcee and once lived in Allahabad.
Refund security deposit, say rice millers
Fatehgarh Sahib, November 23
Rice millers in the state have urged the government to direct various procurement agencies to refund custom mill security deposit lying with them for more than four years.
'Rin Utaar Yatra' flagged off from Anandpur Sahib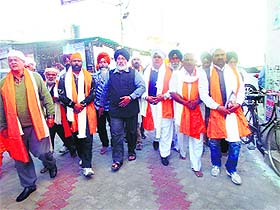 Anandpur Sahib, November 23
"Rin Utaar Yattan Yatra" (a journey aimed at an endeavour to acknowledge the sacrifice of Guru Teg Bahadur) was flagged off by Education Minister Daljeet Singh Cheema here today. The yatra will be concluded at Gurdwara Sis Ganj Sahib at New Delhi.



Education Minister Daljeet Cheema with members of the Punjab Brahmin Sabha on the occasion of beginning of the "Rin Utaar Yatra" in Anandpur Sahib on Sunday. Tribune photograph
Drug rehab centre near Ropar school draws flak
Ropar, November 23
The setting up of a rehabilitation centre for drug addicts adjoining St Carmel School at Katli village is being opposed by the school management. School manager Madhuri Saini said setting up of such a centre near the school was not in the interest of the children.
No scholarship money, colleges to approach Centre
Chandigarh, November 23
Most of the unaided colleges, especially engineering institutes, in the state are in deep trouble as the government has not released the scholarship money for students belonging to other backward classes (OBC).
Women SAD wing to be set up by Dec 7
Hoshiarpur, November 23
The organisation of the women's wing of the SAD at the district level would be complete by the first week of December, said Women Shiromani Akali Dal (WSAD) president Bibi Jagir Kaur. She said the membership forms had reached the units and the drive was on.
39% water samples from govt schools in Sangrur fail safety test
Sangrur, November 23
Out of 146 samples of drinking water collected from government schools in Sangrur district, 57 have failed laboratory tests. These had been collected by the health authorities in the last 10 months (January to October).
Headworks on Gang canal in poor state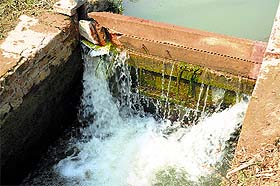 Abohar, November 23
Even as Rs 600 crore has been spent on renovating the Gang (Bikaner) canal in Punjab and Rajasthan during the past few years, farmers have been crying hoarse over insufficient water for irrigation and drinking in Sriganganagar district, known as the "Punjab of Rajasthan".




Water leaks from the Netewala headworks of the Gang canal. A Tribune Photograph
Members of market panels in Sangrur dist nominated
Sangrur, November 23
The Punjab Government today nominated chairman, vice-chairman and other office-bearers of the market committees of Bhawanigarh, Cheema, Malerkotla, Dhuri, Ahmedgarh, Amargarh, Sherpur, Sangrur and Sandaur in Sangrur district.
Heroin worth Rs 25 cr seized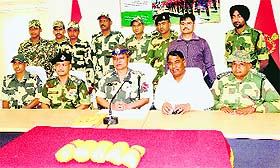 Ferozepur, November 23
Close on the heels on seizure of 22 kg of heroin worth Rs 110 crore earlier this month, the BSF today seized another consignment of heroin worth Rs 25 crore from the Barreke border outpost along the Indo-Pakistan border in this sector.



Border Security Force DIG, RK Thapa, with the seized heroin in Ferozepur on Sunday. Tribune photo
Release BPL pension on time: HC
Chandigarh, November 23
The Punjab and Haryana High Court has directed the State of Punjab to release pension for this year to the people living below poverty line (BPL) within a month of receiving funds from the Union Government.
Transporter held 26 years after killing truck cleaner
Ludhiana, November 23
A 65-year-old transporter from Tarn Taran, who had been evading arrest in a murder case for nearly 26 years was arrested yesterday. The accused, identified as Bhagwant Singh of Govindwal Sahib in Tarn Taran, was wanted in a murder case of 1987. He was arrested by a team of proclaimed offender (PO) staff of the state police.
Love affair claims two lives, 8 booked
Jalandhar, November 23
A resident of Buraj Kandari village near Behram here and his cousin were allegedly murdered by a youth last night. Old enmity is said to be the cause behind the crime.
'Barnala gang' busted, 1 held
Abohar, November 23
The Sriganganagar police on Sunday claimed to have busted the "Barnala gang" with the arrest of Garja Ram (36) of Gandhi Nagar, Barnala. He was allegedly taking an aged woman with him on a motorcycle without registration number on the pretext of filling her monthly pension form. The Barnala gang is reportedly led by Babu Ram of the same town. Earlier, the police had nabbed some women of Dhuri (Barnala)-based car lifters' gang for snatching gold ornaments from women.