M A I N N E W S
Poll factor: Hooda on stone-laying spree
Tribune News Service
Panipat, February 2
With an eye on the upcoming Lok Sabha and Vidhan Sabha elections, Haryana Chief Minister Bhupinder Singh Hooda laid the foundation stones of various projects during his visit to the district on Sunday.
The projects included expansion of the Bhim Sen Sachar Civil Hospital to a 200-bed facility, sewerage treatment plants at Siwah and Jatal, and remodelling of drain No. 1.
The Chief Minister also inaugurated projects, including two railway over-bridges in Sectors 7-8 and 36-38, a traffic park in Sector 7, HUDA's administrative offices, service centres at AGRO Mall and a poly clinic in Sector 25.
All ceremonies were carried out from a single venue - Bhim Sen Sachar Civil Hospital. In his addressing at Sabzi Mandi, Hooda claimed his government had worked on the overall development of the state.
Indian National Lok Dal state president Ashok Arora later said: "Hooda has been laying foundation stones in an attempt to garner votes at the eleventh hour. While most of the earlier projects initiated by this government are yet to be completed, the Chief Minister was laying stones of more projects on a daily basis."
Arora said Hooda would not succeed in misleading the state electorate as they were aware of his plans.
Hooda was supposed to arrive by a helicopter from Delhi but could not do so due to poor visibility. He was forced to travel by road and arrived three hours late at the venue.
Bid to slap CM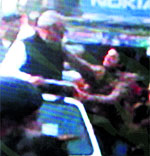 A youth tried to slap Bhupinder Singh Hooda in the face in Panipat on Sunday. Hooda was standing in an open jeep when Kamal Mukhija from Gohana lunged forward and hit him on the left shoulder. Mukhija was taken away in a police vehicle. Panipat SP B Sathish Balan said the youth was under medication for depression. CM's political adviser Prof Virender Singh later said Hooda had forgiven the youth and that no action would be taken against him.


A TV grab of youth trying to slap Hooda