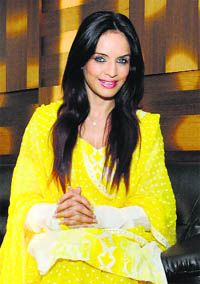 Mind that matters
Canadian politician Ruby Dhalla has many dimensions to her personality and she shines through them all
If you probably meet her without any back up of her credentials, there is no way you could guess that she could be a politician. A leading model or a super model is what would make of her to be, certainly at the first glimpse. Ruby Dhalla can indeed pass of as someone from the entertainment world, till she starts to talk about herself, her journey so far and the day things were never the same. For those who you who are not clued much into politics, Ruby Dhalla is a Canadian politician. She represented the riding of Brampton-Springdale in the Canadian House of Commons from 2004 to 2011 as a member of the Liberal Party.
Beauty with brains: Ruby Dhalla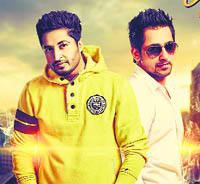 Joint venture
If there is one thing that can get the Punjabis together after a brawl 'or a fight in the university campus,' it is the live shows, the newer version of akharaas. The ever-green Gurdas Maan would and still enigmatically binds the audience of thousands with his electrifying performance; Jazzy B can set the stage on fire single-handedly. And then we gradually see from single performers to a group or let's just say a band of popular Punjabi singers performing.

Jassi Gill and Babbal Rai
Notes from an artist


While a painter spreads the colours on the canvas, the reds, the greens and the blues stick to the hands as well. "My hands get soiled while I paint and the same holds true when I am writing a book. During the process, I end up discovering so much more about myself and my life in general," shares Priya Tandon, who is currently writing her next book, Sunrays For Friday. She has already written Sunrays For Monday, Tuesday, Wednesday, Thursday....

wordsworth: Priya Tandon
STAR TRACK
A direct take
Coffee Season 4
I know that Shah Rukh Khan is not on the season yet but he is a big part of my life...so what if he is not there on the show? SRK, Aditya Chopra and my father along with Yash Ji have made me what I am. I will happily sweep the floors of YRF or Red Chillies if needed. They know how much I love them.
Ranveer, Deepika are just friends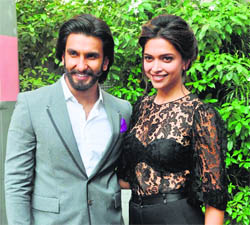 Ranveer Singh and Deepika Padukone are painting the town red with their love but the couple is not ready to admit their relationship in public at this moment. Ranveer Singh admits that Deepika holds a significance position in his life but at the same time maintains that they are "just friends". He talks about his closeness to Deepika.
Special importance
Deepika holds a special significance in my life. She is somebody I respect and admire a lot, somebody whom I have grown close to. She is an awesome person, she is somebody for whom I have great amount of admiration.
not true: Ranveer Singh and Deepika Padukone
Shuddhi on hold
It has been quite a long time Karan Johar's mega project Shuddhi is making the news but nothing has been finalised yet. The project has been delayed for indefinite time and now it is heard that Shuddhi has been shelved. The film was suppose to bring together Hrithik Roshan and Kareena Kapoor after 10 years
Bipasha in, Jacqueline out!
Jacqueline's packed schedule has paved the way for Bipasha Basu to be a part of Temptation Reloaded world tour. Every year, Moranis hold the event around the world with noted Bollywood stars and it has been a huge hit. This year too the event is planned but as the tour was pushed behind.
Anushka in love?
Anushka Sharma and Virat Kohli are very serious about each other. The actress accompanied the cricketer to his match in Auckland, New Zealand. They hung out together and Anushka even posed with fans.
Doc Talk
Spot it out
Moles on the skin are common occurrence; nearly everyone has at least a few. As per its location, colour and size in some people a mole may add to the beauty while in others it tends to appear ugly. The moles become worrisome when they suddenly enlarge in size or rapidly increase in number.
Shooting star
When it comes to business, it is not just the quality of the product or the service that matters, but also the marketing of the same. And Amit Sood of Roshan Studios, Sector 8, Panchkula, understands the seriousness of his trade—photography, since what they make is more than art, and what they sell is definitely more than an idea.
Master Chef
The carrot crusade!
My crusade to feed my kids all possible vegetables was "mission impossible" indeed! It led me to narrate a lot of encouraging stories to them about the goodness of greens. My preachings about carrots being good for eyesight were being taken rather seriously. When we grate, cook and 'bhuno' our carrots into a gaajar halwa, let's not fool ourselves we're deriving much nutrition from the carrots in there. Even a carrot cake is not exactly a health food, but it's certainly less cooked than the former. The trade mark spicy taste comes from the use of cinnamon powder. Raisins and walnuts are delightful but optional.
Past revisited
Internationally renowned playwright, director and educationist Dr Atamjit was honoured on Sunday by the Punjabi Lekhak Sabha, Chandigarh for his contribution towards providing a new guidelines to Indian theatre and writing unique scripts of dramas after exploring the Sikh and pre Sikh history of Punjab. Recently he was awarded the prestigious Bhartiya Sahitya Akademi and Sangeet Natak Akademi awards.
Value addition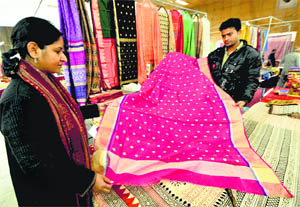 The state that is known to nurture its cultural heritage in the glorious past of the Mesolithic period, Madhya Pradesh, has to its credit some of the most valuable and diverse creative forms of art, including paintings, handicrafts, and handloom. In their endeavour to promote regional art, handloom and handicrafts, Mrignayanee, a non-profit organisation of MP, organised an exhibition at the Lajpat Rai Bhawan, Sector 15, where on display, were the colourful range of chanderi, masheshwari and tusser suits and sarees.

Rich fabrics on display Photo: Pardeep Tiwari

Together we ride
Chandigarh's bullet riders club, 'Road Survivors' organizes Ride For Equality, a special initiative to protest against the racial discrimination in all its manifestations. The death of North Eastern student Nido Taniam in New Delhi has left people angry and concerned. The riders club is extending their support to the Brotherhood Against Racial Discrimination (BARD) campaign of Brotherhood of Bulleteers Motorcycling Consortium (BOBMC), which is a central body of all bullet clubs in India.
chatter box
Ready for a makeover?
TLC brings a brand new season of its successful fashion makeover series, Trinny & Susannah's Makeover Mission India. Trinny and Susannah are, by far, the world's most prolific makeover gurus and fashion experts. The new series will bring the men and women out from the confines of their corporate boardroom and help them to imbibe fun and colour in their everyday clothes. The show has been shot in Delhi and Mumbai and each episode will see Trinny and Susannah walk the city streets looking for people of various shapes, sizes, fashion preferences, and personal backgrounds.
Up for adventure!
After winning Bigg Boss 7, Gauahar Khan has taken up another reality show, Khatron Ke Khiladi. She admits to being scared of performing stunts, but wants challenge herself. She talks to us about the show and her boyfriend, Kushal Tandon.
At the big fat Indian wedding
while Ishita and Ruhi are the focal point of the show, Ye Hai Mohabbatein that is telecast on Star Plus, there are others who are stirring the plot in their own distinctive way too, and we are referring to the bubbly and fun loving Mrs Bhalla, played Shenaz Rizwan. Not many know that Shenaz is a Pakistani, who hails from London. She is very excited about Raman and Ishita's on-screen wedding because she has a keen interest to learn the desi wedding rituals which will also be shown in the show.
The year ahead
If your birthday is February 10...
Astro Turf
ARIES: You will be in the mood to meet people from different walks of life. Overseas visitor may be relaying on you in some way.