M A I N N E W S
UPA-II spares fares, offers 72 new trains
* Focus on passenger safety
* Special body for rail fares
* 2 N-E states to be linked
Girja Shankar Kaura
Tribune News Service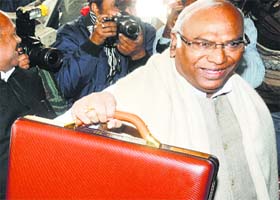 New Delhi, February 12
Railway Minister Mallikarjun Kharge kept up the tradition of not increasing the passenger fares or freight charges in the election year while offering 72 new trains in his interim Railway Budget today.
In a Budget marred by protests over Telangana, Kharge made further attempts to merge the country's North-East into the mainstream. He announced connectivity to two more north-eastern states — Meghalaya and Arunachal Pradesh.
In what was his personal first and the last such exercise in the 15th Lok Sabha for the United Progressive Alliance (UPA) government, the minister announced that there would be no more unmanned crossings.
He further announced a Rail Tariff Authority to recommend fares. A number of measures for safety and security of passengers such as portable fire-extinguishers in coaches and induction-based cooking in pantry car have been proposed. He said the work on eastern and western freight corridors was progressing well.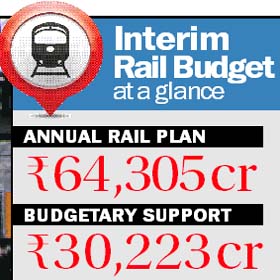 As protests marred the presentation of the Budget, the minister could only read a part of his speech. The full copy of the speech along with other documents, which included a vote on account for the first four months of the next fiscal, was laid on the table of the House.
The minister announced that 72 new trains were being introduced, including 17 premium, 38 express, 10 passenger, four suburban and three diesel locomotive inter-city, for medium distances.
The Budget envisages investment of Rs 64,305 crore as against revised estimates of Rs 59,359 crore for 2013-14.
Anticipating a healthier growth of economy, the freight traffic target is proposed at 1,101 million tonnes, an increment of 49.7 million tonnes over the current years' revised target of about 1,052 million tonnes. The gross traffic receipts have been projected at Rs 1,60,775 crore.
The minister highlighted the passenger friendly initiatives of the Railways saying the success of e-booking of tickets had surpassed all expectations, and train movements could now be tracked .
Besides, 51 Jan-Ahaar outlets for sale of Janta Meals had been set up, he said.
In the offing
17 new premium trains; 38 express; 10 passenger
Premium AC trains with dynamic fares on Delhi-Mumbai route with shorter advance reservation period
Passenger rail service to Katra and Vaishno Devi shortly
Exploring low-cost option of 160-200 kmph speed trains on select routes such as Chandigarh-Agra from Delhi
Railways to expand services to Meghalaya
More high-speed trains to be launched
Trains to display info on stations, arrival times
More Jan Ahaar outlets, escalators at stations
Upgrade scheme extended to AC chair car and executive chair car passengers
FDI being enabled for creation of rail network
Surveys for 19 new lines
Bio-toilet facility to be provided in more trains
Govt considering FDI
Investment in the Railways is being stepped up through partnership with the private sector. A proposal is also under consideration to enable FDI to create world class rail infrastructure
14-min speech!
The Railway Minister was forced to cut short his speech to just 14 minutes after Telangana rocked the Lok Sabha on Wednesday. "My heart bleeds to see what is happening in the House," Prime Minister Manmohan Singh later said