On the beat
While shaking a leg might be easy, making others dance to your tunes is certainly not. Chandigarh-based DJs share how they do it…
From behind that smart looking space touched up with jazzy graffiti and some nice looking gadgets spread on a shelf, one can see nice faces, with huge ear phones attached to their ears. Often, they raise their arm and declare - let's get the party rolling. They scratch, they play with the console, raising the sound, lowering it suddenly - deejays sure make the crowd go wild.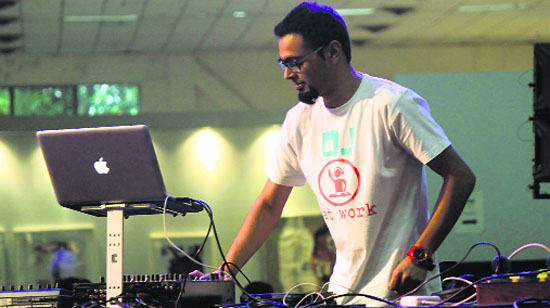 Dj Sameer
Focused eye
Having won many accolades and the National Award for his film Nabar, director Rajeev Sharma is all set to replicate his success in future. Currently he is working on a movie based on 1984 riots. It is titled 47 to 84, and based around the disruption caused by Partition and 1984 riots.
Rock on
He likes to a balanced approach, 50 per cent music and 50 per cent style and attitude… Pakistani singer Falak Shabir who is in Chandigarh to promote his album Judah by T- Series would rather make trends than follow any blindly.

STAR TRACK
Alia Bhatt unplugged
Alia Bhatt is all set for her second release, Highway and is currently promoting it at the prestigious Berlinale. Before she leaves for Berlin, in a freewheeling chat, she speaks about movies, her mentor, her father and much more.
Too busy to promote
Ram Kapoor has an important role in Ekta Kapoor's Shaadi Ke Side Effects but he has not promoted the film at all as he is too busy with his serial Bade Achhe Lagte Hai and his movie Humshakals. Now, the makers will incorporate an episode with Farhan Akhtar and Vidya Balan on the show.


Natural choice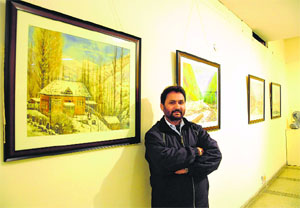 It's the beauty of nature well captured. The sheer magic of green and brown strokes takes over, time comes to a standstill and the only things that flow are perhaps streams and waterfalls. An exhibition of water colour paintings — The Song of Nature, draws from all the possible elements of nature. For Ashwani Verma, the artist, it's a wholesome endeavour.
Nature Nurture: Ashwani Verma with his works

stress buster
Go easy
Stress can be cumulative and insidious. The best way to avoid it is learning to anticipate it. We can do this by learning to pinpoint events that regularly cause stress. It is only when we are aware of this, we can work effectively towards dealing with it.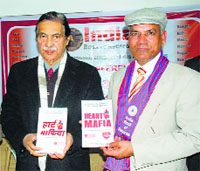 Have a heart!
India Book of Records has released Heart Mafia, a book that has exposed medical corruption in India. The author of the book Dr Biswaroop Roy Chowdhury, chief editor of India Book of Records, in the chapter Ab Tak Chappan, has named a few top Indian cardiologists who boast themselves to be the champions of these obsolete but highly profit making procedures that is bypass surgery and angioplasty.
(L-R) Vijay Sehgal and Dr Raj Rup Fuliya releasing Heart Mafia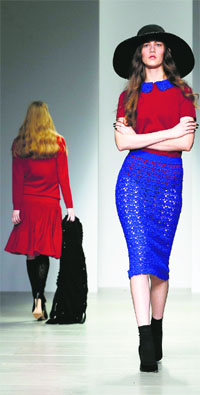 On the brighter side:

Models present creations from the Sibling Autumn/Winter 2014 collection during London Fashion Week. -Reuters
A step forward
The House of Gobind- a restaurant was today formally opened in Mohali. The House of Gobind brings dairy , restaurant and bakery under one roof. It offers true Punjabi hospitality stemmed from traditions passed down the generations that are defined by heritage of values and beliefs.
Shopping fiesta
Crafts Bazaar 2014 on at Exhibition Ground -34 (opposite Gurudawara Sahib) Chandigarh is being organised by North Eastern Handicrafts and Handlooms Development Corporation Limited with a view to promote the sale of products of entire North Eastern Region - Assam, Manipur, Meghalaya, Tripura, Nagaland, Mizoram, Arunachal Pradesh and Shikkim through this Crafts Bazar .
The year ahead
If your birthday is February 17...
chatter box
The drama continues…
After the leap in Madhubala, there have been many changes. While Drasti Dhami plays the role of Madhu, Madhubala's daughter, Gunjan Utreja is now the lead in the show and he will play the role of Abhay Kapoor. Soon, we will see Deepshikha Nagpal, Kishwar Merchantt and Fenil Umrigar entering the show to play Abhay Kapoor's (Gunjan Utreja) family.
Astro Turf
ARIES: "The Prince of Pentacles" infuses financial stability. You will find appreciation and applause for your culinary talent. Delays can be expected today. A happy surprise awaits you. Love stars twinkle.