On the beat
While shaking a leg might be easy, making others dance to your tunes is certainly not. Chandigarh-based DJs share how they do it…
Jasmine Singh
From behind that smart looking space touched up with jazzy graffiti and some nice looking gadgets spread on a shelf, one can see nice faces, with huge ear phones attached to their ears. Often, they raise their arm and declare - let's get the party rolling. They scratch, they play with the console, raising the sound, lowering it suddenly - deejays sure make the crowd go wild.
The things on the console have changed with time, so has the scratching and mixing. What has not changed though are the cheers that arise more than often when a deejay makes your steps go up and down! Chandigarh-based deejays pull up some interesting 'scratches' from their career.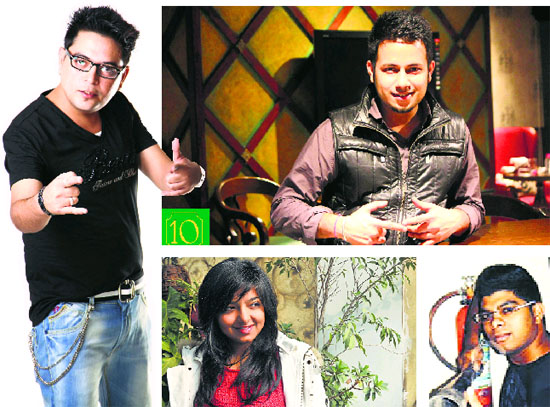 (Clockwise) DJ Vishal, Saurav, Harsh and Dj Varnika
Long innings
Sameer Sandhu
He doesn't club his hair together with gel. No loops hanging from ears and no showy tattoos, DJ Sameer plays anything and everything that the crowd likes. "It is an instinct that I have developed with time, I can see the crowd and know how they are going to react," he shares.
So far: I have been playing for almost ten years now; I trained from DJ Vishal. This is something I always wanted to do and I treated it as seriously as any other profession.
First take: I first played at a place called Ghettos, which is now called Peddlers.
My genre: I can play anything; I think people have developed a fine taste in music. Personally, I like to play Tech House and Progressive or even drum, base and even dub step.
Notes from city: The crowd in Chandigarh has grown, they like all kinds of music; they actually know how to enjoy music.
Gadgets & me: The gadgets definitely have become more hi-tech. I use laptop, soundcard, notation launch pad, Behringer BCR 2000 and a couple of more things depending on the mood of the crowd.
Gigs & more: I am also a part of the band called 3 The People, so as a group and individually I have played at many places like the Surajkund Fair, Delhi, Youth festival and two famous clubs in Melbourne.
Small steps
DJ Varnika
She started calling herself a DJ when she was five years old! Little did Varnika realise then that this prefix would become a career for her. "Nearly four years back when the music festival scene in India picked up and people started referring to deejays as artists, I realised that this is what I wanted to do," she says.
So far: I have rented some deejay equipment and am practicing. I have been a resident with Girl In The Cafe for almost one-and-a-half year; currently I freelance.
Here comes the girl: I have received a mixed response from the crowd. When they see a girl deejay they look excited and want to hear what I am going to play.
My genre: I play progressive, electro; dub step, drum and base.
Gigs & more: I played at a warehouse, which was organised by a friend of mine. The other memorable gig would be the opening for Humble The Poet at S lounge.
Experienced hand
Dj Vishal
Vishal has been into deejaying since 1996; among the first few who used to spin on cassettes. The scene has totally changed now. For Vishal, however, music was always the same - without any language. He runs a studio by the name of Studio 91 and does a lot of private gigs.
So far: I did start deejaying with Aerrizona unofficially, but on pay rolls I started with Hot Millions. My guru was Tony, African-American, and I used to play all around Punjab. It was fun always.
My genre: Hip hop and Punjabi, these are most difficult genres to mix.
Crowd calling: Earlier people used to pretend about knowing a particular genre of music, like electro or dub step, but now they don't pretend. The crowd knows what they want.
Gigs & more: For the last three years I have been playing in England for The Festival Of Lights, which is an amazing thing.
Head on
Dj Saurav
It been almost two years and Saurav is enjoying every bit of his work; he understands the crowd and then moves accordingly. "Sometimes I make them sway to my kind of music as well," he laughs.
So far: I was a resident with Route 04 in Delhi and from the last two years I am with 10 Downing Street.
What the crowd wants: They still like Punjabi music, if you mix it with something they like that as well.
My genre: I like electro and tech house.
Right track
Dj Harsh
This is precisely what he wanted to do, DJ Harsh got down to learning deejaying after passing his class tenth. He has been playing professionally since 2000.
So far: I started of with Hide Out, thereafter I was a resident with Blue Blazer and right now I am with F- Bar.
My style: electronic dance music.
jasmine@tribunemail.com