M A I N N E W S
No populist giveaways in UPA-II pre-poll Budget
* Chidambaram woos middle class & youth
* Unveils indirect tax cuts to boost manufacturing
Sanjeev Sharma
Tribune News Service


New Delhi, February 17
Coming months before the General Election, the 2014 Interim Budget presented by Finance Minister P Chidambaram was devoid of any big populist giveaways. It offered relief in indirect taxes to boost manufacturing that made consumer items such as cars, two wheelers and soap cheaper, but entry-level mobile handsets may get a tad dearer.
The vote-on-account, by convention, does not contain spectacular announcements. It is primarily an exercise to manage the expenses of the government for the next few months till a new government is formed which can present the Budget for the full year.
For the defence forces, the Finance Minister announced that the government had accepted the principle of one rank-one pension and allocated Rs 500 crore for it this year.
In what provided assurance to the markets, fiscal deficit has been contained at 4.6 per cent this year, within the red line of 4.8 per cent announced by Chidambaram during the year. This has been done by reduced plan expenditure in the face of slowing tax collections and rising subsidy burden. Some analysts pointed out that this may have repercussions on growth.
The other good news on the macro front is that the current account deficit, which had caused the rupee to plummet and was touching $88 billion, had been contained at $45 billion.
While there was no change in income tax slabs and tax laws as a whole, a stimulus was directed for the manufacturing sector, which Chidambaram described as the Achilles Heel of the Indian economy. The auto sector is the major beneficiary, as excise duty has been cut on small cars, two wheelers, commercial vehicles, SUVs and large and mid-segment cars by 4-8 per cent. However, all excise duty benefits are till June 30 and it remains to be seen how much of a boost is possible given slump in consumer sentiment and the short time period.
Excise duty has been cut from 12 per cent to 10 per cent on capital goods or machinery and consumer non-durables. These include some components used in consumer electronics and it needs to be seen whether or not prices will come down.
Sops have been provided for domestic manufacturing of mobile handsets, which are largely imported. Entry segment handsets (priced below Rs 2000) will cost more. Similarly, there are customs duty changes for domestic manufactures of soap, which will make it cheaper.
On the service tax front, rice warehousing, storage, loading and its packing has been exempted. Services provided by cord blood banks have also been exempted from service tax.
Other populist measures include continuation of interest subvention scheme for farm loans and a moratorium period for education loans taken before March 31, 2009 to benefit nine lakh students. The interest moratorium for students will amount to Rs 2,600 crore.
Staunchly defending the UPA's economic track record in the last 10 years, Chidambaram said its record on growth was unparalleled. Citing several measures taken, he said the government's major achievement had been to lift 140 million out of poverty in the last 10 years.
Outlining a "vision for the future", the Finance Minister identified 10 tasks, including fiscal consolidation, targeting subsidies, investing in cities, skill development and sharing responsibility between the centre and states.
The plan expenditure is set at last year's level of Rs 5.55 lakh crore, while the non-plan expenditure — which includes subsidies —has been pegged at Rs 12.07 lakh crore. This includes Rs 1.15 lakh crore for the Food Security Bill.
The highlights
Capital infusion of Rs 11,200 crore in public sector banks
Modernisation plan of over Rs 11,000 crore for Central Armed Police Forces
Additional Rs 1,200-crore aid to HP, Uttarakhand and N-E
India's economy at 11th globally; aiming to be third
100 million jobs to be created in a decade
Lending to minority communities soars to Rs 66,500 crore
Nirbhaya Fund gets Rs 1,000 cr grant
Research funding body to promote scientific R&D
Over 41 lakh women's self-help groups provided credit of Rs 36,893 crore
All this is the result of hard work. I may add, among other mentors, my mother and Harvard taught me the value of hard work.
P Chidambaram, Finance minister
Reason to smile
Pay less for cellphones and soaps made in India, rice, storing cord blood, computers, printers, TVs, keyboards, mouse, hard disks
Cars, SUVs cheaper: Excise on small cars lowered by 4%, on large cars by 3% & on SUVs by 6%
Impact: Car prices to come down by ~8,000-1.5 lakh; SUVs to cost Rs 40,000-1.2 lakh less
Two-wheeler bonanza: Excise duties cut by 4%. Duties also cut for trucks, buses and chasis
Impact: Commuter bikes to be cheaper by Rs 1,500, high-end ones by Rs 10,000; ditto for scooters
Cheer for students
Moratorium for all student loans taken up to March 31, 2009, and outstanding ones up to December 31, 2013
Government will take over liability for outstanding interest as of December 31, 2013
Borrowers will have to pay interest for the period after April 1, 2014
Nearly nine lakh students to benefit to the tune of Rs 2,600 crore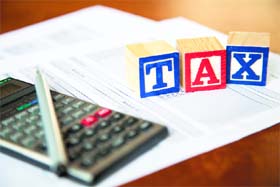 Taxes unchanged
Income tax rates unchanged
10% surcharge on super-rich (annual income above Rs 1 crore) continues
Up to 5% surcharge on corporates also to stay
Indirect tax concessions to be valid up to June 30