CM may detach officers with tainted records from their posts
Dehradun, February 28
After receiving flak for failing to remove officers against whom inquiry pertaining to corrupt practises was on and also to speed up the inquiry, the new dispensation under Chief Minister Harish Rawat is contemplating detaching all the officers from their present posts.
Water tax for 5 lakh users waived
Dehradun, February 28
With an eye on the 2014 Lok Sabha elections the Uttarakhand Cabinet today announced several decisions, including waiver of water tax for around 5 lakh users of potable water belonging to lower middle and middle classes, assistance to disaster-affected shop owners and small hotel owners, announcement of state cheap ration scheme for families that could not be covered under the Central Government's Food Security Act.
Mercury dips after rain, snowfall
Dehradun, February 28
Uttarakhand today experienced yet another round of rain and snowfall leading to a fall in the mercury and winter-like conditions. According to Dehradun Met office's Executive Director Anand Sharma, rain will continue to take place at isolated places in the state in the next 24 hours. He said, similarly, a possibility of little rain on March 2 could not be ruled out. He, however, said the weather was expected to improve by March 3.
Doon University renamed after Maharishi Valmiki
Dehradun, February 28
The Uttarakhand government today approved the re-christening of Dehradun-based Doon University as Valmiki University, providing Urdu teachers in schools where there are more than 15 Urdu-speaking students, upgradation of vacant posts for B.Ed teachers and absorption of shiksha mitras and shiksha acharyas as teachers in the state schools.
Lakhs throng Lord Shiva temples on Mahashivratri
Haridwar, February 28
On the pious festive occasion of Mahashivratri, lakhs thronged Lord Shiva temples to offer holy Ganga jal and milk, yesterday. From the wee hours of the morning itself devotees thronged the sanctum sanctorum of Braham Kund,Har-ki-Pauri, and adjacent Ganga ghats to take a holy dip, and then visited temples to pay obeisance.
People of reserve forest land seek revenue village status
Pithoragarh, February 28
People residing in reserve forest land of Tanakpur Bhabar area of Champawat district have demanded revenue village status as they are being deprived of basic facilities of water, electricity, health and education.
'Follow systematic approach for development of ecosystem'
Dehradun, February 28
National Research Development Corporation's (NRDC) conference on 'Innovation Ecosystem, an Indian Perspective' concluded at the University of Petroleum and Energy Studies (UPES), here today. The chief guest at the valedictory session, former chief secretary Dr RS Tolia, and current NTPC chair professor, Centre Public Policy, Doon University, Uttarakhand, referred to success of innovation in the agriculture and animal husbandry sector in the state.
Nine progressive farmers honoured
Dehradun, February 28
The 95th farmers' fair-cum-agro-industrial exhibition, popularly known as Kisan Mela, was inaugurated by DIG (Kumaon) Anant Ram Chauhan at Pantnagar University here today. The main inaugural ceremony was organised at Gandhi Auditorium of the university. Chauhan said, "The farmer is at a disadvantage due to the lack of proper storage structure at the village-level. He has to sell all his produce at low rates and later purchases the same for his use at high rate."
Japanese foundation to open schools in Kedarnath valley
Haridwar, February 28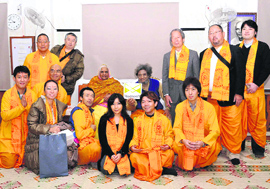 Japan-based Inzel International Foundation has decided to contribute to the education sector in the June flash flood-affected Kedarnath valley in Garhwal region of Uttarakhand. Haridwar-based social institution Akhil Bharatiya Gayatri Parivar Shantikunj and Dev Sanskriti University will be collaborating with the Japanese foundation in this regard.
Volunteeers of a Japanese social foundation with Shantikunj officials at Dev Sanskriti University in Haridwar on Friday. A Tribune photograph

Supreme Court stays order of holding panchayat poll
Dehradun, February 28
In a major relief to Uttarakhand Congress government, the Supreme Court today issued interim stay on Nainital High Court order of conducting panchayat elections in the state by March 29. Supreme Court's stay came while hearing a public interest litigation filed by Almora-based Pala Sult Organisation. The apex court issued interim stay till June 30 on panchayat elections in the state.
Man gets death penalty for girl's murder
Dehradun, February 28
Meena Tewari, District and Sessions Judge, today awarded death sentence to Deepak Arya for the rape and murder of an 8-year-old girl. The incident took place at Lalkuan in the Nainital district in 2012 when the accused entered the house of the minor girl and raped her before strangulating her to death.
5 killed as car falls into Alaknanda
Dehradun, February 28
Five persons were killed when the car they were travelling in fell into a ditch and went straight into the swollen Alaknanda river, near Pipalkoti in the Chamoli district, today morning. The chief minister has directed the district administration to provide immediate financial help to the families of the victims.
CPI (ML) lambasts state govt as panchayat poll gets deferred
Dehradun, February 28
Lambasting the state government regarding the deferment of panchayat elections, the Communist Party of India (ML) said the Congress-led state government was never serious towards conducting the elections on the scheduled date. The Supreme Court has deferred the panchayat elections scheduled for March following a plea by the state government.
Unemployed teachers lathicharged, arrested
Dehradun, February 28
The BPEd and MPEd Unemployed Association held a protest at Parade Ground in support of their demand of including the post of physical training teacher in the government primary schools and physical training lecturers in the inter-colleges.
Morcha to move court on illegal quarrying
Dehradun, February 28
President of the Jan Sangarsh Morcha Raghunath Singh Negi today said they would seek a legal remedy to rampant unlawful quarrying going on in the state, particularly in Dehradun. Negi told mediapersons in Dehradun that the Uttarakhand government had flouted all norms in the allotment of quarrying leases in Dehradun. "The government has allotted quarrying leases flouting all norms. The leases have been allotted in the areas that are quite sensitive from the wildlife and environment point of view," he argued. He said the quarrying leases had been allotted without proper environment impact assessment clearance in a clear violation of the Union Environment and Ministry norms. TNS
RIMC cadets take part in novice boxing contest
Dehradun, February 28
The novice boxing competition was organised at Rashtriya Indian Military College (RIMC) for the cadets of Class VIII on the college premises here today. The aim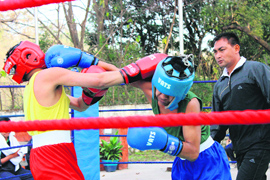 of the competition was to remove fear from the minds of the cadets and give them the experience of the boxing ring. Cadets Malsamzuala, Vishesh Tripathi, Kapil Kishan Pandey, Sankaplo, Krutin Sabnis, Lalrindika, Hritick Patiyal, Ravi Ranjan and Ashutosh J Mishra performed exceedingly well and proved their mettle. Col HS Bhainsala, Commandant, RIMC, was present during the bouts. He was pleased by the performance of the young cadets. TNS
A bout in progress in the novice boxing competition at the RIMC in Dehradun on Friday. A Tribune photograph

Garhwal univ VC gets extension
Dehradun, February 28
The Ministry of Human Resource Development (HRD) of Government of India has extended the tenure of Vice-Chancellor of HNB Garhwal University, Professor SK Singh. According to the notification issued by the HNB University, the HRD ministry in its clarification had said Professor SK Singh would continue as the Vice-Chancellor until his successor is appointed and enters upon his office. It is to be noted that the five-year tenure of Professor SK Singh as the Vice-Chancellor of Garhwal University ended on February 26. According to the rules, a Vice-Chancellor of the central university can serve upto maximum five years. TNS
Freedom fighters delegation meets Harish Rawat
Dehradun, February 28
A delegation of the freedom fighters and their dependents, under the banner of Swatantra Sangram Sainani Evam Uttaradhikari Sangathan, met the Chief Minister Harish Rawat and discussed various issues pertaining to them. CM Rawat said he was aware about the problems being faced by them and would soon take steps to resolve them. "Required action would be taken in regard of the problems related to identity cards, pensions, and land allocation for homeless beneficiaries according to the rules," he said. — TNS
Constable dies in mishap
Dehradun, February 28
Director General of Police (DGP) BS Sidhu ordered an immediate compensation of Rs 1 lakh from the police martyrs fund for the family of constable Rajesh Kandwal, who was killed in a road accident at Tanakpur here on Thursday morning. Rajesh Kandwal, who hails from Pauri Garhwal district, was posted in 31st battalion of PAC in Rudrapur. His family in has been informed about the incident. — TNS
Ecole Globale students participate in UN conference
Dehradun, February 28
Three students of Ecole Globale International Girls' School, Dehradun, participated in a mock United Nations conference held at Singapore International School, Mumbai, on February 21 and 22. Shraddha Sawhney, Aarjoo Bahuguna and Rhea Thyagraj represented the school at SISMUN-2014. They were the delegates of Hungary for International Labour Organisation, United Nations General Assembly and UNESCO. There were a total of 250 delegates from various schools across the country. — TNS