FROM SCHOOLS AND COLLEGES
State-level polytechnic festival begins
Jalandhar: A three-day state-level inter-polytechnic festival began at Government Polytechnic College for Girls on Friday. Teams from 50 polytechnics participated in the event. Contests were held for folk singing, fancy dress, choreography and gidda. The event was inaugurated by Chief Parliamentary Secretary, Sports and Youth Affairs Pawan Tinu.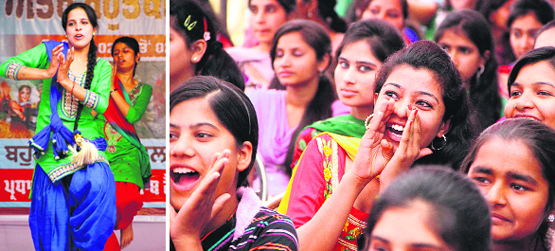 Students present an item; and (right) girls enjoy the cultural programme during the state-level inter-polytechnic youth festival in Jalandhar on Friday. Photos: Sarabjit Singh
No headway in double murder case
Jalandhar February 28
The Jalandhar Commissionerate Police is on its toes to solve the double murder in which two youths were shot dead by the Bhana gang on Wednesday. Special police teams formed to trace the criminals have been conducting raids round the clocks at suspected hideouts of the accused.
Over 300 Lyallpur Khalsa College students honoured
Jalandhar, February 28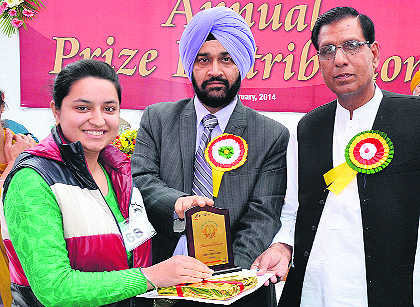 It was a historic day at Lyallpur Khalsa College today. Prof Mohammad Yaqoob Amjad, Principal, Government Municipal Degree College, Lyallpur (Faislabad) Pakistan, where Lyallpur Khalsa College was based ahead of the partition, visited the campus today.

Prof Mohammad Yaqoob Amjad, principal, Government Municipal Degree College, Pakistan, (right) along with the principal of Khalsa College, Jalandhar, GS Samra, give a trophy to a student during the annual prize distribution function in Jalandhar on Friday. Photo: Sarabjit Singh

Emphasis on human values in higher education
Kapurthala, February 28
The 3rd International Conference on Human Values in Higher Education is underway at Punjab Technical University. The PTU is organising the conference in collaboration with Indian Institute of Technology, Banaras Hindu University (BHU), Indian Institute of Information Technology (IIIT), Hyderabad; and The Royal University of Bhutan.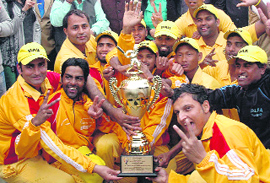 Euphoric moment: Players of the Sutlej team in a jubilant mood after winning the overall trophy of the Deaf India Premier League 2014 organised by the All-India Cricket Association of Deaf in Jalandhar on Friday. Photo: Sarabjit Singh

Ministerial staff stir: Govt offices' work to be hit till March 6
Jalandhar, February 28
The strike by the Punjab State Ministerial Staff has paralysed the working of all government offices in the district till next Thursday. The clerical staff of all government offices, including the DC office, DTO office, revenue, excise, agriculture and irrigation departments, will not be able to work at all, as they went on a seven-day strike from today.
Sarv Sikhya Abhiyan Union members stage protest
Jalandhar, February 28
Nearly 600 members of the Sarv Sikhya Abhiyan/ Rashtriya Madhyamik Sikhya Abhiyan Non-Teaching Employees Union today held a massive demonstration by taking a round of the city and breaking pitchers in front of the District Administrative Complex.

Ban sought on weapons at marriage functions
Jalandhar February 28
Following the death of an Amritsar-based photographer at a marriage at Garhdiwala in Hoshiarpur in a celebratory firing by a guest recently, the Jalandhar Photographers Club today submitted a memorandum to the Police Commissioner, demanding a complete ban on the weapons at marriage functions.
Man, son get life term for murder
Jalandhar, February 28
The court of Additional District and Sessions Judge Harveen Bhardwaj today sentenced a father-son duo to life imprisonment in a one-and-a-half-year-old murder case. The convicted, Sarwan Kumar and his father Ram Lakhan, were residents of Gurunanak Pura West.
Income tax survey of hospital held
Jalandhar, February 28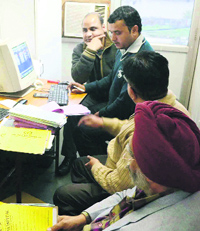 An income tax (I-T) survey of Sigma Hospital at Adarsh Nagar here was conducted by the I-T Department on Friday. Thirteen members of the department reached the hospital at 12 noon and checked the financial transactions till late evening. "On the basis of our own sources and the market report, certain discrepancies may be found between the actual income and the one shown by the hospital authorities. The search is still on and everything would be clear only by Saturday morning," said Rakesh Suri, Income Tax Commissioner. During the survey, the I-T officials checked the actual stock in the store and the one shown in the records. They also recorded statements of various employees during the survey. TNS

Officials of the Income Tax Department check data during a raid at Sigma Hospital in Jalandhar on Friday. Photo: Sarabjit Singh
Feedback
Jalandhar Tribune invites feedback from its readers on issues of public concern relating to Jalandhar, Phagwara, Kapurthala and the nearby areas. Readers can email their views to jalandhar.feedback@gmail.com
They can also send their views to: Feedback, Jalandhar Tribune, Sector 29, Chandigarh - 160029.