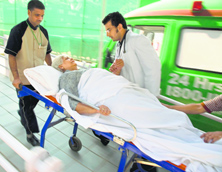 Ambala accounted for the maximum 528 cases, followed by Karnal, Panipat, Faridabad and Rewari. Data collected by The Tribune shows that the districts along the state highways such as Yamunanagar, Kaithal, Fatehabad, Panchkula, Sirsa, Jind and Mewat accounted for lesser number of road accidents.
Haryana has one of the highest accident rates in the country, with nearly 13 persons being killed and about 25 injured every day on the state's roads. The high density of national and state highways passing through the state, rash driving and alleged faulty design of roads are some of the causes for the accidents. Recently, five police personnel were suspended and another five were warned against dereliction of duty while handling accident victims in Gurgaon district last year.
Ambala

Emergency services non-existent
Manish Sirhindi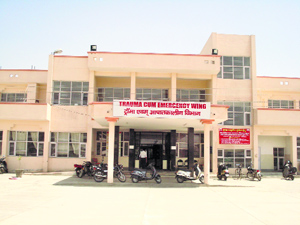 Emergency wing lacks facilities. Tribune photo

Having failed to serve the purpose for which it was conceptualised a few years ago, the Trauma Care Centre at Ambala City Civil Hospital has been reduced to a mere 'referring centre', where patients requiring emergency care are simply referred to the PGI, Chandigarh.
Located near the National Highway No. 1 on the Ambala-Hisar National Highway 65, the hospital is of great significance as it can provide immediate aid to accident victims.
However, hit by a shortage of specialist doctors, the emergency services are almost non-existent. A trauma care centre is supposed to be well equipped and adequately staffed so that comprehensive emergency medical services can be provided to patients. According to doctors, victims of trauma require specialised and experienced multidisciplinary treatment, for which a diagnostic radiology laboratory, computed tomography and CT scan, and subspecialty surgical care in disciplines like cardiothoracic surgery, neurosurgery, orthopaedic surgery and urology, is a must for a centre.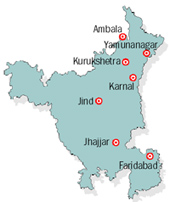 However, the 20-bedded Ambala centre lacks most facilities. With no provision for a CT scan and computing tomography, most cases of head injury are often not diagnosed. There is no neurosurgeon or plastic surgeon and rehabilitative services, considered a must for a trauma centre, are also missing. The post of radiographer has been lying vacant and x-rays are conducted by junior technical staff. Sources say the lab also lacks facilities and most tests were referred to private labs.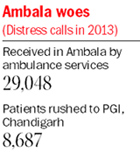 Though there is no dearth of ambulances at the hospital, most lack facilities to handle emergencies. Other than the basic oxygen cylinders, equipment like cardiac monitor, collapsible wheelchair, medical kits, inflatable splints, blood pressure cuff, spinal collars, burn kits, glucometers and instant cold packs are missing. Most also do not have paramedics.
Though the staff maintain that prompt ambulance services are provided, there have been reports of ambulances reaching the site after 45 minutes. Last year, the district administration had prepared a Rs 75 crore plan to revamp the hospital and centre, but nothing has happened.
Yamunanagar

'102' ambulance service doing well

Shiv Kumar Sharma
The '102 Ambulance Service' is a life saver. The service rushes about four to five accident victims to hospitals every day. There are 18 ambulances in the fleet, with each covering an area of 10-12 km.
Fleet manager Sachin Sharma says the ambulance reaches the accident spot within 15 to 20 minutes. Dr Vijay Dahiya, Medical Superintendent, Civil Hospital, says directions have been issued to officials handling ambulances to ensure no negligence is committed in providing the service to the needy. The ambulances have been provided at every Civil Hospital, CHC and PHC level. Two ambulances are equipped with advance life support and 16 with basic life support equipment. There is an emergency medical technician for every ambulance.
Sachin says last year, 24,677 patients, including accident victims, were provided with the ambulance facility. People of rural areas are more aware about the service. Patients are not charged any fee, but Rs 7 per km is charged from patients other than pregnant women, accident victims, infants, and heart disease and burn patients if the ambulance is required outside the district.
Jhajjar

Neither police ambulance nor specialists
Ravinder Saini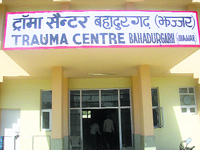 The Trauma Centre is facing a shortage of supportive staff. A Tribune Photo

Notwithstanding the rising number of road mishaps due to inclement weather and foggy condition, the police is ill-equipped to provide quick relief to victims. Surprisingly, no trauma care van is available in the district.
Though the police has two ambulance vans in Bahadurgarh, these are being used merely to rush victims to hospital. The vans do not have any medical facility or first-aid kits. Police personnel deployed with the vans are not trained in providing first-aid to victims.
Road safety experts say proper handling is the most vital part of first-aid. "The victim should be laid straight before being shifted to an ambulance. This is rarely done in normal practice," says an expert.
As per information, no police ambulance is available in Jhajjar city. The police has to depend on private ambulances. Yogesh Kumar, traffic in charge (Bahadurgarh), says one of the two ambulances had been stationed at the police post in Aashodha village located along the National Highway No. 10 while the other was at the city police station in Bahadurgarh. "The ambulance vans are pressed into service as soon as we get information about any accident," he says, adding that no doctor was available with the ambulance to provide first-aid to victims.

The trauma care centre at Bahadurgarh lacks equipment and specialist doctors. It is also facing acute shortage of support staff. The centre, set up in 2011, is being run without any emergency facility for the last three years. MRI and CT scan facilities are a distant dream as the centre does not even have an ultrasound machine. Patients have to go to private labs for these tests. The General Hospital has deputed its staff at the centre on rotation.
"We have informed the headquarters over and over again about the shortage of staff and lack of facilities, but to no avail. The headquarters itself is struggling to get the services of specialist doctors as they don't seem interested in joining the government sector," says Dr Kashmir Singh Dalal, SMO of the centre. Hospital sources say they treat patients with the help of available doctors but any serious case has to be referred to other hospitals.
Karnal

Life-saving equipment missing
Parveen Arora
The district lacks hi-tech facilities in ambulances to tackle the crucial hours after an accident. The highway police ambulances do not have basic equipment like ventilators and oxygen cylinders and inadequate paramedical staff only adds to the misery of victims.
Due to the shortage of ambulances, help is sometimes sought from the health department. Sources say the condition of the department's ambulances is shocking. Even the three 'life-saver' ambulances do not have a ventilator and regular drivers. Out of the 19 ambulances of the department, three are off the road and others are engaged with hospitals, and are also used for delivery cases. However, they claim that they have the facility of an emergency medical technician in ambulances.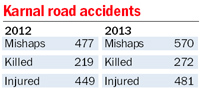 A majority of cases of head injury are referred to the PGI at Rohtak and Chandigarh in the absence of a neurosurgeon at the trauma centre.
As per the accident data with the Kalpana Chawla Government Medical College Hospital, 733 road accident calls were received in 2011-12, 1,001 calls in 2012-13 and 24 calls at the accident control room. "Requirement for eight ambulances has been sent and posts of driver have been advertised," says Dr Vandana Bhatia, Civil Surgeon.
"We do not have paramedical staff, but we do our best to save the injured by taking them to hospital on time," says Satyadev Singh, SHO, highway patrol.
Jind

No trauma centre, nearest referral hospital 60 km away
Parvesh Sharma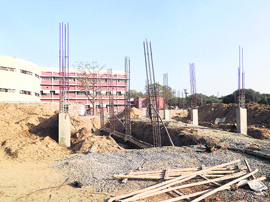 The much-needed trauma centre under construction in Jind. A Tribune photograph

It's the oldest district of Haryana, but when it comes to health facilities, it is far behind even some new cities of the state. The district does not have a single trauma care centre.
The health authorities claim to have made arrangements for the speedy treatment to the injured, but a ground check reveals they only have ambulances at places like Safido, Kandela, Kalua, Aleva, Narwana, Uchana and Julana. The ambulances provide only first-aid and bring patients to the Jind Civil Hospital.
Hospital sources say they have received over 70 accident cases in the last six months, but a majority of cases were referred to the PGI, Rohtak, and Khanpur hospital, both of which are over 60 km away, and not all victims survive the long journey.
"We do not have the facilities to treat head and chest injuries," says Amit, a pharmacist with the hospital ambulance. He admitted that they only have first-aid facilities.
The hospital does not have an operational ultrasound machine and costly equipment is gathering dust as there is no staff to run them. Locals allege that health officials are in connivance with private ultrasound centres and taking commission by referring patients to them.
'Things will improve'
We are facing some challenges and so we have to refer patients to other hospitals. I have directed my staff to take the required steps to operate the ultrasound machine in the hospital. Other facilities would also improve in the coming days.
Dr Jatinder Grewal , cmo Jind
Faridabad

Less equipment, lesser staff
Bijendra Ahlawat
The preparedness of the police and health department to tackle trauma cases continues to fall short in the absence of adequate staff and equipment in Faridabad and Palwal districts. These districts share around 60 km of the National Highway No. 2, one of the most congested highways of North India. The district reported about 600 deaths in road accidents till November 30 last.
Though police and health department claim to be tackling the situation well, there is much scope of improvement. The traffic police, which is headed by a DCP, requires over 605 personnel and adequate number of vehicles and related infrastructure to handle road safety, sources in the department admit. "We have written to the higher authorities and expect to get at least half of the staff," says Devender Yadav, DCP Traffic.
He says the police is maintaining a fleet of seven ambulances, one FSL van and two recovery vans to handle relief work during accidents.
The health department on the other hand has 16 ambulances to rush patients and accident victims to hospital. While the police has provided the helpline number '1071', the health department attends to the helpline number '102'.
However sources say the traffic police in Faridabad and Palwal districts require at least two dozen ambulances and support vans in view of the high density of traffic on the national highway and other vital roads used by thousands of commuters daily.
Kurukshetra

Incomplete flyovers not helping
Nitish Sharma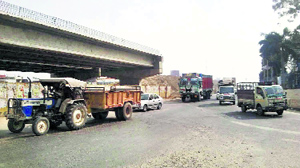 The flyover at Pipli Chowk is still under construction. a tribune photo

Despite being on the world's map for its religious importance, this holy city has no trauma centre facility. Most emergency cases are referred to the PGI. With no oxygen cylinder, adjustable stretcher and 24-hour availability of paramedics, the police ambulance vans deployed at Pipli Chowk, Pehowa, Ladwa and Shahabad are only used as an 'accidental victim transport vehicle'.
The van has a team of a doctor, a driver and helper. The van driver at Pipli Chowk says he has been assigned the areas of Samanai, Dhantodi, Mathana-Ladwa road and sector 2, 3 and 5. "Incomplete flyovers are the biggest obstacle because we have to take a long route to reach the accident spot. During fog it becomes even more difficult as the van does not have fog lights," he says.
The doctor is available with the van only between 9am and 5pm.

An NHAI official says nine air-conditioned ambulances have been deployed between Babarpur and Jalandhar and are on the move 24 hours even in adverse weather conditions. Every ambulance has been assigned an area of 30 km so that it can reach on the spot within 15 minutes.
Every ambulance has a team of two nursing staff, one driver and one traffic controller. The ambulances are equipped with an oxygen cylinder, a stretcher and first-aid.
Shiv Kumar, Chief Medical Officer, Kurukshetra, says 17 ambulances have been deployed in the district. Critically injured victims are referred to the PGI after being given first-aid. The ambulance carries an oxygen cylinder, emergency drugs and a medical technician to provide first-aid.