M A I N N E W S
US warns Russia over Ukraine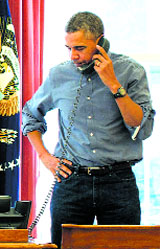 US President Barack Obama talks with Russian President Vladimir Putin on Saturday. —Reuters
Washington, March 2
The US is prepared "to go to the hilt" to isolate Russia for its military incursion into Ukraine, Secretary of State John Kerry said on Sunday.
He called it "an incredible act of aggression" that may lead to visa bans, asset freezes, trade and investment penalties, and a boycott of a Russian-hosted economic summit of global powers in June.
Kerry said Russian President Vladimir Putin should respect the democratic process through which the Ukrainian people ousted their pro-Russian President and assembled a new government. President Barack Obama pressed his case in a 90-minute phone call on Saturday with Putin, calling Russia's actions "a clear violation" of Ukraine's sovereignty, and asking for Russian forces to pull back, and still the situation only grew more dire Sunday.
Ukraine's new Prime Minister warned that "we are on the brink of disaster", while hundreds of armed men in trucks and armored vehicles surrounded a Ukrainian military base in Crimea. Ukraine has called up all military reservists. — AP