M A I N N E W S
Govt puts Rolls Royce deals on hold


Company says will cooperate with regulatory authorities


Defence projects hit
Ajay Banerjee
Tribune News Service
New Delhi, March 3
The Ministry of Defence has "put on hold" all contracts that Hindustan Aeronautics Limited (HAL) has entered into with British aircraft engine maker Rolls Royce.
If the ongoing CBI probe into a Rs 10,000-crore HAL-Rolls Royce deal for the supply of aircraft engines establishes wrongdoing, the global giant, which is the second largest aircraft engine maker in the world, may find itself blacklisted in India.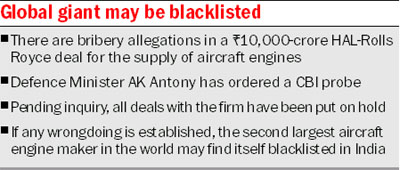 The ministry has also asked Britain for details on an ongoing probe against Rolls Royce in that country.
Bangalore-based HAL is a public sector company and is owned by the MoD. Rolls Royce is its major contractor for repair and overhaul of engines of IAF planes. It is also the supplier of engines for various planes in the IAF fleet.
Defence Minister AK Antony has already ordered a CBI inquiry into the allegations of payoffs by Rolls Royce to HAL's Industrial Marine and Gas Turbine (IMGT) Division. This was for supply of engines and expertise used to power gas through pipelines in India.
In a disclosure to HAL in December last year, Rolls Royce admitted to have had "intermediaries" in deals with IMGT-HAL in India between 2007 and 2011. The contract works out to around Rs 5,000 crore.
"A certain percentage of the purchase order with HAL was paid to these intermediaries," a senior MoD official said citing a letter from the British company to HAL. The HAL board of directors suggested a CBI probe that was okayed by Antony a few days ago.
A company spokesperson in an emailed communiqué said: "We will cooperate fully with the regulatory authorities and have repeatedly made it clear that we will not tolerate misconduct of any sort."
The MoD has asked the CBI to probe not only the supply of gas turbine engines on the civilian side, but also all other deals of Roll Royce with the public sector company.
"Till the probe is on, all contracts have been put on hold," sources said. The British firm has multi-million dollar contracts in repair and overhaul of engines for advanced jet trainer "Hawk", fighter jet "Jaguar" etc.
The IAF has ordered 143 Hawks that are powered by Rolls Royce engines. Another 20 have been ordered for a new acrobatic team and 17 for Navy personnel's flying training. So far, 71 aircraft have been delivered. The engines need repairs and have a schedule for overhauls. These planes are flown by trainee pilots before they graduate onto flying supersonic jets like Sukhoi-30MKI, MiG 29s or Mirage 2000, etc.
British-origin Jaguar, which has been in the IAF service since 1979, will also be hit by the order. The aircraft, licence produced at HAL, also has Rolls Royce engines. Around 115 such planes form the backbone of the deep penetration strike ability of the IAF. Hawker Sidley (HS) AVRO 748, a small transport plane which also used Roll Royce engines, is overhauled at Bangalore.