M A I N N E W S
End MP, MLAs' graft trial in 1 yr: SC
Law Commission wants lawmakers indicted in criminal cases disqualified
Legal Correspondent
New Delhi, March 10
The Supreme Court today set a one-year deadline for courts to complete the trial of MPs and MLAs involved in corruption cases. This is part of an initiative to cleanse politics of criminal elements.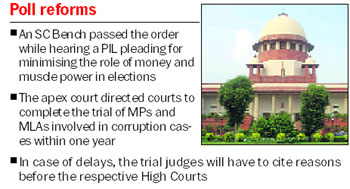 A Bench headed by Justice RM Lodha passed the order while hearing a PIL pleading for minimising the role of money and muscle power in elections, besides preventing those facing criminal and corruption charges from completing their five-year tenure in Parliament or Assembly by delaying court proceedings.
The court said the trial judges would have to explain to the respective High Courts the reasons for the delay if they were unable to dispose of such cases within a year. The Bench also noted that the Law Commission had submitted a report recommending disqualification of MPs and MLAs against whom criminal charges had been framed by the trial court. Under the existing provisions, they incurred disqualification only upon their conviction in corruption cases or being sentenced for at least two years in other criminal cases.
The Bench, however, said there was no hurry in hearing arguments on the recommendation as the process for the April-May Lok Sabha election was already underway.
Further, laying down disqualification norms was the job of Parliament. The court is hearing a PIL filed by an NGO, Public Interest Foundation, and others.
In its 54-page report, finalised after a national consultation with political parties and other stakeholders, the Law Commission said the existing legal provision for disqualification of convicted MPs and MLAs had proved to be inadequate to check the "growing criminalisation of politics, owing to long delays in trials and rare convictions".
"The law needs to evolve to pose an effective deterrence and to prevent subversion of the process of justice."
MPs and MLAs facing criminal charges which entailed a maximum punishment of five years or more should be disqualified upon framing of charges against them by competent courts, the commission suggested.
In order to provide safeguards against possible misuse of this proposed provision, the commission suggested that charges filed up to one year before the date of scrutiny of nominations for an election should be considered for disqualification.
If the trial was not completed in one year, the legislators involved in such cases should stand disqualified until their acquittal or for six years, whichever was earlier.
Alternatively, the right of such MPs and MLAs to vote in the House as a member, remuneration and other perquisites "shall be suspended at the expiry of the one-year period".
Persons facing charges punishable with imprisonment for five years or more "must be disqualified from contesting future elections, unless such charges are framed less than one year before the date of scrutiny," the commission said.
Citing large-scale violation of the law against filing of false affidavits by candidates along with their nomination, the commission said such offences should attract a minimum jail term of two years under Section 125A of the Representation of People Act.
Law panel's recommendations
* MPs and MLAs facing criminal charges with five years or more of punishment be disqualified upon framing of charges against them by competent courts; the existing legal provision for disqualification of convicted legislators has proved inadequate to check 'growing criminalisation of politics'
* Only those cases be considered for disqualification where charges have been filed up to one year before the date of scrutiny of nominations for an election