Birth, Death wing: Officials to be held accountable for issuing certificates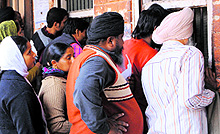 Amritsar, March 14
After nailing the nexus between illegal agents and insiders, the MC authorities formulate stern policy to revamp the process of issuing birth and death certificate.


The long queue outside the Birth and Death certificates wing speaks volumes about the shortcomings in the process of issuing certificates in Amritsar. Photo: Vishal Kumar

Traffic norms go for a toss, cops look the other way
Amritsar, March 14

In violation of the traffic norms, automobiles were seen ferrying pilgrims to Anandpur Sahib and Dera Wadbhag Singh in Himachal Pradesh for Hola Mohalla. Automobile operators have fixed wooden planks on vehicles to double the capacity of passengers they can carry. Private bus operators are ferrying devotees on roofs of buses. Though all this is happening in front of the police, they prefer to look the other way. These scenes on the main Amrtisar-Jalandhar GT Road near Pingalwara and Verka bypass testify it.


Putting their lives in danger, devotees engage a private bus from Amritsar to visit the Wadhabagh Singh Dera in Anandpur Sahib on Holla Mohalla in Amritsar on Friday. Photo: Vishal Kumar

Drinking water samples from railway station fail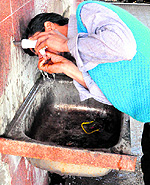 Amritsar, March 14
Even as the drinking water samples collected by the Health Department from the railway station were found unfit for human consumption the railway authorities refused to endorse the report. Northern Railway's (Ferozepur Division) Divisional Railway Manager Naresh Chander Goel said the Health Department officials had no business to interfere in the working of the railways.


A visitor quenches his thirst from a tap at Amritsar railway station on Friday. Photo: Vishal Kumar

Tale of greed unfolds at theatre fest
Amritsar, March 14
The play, "Kehar Singh Di Maut", is for those who believe that dowry deaths are about gender discrimination. The play, written by noted playwright Ajmer Aulakh, presents a different picture.



divine fervour:

A devotee takes a holy dip in the sarovar of the Golden Temple to celebrate the Sikh New year in Amritsar on Friday. Photo: Vishal Kumar

Three held on charge of snatching
Amritsar, March 14
The city police nabbed three youths, allegedly involved in a couple of snatching instances, today. Those arrested are Nikku, a slum dweller, Ravi Kumar and Simranjit Singh, alias Tinku, of Navi Abadi, Karampura.
With help from EcoSikh, awareness, plantation drive launched
Amritsar, March 14
With help from EcoSikh, an NGO working for environment protection and spreading awareness, a plantation drive was begun today at the Khalsa College of Engineering and Technology (KCET) and Khalsa College Public School (KCPS).
Experts dwell on economic reforms
Amritsar, March 14
A national seminar on the topic, "Economic Reforms and Social Sector Development : Agenda for Inclusive Growth", was held at the conference hall of Guru Nanak Dev University.
Sikh Council delegation visits Khalsa College
Amritsar, March 14
A delegation of the Sikh Council, United Kingdom, visited Khalsa College on Friday. They asked the students to beware of the agents who send youngsters to the UK illegally. They said a large number of youngsters, including girls, were reaching the UK illegally and were leading a miserable life.
Shiv Sena Samajwadi to contest for three Lok Sabha seats
Amritsar, March 14
Kamlesh Bhardwaj, national president of Shiv Sena Samajwadi, said they would contest the upcoming parliamentary elections from three seats in Punjab. He said the candidates would be announced on March 26.
Charoo Kapoor honoured
Amritsar, March 14
Charoo Kapoor, city-based actor, was recently honoured at an event remembering celebrated lyricist Sahir Ludhianvi. The character actor was awarded as a part of Women's Day celebrations as well.
in brief
Students make college proud
Students of DAV College bagged meritorious positions in the university examinations held in November-December 2013. In MSc mathematics (third semester), Raminder Kaur made the college proud by securing the first position in the university. Barkha Mehta and Priya, students of MSc mathematics (third semester) bagged fourth and seventh position respectively. In MSc mathematics (first semester), Japleen Kaur and Sania Vihal secured the fourth and tenth position respectively.