Capt gives in, to take on Jaitley in Amritsar
Ambika replaces Anandpur Sahib MP Ravneet Bittu
Aditi Tandon
Tribune News Service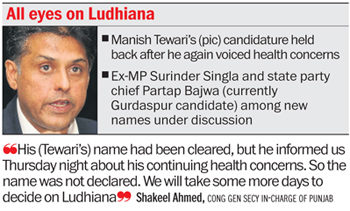 New Delhi, March 21
Spicing up the battle for Lok Sabha seats in Punjab, the Congress on Friday fielded top guns Capt Amarinder Singh and party general secretary Ambika Soni from Amritsar and Anandpur Sahib parliamentary constituencies, respectively.
Punjab ex-chief minister and the tallest among state Congress leaders, Amarinder was fielded against Arun Jaitley, Leader of Opposition in the Rajya Sabha and BJP's nominee from the Amritsar segment. This, despite the Captain's initial reluctance to quit state politics for a national fight.
In Anandpur Sahib, the Congress sprung a last-minute surprise in its fifth list of 26 released tonight. It replaced sitting MP Ravneet Bittu with 72-year-old Ambika Soni, party general secretary of 15 years. She takes on Akali Dal's Prem Singh Chandumajra in her first Lok Sabha fight. She has always been a Rajya Sabha member from Punjab.
"Ravneet Bittu will be suitably adjusted in some other seat," top Congress sources told The Tribune, not ruling out the possibility of considering him from Ludhiana where the candidature of Information Minister and sitting MP Manish Tewari remains uncertain due to the latter's health concerns.
The decision to field top party leaders in major segments in Punjab was taken jointly by Congress president Sonia Gandhi and vice-president Rahul Gandhi, who had earlier in a meeting told its top guns and sitting MPs to go into the Lok Sabha battle chin up instead of being seen to be running away.
In Punjab and other states, too, Rahul asserted his authority by asking all initially-unwilling state Congress chiefs (including Partap Singh Bajwa in Punjab) to contest. "The decision to field top leaders in Punjab is in line with the sentiment of party workers and leaders in the state, who told us seniors must lead from the front," a party source said.
No decision could be taken on the Ludhiana seat, with sitting MP Manish Tewari developing cold feet. His name had been cleared and was to be announced in the fourth list of 50 candidates released by the party yesterday. However, prior to that, Tewari called up senior leadership and sought for his name to be withheld on account of health reasons. He simultaneously cancelled his roadshow in Ludhiana tomorrow.
When asked about Tewari's current status, Congress general secretary in-charge of Punjab Shakeel Ahmed said, "It is true that his name had been cleared, but he informed us late last night about his continuing health concerns. So the name was not declared. We will take some more days to come to a conclusion about the Ludhiana seat."
Sources said Sonia picked Amarinder from the two-member panel that also comprised senior leader OP Soni.
The list also includes two candidates from Bihar, one from Maharashtra and 21 from West Bengal.