G R O U N D Z E R O
The Modi juggernaut hits a bump
Rather than a note of unity, the past fortnight saw dissonant voices emanating from within the BJP. That has happened partly because an element of insecurity has crept into Team Modi's calculation of the NDA achieving Mission 272 plus.
Raj Chengappa

A month is a long time for a General Election. Till last week, the Narendra Modi juggernaut seemed unstoppable. BJP leaders, including patriarch LK Advani, were confident the BJP was going to win its largest tally ever in the Lok Sabha. That meant exceeding the 183 seats the party won in the 1999 General Election. In the same breath they added that the Congress would get its lowest ever tally, which for India's Grand Old Party meant dropping below its disastrous 114 seats in 1999.
There is little doubt that Team Modi has so far conducted a brilliant campaign that converted the 2014 General Election into a US presidential style battle rather than a parliamentary contest. From the BJP's website that proclaimed unabashedly "Abki Baar, Modi Sarkar" (time for a Modi government) to dazzling Namo-centric multi-media campaigns, massive rallies festooned with giant cut-outs of Modi's, taller than even Tamil Nadu's J. Jayalalithaa, the party's PM candidate looms large, overshadowing (some say belittling) other leaders of the BJP.
For a while it did work very well. There is even talk of a Modi wave that would swamp all calculations and give the BJP a decisive mandate to rule India for the next five years. Opinion polls reflected the trend with the results establishing Modi as the frontrunner driving the BJP to what could be its greatest ever victory. Across drawing rooms in cities and chawls in the suburbs BJP supporters hear the 'Namo-Namo' chant.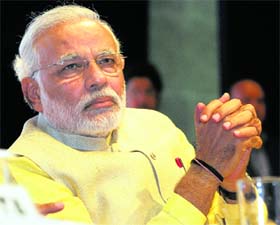 Yet, rather than such a note of unity, the past fortnight saw dissonant voices that largely emanated from within the party. That has arisen partly because an element of insecurity has crept into Team Modi's calculation of a BJP-led National Democratic Alliance (NDA) achieving Mission 272 plus, the critical number required to attain a simple majority. That concern saw a flurry of alignments and adjustments with other political parties and personalities that have been announced. Some of these moves have been welcomed by those who matter in the BJP while others have caused much heartburn, which has begun hurting the Modi campaign.
BJP president Rajnath Singh was in Chennai on Thursday last, knitting a rainbow coalition of Tamil Nadu parties to form a third front against the ruling AIADMK led by Jayalalithaa and K. Karunanidhi's DMK. In Uttarakhand, Congress leader Satpal Maharaj was welcomed into the BJP fold, as were other leaders in Haryana. In Bihar, the BJP splintered Laloo Prasad Yadav's coalition and weaned away Ram Vilas Paswan to grab a share of the Dalit votes. In Uttar Pradesh, Narendra Modi's decision to contest from Varanasi apart from Vadodra may cut both ways and could polarise votes.
In Maharashtra, the BJP made an unsuccessful bid to win over Sharad Pawar and get his National Congress Party to break away from the United Progressive Alliance (UPA). When that failed, BJP leaders had a not-so-secret meeting with Raj Thackeray to stop the Shiv Sena votes from splitting, though wiser leaders like Advani had cautioned that the "Maha Yudh" between Raj and his cousin, Uddhav Thackeray, would only worsen.
All these were initially hailed by Modi supporters as moves to firm up numbers required to form a government rather than wait for the election results to build a coalition. Team Modi was pre-empting any moves to sideline its leader in case the BJP's tally drops below the expected 200 seats. Yet those moves have begun to have a backlash that has slowed the Modi juggernaut.
In states where the BJP has entered alliances with other parties or welcomed its leaders into its fold, the saffron party's cadre has expressed strong dissent against such "turncoats and opportunists" gaining from its toil. Even Rahul Gandhi never misses a chance to point out that the BJP, "desperate" to come to power, was forced to take back BS Yeddyurappa, who had to resign as Karnataka Chief Minister in the face of corruption charges.
Meanwhile, many senior BJP leaders are dismayed at the personality cult built around Modi as the sole saviour of the nation. Advani showed his pique when the party initially refused to allow him to choose the seat he would like to contest from and had to be mollified by a personal visit from Modi. Jaswant Singh has expressed his anger over being sidelined. Even the RSS top brass expressed displeasure over its cadre chanting "Namo, Namo" at Modi rallies. Suddenly, the BJP as a party doesn't look all that cohesive.
The Congress, which appeared to be handing the election in a platter to the BJP, has sensed that the rival campaign is faltering. It has begun to fight back by fielding its stalwarts like Captain Amarinder Singh. The momentum though continues to be with Modi and the BJP. The BJP has to quell the growing disquiet among its leaders and the ranks if it has to retain the initiative. As the election enters its crucial phase even a week may seem a long time.