This soft-spoken Badal has to find his sting
Manpreet Badal is admired for eloquence, but that hasn't spelled votes
By Jupinderjit Singh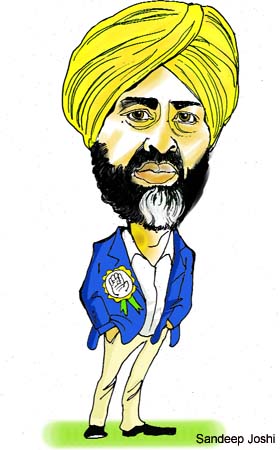 THE strapping Manpreet Badal (he's 6'2") addresses political rallies and meetings peppering his speeches with soft Urdu couplets from his repertoire of metaphors and similes picked from books as well as street wisdom. No wonder, he parted ways with the Akalis, whose manner of speech, dressing and outlook towards state and national issues never quite matched his.
For this, PPP chief Manpreet continues to be a thorn in the flesh of the Akalis, read the Badals. Unlike him, even Gurcharan Singh Tohra, the late SGPC president, had not dared to take on the Badals in a direct political fight.
Manpreet's sister-in-law Harsimrat Kaur Badal is his competitor for the Bathinda Lok Sabha seat. Both have a contrasting style of campaigning. If Harsimrat has made the protection and development of the girl child her focus under the Nanhi Chhaan programme, 51-year-old Manpreet has made saving Punjabi youth his main slogan. His Facebook cover photo screams to save them from drugs.
Both are foot soldiers. They do not much rely on the power of the social networking media and prefer direct contact with the public. They both have Twitter and Facebook accounts, but rarely use it. A Facebook page devoted to Manpreet has 1.31 lakh-odd likes against Harsimrat's 2.52 lakh. "I don't get much time. And social media is so sensitive that one has to operate it oneself only," he says.
Prolific reader
He used his height well to represent Punjab in the National Basketball Championship and now he towers in political rallies. A Doon School product, a graduate in history (honours) from St Stephen's College and an LLB from the University of London, Manpreet's favourite subject is history. A man of letters, he is inspired by the book "How the Steel Was Tempered", a socialist-realist take on Russia's civil war by Nikolai Ostrovsky.
A chat with him leaves one with knowledge of several poets, writers and their works and anecdotes. He quotes verses from the Gita, Guru Granth Sahib, Mahabharata, Bulle Shah and Communist writers with ease.
When told political analysts term his battle with the Badals as the Mahabharata of Punjab politics, he retorts: "Lord Krishna told Arjuna to fight his own relatives as they were no longer on the side of justice."
Battle is on
"A well-read man gifted with eloquence," is how village residents describe him. But does this admiration translate into votes? Not really. He set out on a lonely road, met supporters on the way, some deserted him while others joined him. But he knows in his heart that the struggle is his own.
The decisive battle for the Lok Sabha seat from Bathinda may make or mar him. It may wipe him off the political scene or make him a valiant warrior if he loses with a narrow margin.
For a man who admitted just over a year ago before the media that he was unable to organise rallies at religious places due to lack of funds, and was nearly written off, Manpreet has managed to hold on and stay afloat.
The Badal families have no personal dispute. They have long settled land distribution in Punjab, Haryana and Rajasthan and visit each other often. Chief Minister Parkash Singh Badal's elder brother and Manpreet's father Gurdas Badal once said Parkash visited him often and eagerly fulfilled any work he asked for. He blames their sons for the division. "Sons forced us apart," he says.
People call it a case of sibling rivalry or perhaps different political ambitions of the sons, but Manpreet disagrees. "It is all about the preference of loyalty. For me, the country is first, state second, party third and the family last. But for others, it is reverse. For them their family comes first," he says.
State first
He does not regret parting ways with the Akalis. "If tomorrow I face a similar situation where I have to choose the good of the nation over the family, I would not blink in choosing the nation again," he declares.
Shaheed Bhagat is his inspiration. "I grew up in the age of green and white revolution in Punjab, the laying of canals and industrialisation. I weep today seeing the pitiable condition of the state. I watched the brain drain as Punjabis migrated to the West; the days of terrorism; and now directionless governance. I stood up to stop the descent and I suffered. But that is hardly a price to pay for trying to save one's motherland," he claims.
He often signs off his meetings with a Bulle Shah couplet — "Wadde kahawan, barra dukh paawan, nein wada kaha ke bhuli; wade wade rukh dig painde, je pawan haneri jhuli" (If ever I saw myself as mighty, I suffered. A storm will bring down the mightiest of trees.)