CPI (M) candidate: Cong, BJP two sides of the same coin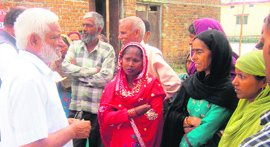 Dehradun, April 4
Terming Congress and BJP to be two sides of the same coin, Shiv Prasad Devli, the Tehri Lok Sabha candidate of Communist Party of India (M) said that the parties have always safeguarded the interests of corporate houses and business tycoons.

Shiv Prasad Devli, CPM candidate from Tehri Garhwal, meets voters in the Sahaspur area, Dehradun, on Friday. A Tribune photograph

Almora candidate Ajay Tamta sure of BJP's victory this time
Pithoragarh, April 4
BJP candidate from Almora (reserve) Ajay Tamta today held a roadshow at the Chaukhutia, Someshwar and Bhatrochkhan markets. Ajay Tamta, who has been campaigning since March 17, has covered most of the areas. He will be visiting the remaining areas, including Gangolihat Ganai, Berinag, Munsiyari and Dharchula towns and the adjoining villages, from April 5 to 8 and the Jageshwar Assembly constituency on April 10.
Manorma seeks Cong ticket from Tehri
Dehradun, April 4
With the Congress yet to finalise the names of its Lok Sabha candidates for the five seats in the state, supporters of various leaders are pressurising the high command of giving them an opportunity. The latest leader to join the bandwagon is Manorma Dobryal Sharma, a senior Congress leader and former Mayor.
Archana Puran Singh campaigns for AAP candidate Nautiyal
Dehradun, April 4
Continuing with its door-to-door campaigning in support of Aam Admi Party, Tehri Lok Sabha seat candidate Anoop Nautiyal, cine star Archana Puran Singh today went for canvassing in the busy Paltan market area of Dehradun.


Aam Admi Party's Lok Sabha candidate from Tehri Garhwal Anoop Nautiyal takes out a road show with famous film and television actress Archna Puran Singh at Paltan Bazaar. (Right) Anoop Nautiyal and Archna Puran Singh talk to a road side vendor at Paltan Bazaar in Dehradun on Friday. Tribune photographs

Husband's past catches up with SP candidate

Haridwar, April 4
The road for Samajwadi Party candidate from the Haridwar parliamentary constituency Anita Saini does not seem to be a smooth one. Initially, she faced opposition from Haridwar unit party leaders and workers, who termed her a novice and forced candidate. Now, Opposition parties are targeting her, owing to her husband serving life imprisonment for murdering a villager along with his brother and a relative.
Migration from hills major poll issue for UKD (Aeri) group
Mussoorie, April 4
Uttarakhand Kranti Dal (Aeri) group will make migration from hills and unemployment as major issues during the Lok Sabha polls in the state. Jaiprakash Upadhyaya, the Lok Sabha candidate from Tehri UKD (Aeri) group, said this while speaking to media persons in Mussoorie today.
Shooting for Ruskin Bond story 'Ek Tha Rusty II' begins
Mussoorie, April 4
For those who want little bit more of Ruskin Bond, eminent author from Mussoorie, there is good news, as the shooting for another season of the story titled "Ek Tha Rusty II'' began in Mussoorie today.
Newly set up city patrol units get applause from Doonites
Dehradun, April 4
Within two days of its functioning in the Dehradun city, the newly set up city patrol units are receiving applause from the residents of the city for their crackdown against traffic violators and their zero tolerance approach.
No check on wrong parking in Har-ki-Pauri area
Haridwar, April 4
Wrong parking adjacent to the Har-ki-Pauri police post is posing problems to commuters as well as pilgrims. Despite repeated complaints by the victims, the police and the administration have failed to take any steps in this regard. The sanctum sanctorum of Brahamkund, Har-ki-Pauri, is visited by a large number of devotees on a daily basis. The rush is even more on festivals when pilgrims come to have a holy dip and perform rituals at the site.
8 armed men commit dacoity, leaving two seriously injured
Dehradun, April 4
Around eight armed men broke into a house at SelaQui area in the Sahaspur police station on Thursday midnight and committed a dacoity, leaving two family members injured in the incident. The complainant, Seeta Devi, has told police that there were three family members and one tenant inside the house and everyone was fast asleep when unidentified men entered the house after breaking the door locks by stones. They allegedly started beating up everyone inside and asked the family members to hand over the cash and jewellery to them.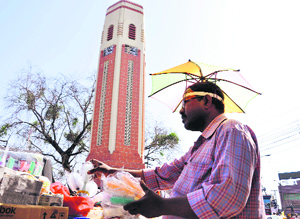 Novel idea: A roadside vendor uses a unique umbrella for shade from the sun at Clock Tower in Dehradun on Friday. A Tribune photograph

DSU students win accolades
Haridwar, April 4
Dev Sanskriti University students Mann Singh and Kanupriya Rawat won accolades in the just concluded Tech Spark -2014 held at JP Institute of Engineering and Technology, Meerut, Uttar Pradesh. Bsc Ist year student Manan Singh won second prize in the national technical fest C programming event while fellow university compatriot Kanupriya Rawat of B.Sc IInd year won second prize in the poster presentation event.
HC rejects review petition on trees
Dehradun, April 4
In a major decision, a two-member bench of Nainital High Court headed by the Chief Justice Barin Ghosh today rejected a review petition filed by Uttarakhand Principal Chief Conservator of Forests against the HC order of Sept 3 that directed for transplantation of trees in Dehradun.
DIT sports meet starts today
Dehradun, April 4
The inter-university sports meet 'Sphurti-2014', will begin on Saturday. The sports meet was being organised by Dehradun Institute of Technology (DIT). Lt General OP Kaushik (retd), former Vice-Chancellor of Maharshi Dayanand University, Rohtak, will be the chief guest in the opening ceremony.
Man held for raping girl on pretext of marriage, job
Dehradun, April 4
A 27-year-old man was today arrested on the charge of raping a 22-year-old woman. In her complaint to the police, the victim alleged that the man repeatedly raped her on the pretext of marriage and getting her a job.
531 students skip general science exam
Dehradun, April 4
As many as 531 students registered in the Dehradun district, skipped the general science board exam of class X, being conducted by the Uttarakhand State Board Examination, here today.
14th Finance Commission to meet on April 7
Dehradun, April 4
To chalk out state specific proposals for the 14th Finance Commission a meeting will be held on April 7 under the chairmanship of Chief Secretary Subash Kumar.
Grameen samiti seeks check on exploitation by schools
Dehradun, April 4
Grameen Vikas Samiti has sought a check on exploitation of parents by large number of Dehradun based schools. Addressing a press conference in Dehradun today, Grameen Vikas Samiti's President Kunwar Singh said private schools in Dehradun are charging exorbitant fees from nursery and kindergarten children and thus exploiting parents in a big way.
Resolve internal conflicts, Cong advises BJP
Dehradun, April 4
The Uttarakhand Congress today launched an attack on the BJP and advised it to resolve its internal conflicts. In a press note issued here, Surendra Kumar, spokesperson for the Uttarakhand Pradesh Congress Committee, said, "By indulging in mud slinging against the Congress, the BJP leaders are trying to deflect the public attention from the party's internal crisis and bickering among its senior leaders." Surendra said it was due to the wrong policies of the previous BJP government that the people were forced to migrate from hill areas to plains in search of livelihood. "Had the BJP government properly used the development funds released by the Congress-led UPA government at the Centre the situation would not have been so bad. The development of the state was never on the BJP's agenda," he added. TNS
90 pc students placed in campus recruitment
Dehradun, April 4
Around 90 per cent of the undergraduate students at the Indian Institute of Technology (IIT), Roorkee, got job offers through campus recruitments this year. Around 1,047 students were placed, out of a total of 1,631 students. According to the IIT management, 21 students got international offers from globally renowned companies like Google, Microsoft, etc. The international companies offered a package of Rs 73 lakh, while the domestic companies offered a package of Rs 32 lakh. Out of 692 registered undergraduate candidates, 633 received national offers and 18 students got international offers. Around 171 companies had visited the campus till date for the recruitment programme this year. — TNS
Asian School win by 67 runs
Dehradun, April 4
Asian School defeated the Sun Beri Club by 67 runs in the ongoing 62nd District Cricket League played at the OFD Ground here today.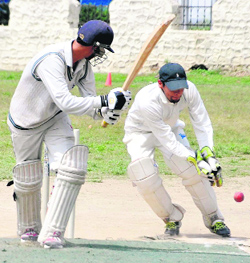 After winning the toss and electing to bat first, Asian School displayed a brilliant batting performance and scored 159 runs. Samrat made the highest 38 runs, followed by 34 runs by Tushar. For the Sun Beri Club, Gaurav Sharma and Sagar Bhandari took two wickets each. In reply, the Sun Beri Club got off to a bad start with opener Paritosh getting out after scoring just two runs. Though Ankit managed to score 31 runs, no other batsman could perform well against the bowling attack of Asian School. The whole team was bowled out for mere 93 runs and it lost the match by 67 runs. For Asian School, Saurabh Negi bowled a brilliant spell and took five wickets. TNS

Wicketkeeper tries to collect the ball during a match in the Dehradun District Cricket League at the OFD Ground in Dehradun on Friday. A Tribune photograph

State police seek more Central forces for polls
Dehradun, April 4
The state Police Department is planning to request the Union Home Ministry for more central paramilitary forces for the Lok Sabha elections. Vinod Zutshi, Deputy Election Commissioner, was unhappy with the security plan made by the state Police Department for the smooth passage of the elections in the state scheduled for May 7. "The exercise to re-evaluate the number of paramilitary companies required for the polls is underway. We will send our request to the Union Home Ministry soon. Till now, the Home Ministry has agreed on sending 45 paramilitary companies," said Ram Singh Meena, ADGP. "The reassessment is done according to the criteria sent by the Home Ministry to us," he added. The Police Department will also demand 13,000 Home Guard jawans.
Protest over proposed liquor shop
Dehradun, April 4
Residents held a protest against the proposed liquor shop at Jakhan here today. Led by Secretary, District Congress Committee, Sushil Chaudhary, they demanded the cancellation of the liquor shop licence at Jakhan, as it would destroy peace in the area. They also wrote a letter to the District Magistrate and said the crime graph would raise if the proposed shop came up in the Jakhan area. — TNS
10 per cent DA for corpn staff
Dehradun, April 4
The state government today passed the orders for the disbursement of 10 per cent DA to nearly 40,000 employees of 14 corporations. The DA hike will be effective from January 1 and the arrears will be deposited in the employees' provident fund. The employees will start receiving the hiked DA from April. With the latest 10 per cent hike, the employees of the 14 corporations are now receiving 100 per cent DA. The hike is expected to put further burden on the government that is hell-bent on pleasing employees to perform well in the Lok Sabha elections.