M A I N N E W S
Babri 'sting' echoes my findings: Liberahan
Confirms mosque demolition was pre-planned
Saurabh Malik
Tribune News Service



Justice Manmohan Singh Liberahan
Chandigarh, April 5
The BJP's attempts to demolish brick by brick the reported sting operation report on the Babri Masjid, by describing it as a pre-poll stunt, may fall flat.
Justice Manmohan Singh Liberahan, who probed the 1992 demolition of the Babri mosque at Ayodhya, has asserted that the operation was indeed meticulously planned and executed.
A news portal, Cobrapost, reported yesterday that the Babri Masjid demolition was an "act of planned sabotage" and not by a frenzied mob of Hindu outfits as claimed.
The portal has based its claims on a sting operation "conducted over two years".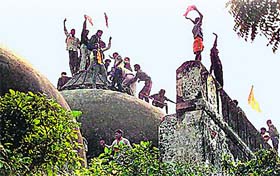 In an exclusive interview to The Tribune, retired Chief Justice of the Andhra Pradesh High Court Justice Liberahan said that the sting operation report was nothing but an echo of his findings that "it stands beyond doubt that the events of the day were neither spontaneous nor unplanned nor an unforeseen overflowing of the people's emotion".
As to whether Narendra Modi, BJP's PM nominee, was involved in any way, Justice Liberahan added that Modi too had "followed" senior BJP leader LK Advani's rath yatra in support of the Ram Mandir movement.
But he went on to clarify that Modi "was neither a part of the conspiracy to pull down the structure nor was he named in the report submitted in the matter by the Commission". The recorded interviews were shown yesterday on various TV channels in which some lower-rung leaders of the BJP, VHP and Shiv Sena claimed that the operation was carried out with precision by their volunteers after going through intensive training.
Among those who were interviewed were BJP leaders Uma Bharti, Kalyan Singh and Vinay Katiyar, who talked about the events in the run-up to the demolition.
Liberahan said the news portal's findings were apparently not incorrect as incriminating material had indeed surfaced during the probe against Uma Bharti also.
The news portal had also claimed that the then PM PV Narasimha Rao was also part of the conspiracy to bring down the mosque. But Justice Liberahan stated that Rao's name did not find a mention in his report.
What news portal said
In the recorded interviews, some low-rung leaders of the BJP, VHP and Shiv Sena claimed that the operation was carried out with precision by their volunteers after going through intensive training and mock drills
An oath for the construction of a grand Ram Temple at the disputed site after removing the structure was also administered to'karsevaks' in the presence of LK Advani, Murli Manohar Joshi, Ashok Singhal, Giriraj Kishore and Acharya Dharmendra, apart from the entire galaxy of Hindu leaders, the investigation revealed
Liberahan's report
It stands beyond doubt that the events of the day were neither spontaneous nor unplanned nor an unforeseen overflowing of the people's emotion
"It cannot be assumed even for a moment that LK Advani, AB Vajpayee and MM Joshi did not know the designs of the Sangh Parivar." The Commission indicted Uma Bharti, Shankar Singh Vaghela, Kalyan Singh, Pramod Mahajan and Vijayraje Scindia, RSS ideologue K Govindacharya and Shiv Sena's then chief Bal Thackeray