M A I N N E W S
Cong denies Nainital ticket to Tiwari
Aditi Tandon/SMA Kazmi
Tribune News Service




ND Tiwar
New Delhi/Dehradun April 5
The Congress today denied Nainital Lok Sabha candidature to veteran party leader and former Uttarakhand Chief Minister ND Tiwari triggering the first signs of rebellion on his part.
The party officially rejected Tiwari's claim to Nainital-Udhamsingh Nagar seat in Uttarakhand nominating sitting Lok Sabha MP KC Singh Baba from the segment.
From the Almora reserved constituency, the Congress re-nominated sitting member Pradeep Tamta.
The declaration of KC Baba from Nainital irked the Tiwari camp which did not rule out the possibility of veteran leader contesting as an Independent. Tiwari's spokesperson Bhawani Dutt Bhatt today told The Tribune that the rejection of senior leader's nomination was a huge disappointment.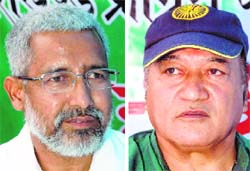 Pradeep Tamta (L) is party's choice for Almora; KC Singh Baba fielded from Nainital
"ND Tiwari will decide on the next course of action by April 12. There is tremendous pressure on him to contest as an Independent given his support base in Nainital. He is discussing the issue with his supporters and will declare his stand after that," Bhatt said indicating possibilities of Tiwari (89) throwing his hat in the ring.
The former Andhra Governor (who had to resign following involvement in a paternity suit), Tiwari just concluded his 13-day trip across Nainital where along with son Rohit Shekhar he held 69 public meetings. "There was groundswell of support for my father. He is meeting his friends who are urging him to fight," Rohit said.
It is learnt that Tiwari is in talks with the Samajwadi Party which could withdraw its candidate in his favour if he decides to contest from Nainital. The BSP may also make a similar offer, said Tiwari's aides.
Tiwari camp sore
The denial of the ticket has irked the Tiwari camp which did not rule out the possibility of veteran leader contesting as an Independent