M A I N N E W S
special to the tribune

Punjabi bizman now owns Ranjit Singh's sword
Canada-based Bob Dhillon had read about the auction of Maharaja's heirloom in The Tribune during an official visit to India
Shyam Bhatia in London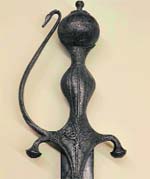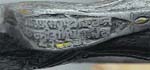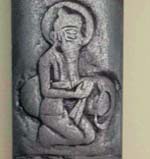 The sword (Top) inscribed with 'Akal Sahai Ranjit Singh Lahore' on the blade in Gurmukhi (Midle), depicts Maharaja Ranjit Singh seated beside a cushion. tribune photos
A Canada-based Punjabi businessman has emerged to be the highest bidder of a historic sword that once belonged to Maharaja Ranjit Singh.
The sword inscribed with "Akal Sahai Ranjit Singh Lahore" on the blade in Gurmukhi, was originally put up for auction last month by Mullock's auctioneers in the UK, but withdrawn at the last minute after it generated huge interest.
A few weeks later, it was put up for auction again - this time at a private auction and via a sealed process - with bids pouring in from anonymous people from across the world, including Punjab, London, Hong Kong, New York and Mongolia.
Bob Dhillon, the proud owner of the sword which is described as an early 19th century curved talwar with remnants of gold pitted around the hilt, says he is "absolutely elated". The engraved silhouette on the upper part of the sword depicts Ranjit Singh seated beside a cushion with the inscription "Ranjit Singh" beneath.
Dhillon says: "I am humbled that after 165 years, my family will be able to help our community become the custodian of our own history. It is probably the first time that such an artefact will be held in Canada and when it comes, you all are welcome to take a look at it."
Dhillon was in India last February, as a member of a visiting delegation headed by the Governor General of Canada, when he read about the forthcoming UK auction of the sword in the Tribune. On returning to Canada, he contacted the auctioneers, only to be told that the sword had been withdrawn from the sale. When it was put up for sale again a few weeks later, he put forward his bid.
Mullock's auctioneer Richard Westwood-Brookes, who was involved in the original sale, said: "It was a potentially unique piece with historic connections to the most famous of all rulers of Punjab. The fine craftsmanship on the sword indicates that it was certainly of a very high status and there are also indications that when it was first made, the hilt was covered in gold and it must have been a most spectacular piece."
Dhillon is the President and CEO of Mainstreet Equity Corp, a real estate company, as well as the owner of National Payments. He is the Honorary Consul General for Belize in Canada and owns 3,000-acre island in Belize, which is being developed into a world-class tourist resort.