Rock(y) & roll!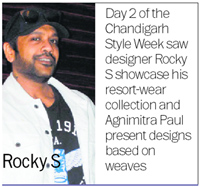 Day 2 of the Chandigarh Style Week saw designer Rocky S showcase his resort-wear collection and Agnimitra Paul present designs based on weaves
Rocky S has just arrived; it will be a while before he makes an appearance. After all, it is a city he has been to, as he likes to admit, "many times." A count that extends to everything else in his repertoire - 350 movies, a fair share of star power, his name for an established label! What next? "I enjoy traveling, meeting new people and music. I'm a positive thinker." Currently taking a break from movies, Rocky S now wants to branch out into, "designing properties and looking for definitely more challenging as well as new roles."
Ode to crafts
She is in the thick of rehearsals a few hours before showcasing her collection titled A Stitch Story. Kolkata-based designer Agnimitra Paul is personally monitoring the exit, turn and entrance of the models. Her only brief to the girls is, "just don't look serious since it is a very happy and bright collection." She adds, "It is based on four textiles from Bengal, namely pulia dhakai, jute, baluchari and kantha." The silhouettes range from Indo-Western sarees with several different drapes to gowns." The 26 outfits were showcased by two showstoppers - golfer Saaniya Sharma and Anurita Jha of Gangs of Wasseypur fame. "We have such exquisite weaves. Youngsters don't mind wearing sarees provided they are dished out in an interesting way."
Courage of conviction
Bheege hue aadmi ko baarish se dar nahin lagta (a drenched man doesn't fear rain)." This was the message in the letter sent to Anupam Kher by his grandfather when he was frustrated, penniless man on the road and wanted to come back to Shimla to work as a school teacher. That gave him the courage to hang on in Mumbai. "Had my letter not reached him, or his letter to me, I probably wouldn't have been here," says the veteran actor.
A friendly web
Actor Kritika Kamra is happy hosting MTV show WEB2ED as it lets her connect with the youth and address today's problems
Kritika Kamra has always wanted to do 'everything'. Strong in academics, she chose to study fashion at NIFT. Picked to act on small screen right outside her college, Kritika followed where work took her — to Mumbai and chose to stay! With parents based in MP, Kritika, who spent a major part of her growing up years in DPS, New Delhi, calls Mumbai her home now.
STAR TRACK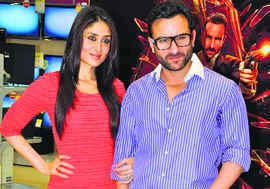 Quirky and superstitious Bollywood stars
Most of us are superstitious. Bollywood stars are no different when it comes to quirky beliefs, which help them feel lucky or successful. Here is looking at some of them...
Shilpa Shetty is very superstitious about cricket matches. Shilpa, who co-owns an IPL team, sticks to unusual traditions when watching her team play. She started with wearing two watches at the games.

Kareena Kapoor and Saif Ali Khan
Astro turf
ARIES: A trip to the local market for locally grown fresh produce might inspire you to eat food that is rich in nutrients. You will be lucky today. Cash crisis will resolve post 3 pm. Think twice before reacting. Tarot message: Work could pose certain minor difficulties, but don't worry. Lucky colour: Green Magic number: 33
The year ahead
If your birthday is April 6...
Number 6 is the most balanced of all numbers, but it also contains within itself the greatest paradoxes. It is as if opposite tendencies were tenuously poised. Because of its gift for harmonising these opposites, you are uniquely qualified to handle and integrate contradictions within yourself. It is for this reason that people ruled by number 6 so frequently find themselves playing counsellors, creating a peace between opposing points of view, or internal conflicts within the self. Working for a charitable cause gives you lots of pleasure. If you're single, you will meet someone special while raising funds for a good cause.
Chatter box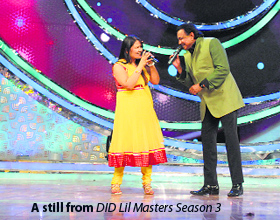 A grand treat
India's original disco king, who won hearts with his stylish moves still enjoys an immense female fan following. This is pretty evident on the sets of DID Lil Masters Season 3 where dada is flooded with compliments from the contestant's mothers every now and then. Earlier one of the top 16 contestant Prathamesh's mom sang for him couple of times on the show and following her footsteps another contestant Teriya's mother steals the show in the forthcoming episode on Saturday April 5. Singing a Nepali song for dada, she not just won his heart but persuaded him to sing a song for her as well. Dada also sang Musu Musu Hasi which are Nepali words for her.