April 6
Summer had finally arrived in the dry and dusty town of Sirsa turning Rahul Gandhi's cheeks a sun-burnt red while he waited to address the impressive gathering at the Congress rally.
With just two days left for campaigning in the state, Congress candidate Ashok Tanwar had made the most of Rahul's visit. The recently appointed state Congress chief had commissioned a fleet of buses to herd the crowds into the maidan on the outskirts of the town.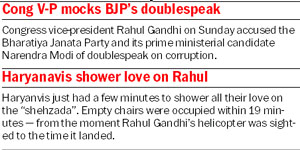 Dressed in a Nirma white kurta, Rahul looked relaxed on the dais probably reassured by the turnout. The crowds flew in the face of the spate of opinion polls that Rahul and the Congress were goners. You could rent a crowd but not its spontaneity. They had come to listen to Congress' "shehzada" as BJP's Narendra Modi derisively called him and Rahul didn't disappoint.
With the Modi blitzkrieg hogging prime time TV, almost unnoticed Rahul appeared to have come into his own. He engaged the crowd with his banter about the balloons of "India shining" that the BJP had floated and even indulged in theatrics. Every time he said "Bang" loudly to describe how the voters pricked the BJP balloons in the 2004 and 2009 elections and voted for the Congress, the gathering clapped and cheered.
Rahul didn't miss the chance of taking a dig at the BJP for delaying the release of its manifesto and claimed that while the BJP dithered the Congress had not only delivered on its promises but had much more to offer. There was crowd connect when he talked of the Congress giving a house for every needy family and a free healthcare scheme if it was voted back.
Rahul could have sold the party's plans to provide jobs to the 80 crore people better if he had brushed up his Hindi a bit more instead of resorting to Hinglish. Words like "backbone" and "freight corridor" may not have been easily understood to describe how the dedicated railway freight corridors now under construction would become manufacturing hubs by linking major cities and creating millions of jobs.
Rahul did talk on other major issues, including how the BJP had fielded candidates who had corruption charges against them, including BS Yeddyurappa, the former Karnataka chief minister. And that Modi and the BJP followed a divisive and exclusionist agenda while the Congress believed in inclusion and taking all the people with it. But these would have had more impact if Rahul used colloquial Hindi terms rather than "outsider" and "insider".
What was noticeable though was while Modi during his rallies was unabashed about projecting himself as the next Prime Minister, Rahul seemed shy of saying he would lead the nation to a new era of prosperity by ironing out the kinks that slowed up the UPA II. He still has a month of rallies and speeches to course correct.