M A I N N E W S
Congress questions BJP's commitment to secularism
Ravi S Singh
Tribune News Service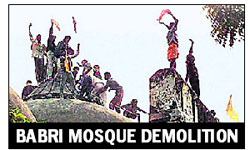 New Delhi, April 6
The Congress today intensified its attack on the BJP, questioning its commitment to secular values. Referring to The Tribune interview of Justice Manmohan Singh Liberhan, who probed the demolition of Babri mosque, Congress leader Abhishek Manu Singhvi said the mosque was demolished under a conspiracy of the Sangh Parivar in spite of repeated assurances for its safety by the then Chief Minister of UP, Kalyan Singh.
Singhvi questioned why senior leaders of the BJP, including Modi and Advani, were misleading the nation by saying that the demolition was a result of spontaneous reaction of "karsevaks". He said the Central Government could not anticipate the mosque demolition as Kalyan Singh had filed an affidavit in the Supreme Court assuring of its safety.
Meanwhile, in the last roll of the dice to shore up its electoral base, the BJP today showcased a minority event in New Delhi to demonstrate its growing fan base. The Jamaat Ulama-e Hind, which is considered to be propped up by the BJP, today appealed to the community to vote for the party to enable Narendra Modi to become the Prime Minister.
A statement by the organisation said, "The Muslims should not be influenced by hearsays." It urged the members of the community to be in sync with "Bhai Narendra Modi in his march towards the progress of the nation".
Flanked by religious leaders of the community, national president of the organisation Maulana Suhaib Qasmi said the Congress was trying to raise the bogey of communalism to stop Modi from becoming the Prime Minister.
Referring to the appeal of Shahi Imam of Jama Masjid Syed Ahmed Bukhari to the community to vote for the Congress, he said Bukhari was roped in by the Congress to counter the BJP.
He blamed the then Congress government headed by PV Narasimha Rao at the Centre for the Babri mosque demolition. The central forces stationed at ground zero, which took orders from the Union Government, failed to stop demolition of the mosque, he said.
To the charge that top leaders of the Sangh Parivar had conspired to raze the mosque, he alleged the issue was sponsored and raised during the run-up to the General Election by forces inimical to the BJP. "Top leaders, including LK Advani, have already said the incident was a tragedy," he said.
Maulana Suhaib Qasmi was accompanied by Mufti Wajahat Ali Qasmi (national secretary of the organisation), Maulana Abdul Rahman (president of the Rajasthan unit), Kari Raizwan, Deoband, (president of UP unit) and Maulana Mazhaar Imam (president of the West Bengal unit).