On a different track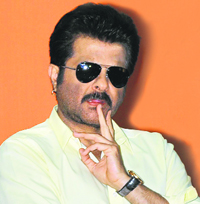 Actor Anil Kapoor is as busy as it gets, shooting in different parts of the world, but that doesn't stop him to take out time to stand by his close family friend Kirron Kher With all political parties promoting their 'creative' war cry, this man dressed up casually doesn't need one. He creates a ripple effect with the one word he is synonymous with. Jhakaas… and the crowd cheers and claps to no end. This million dollar actor Anil Kapoor carries his magnetic effect to the stage of political campaigning in Chandigarh as he comes down to support his family friend BJP candidate Kirron Kher on Sunday. A friend in need is a friend in deed, and Anil Kapoor stands by every word of it. "I am here to support Kirron because she is a family friend. I have known the family for 35-36 years now, and it is natural for me to stand by them," he says in his bindaas style.
Matter of attitude
Singer Mika Singh claims he is the only Bollywood singer who does as many as 18 shows a month
Perhaps it is the way he wears his unabashed audacity in his ostentatious disposition that catches your attention. As always, Mika Singh remains flawlessly honest and candid; a quality of a character that is quite a rarity. In Chandigarh to perform with Abhishek Malhotra, the winner of Idea Rocks India, Mika exchanges a rather interesting, if not controversial banter with us just before he hits the stage. Dressed in a fancy blue coat and of course his never-seen-without shades, Mika speaks of his recently released single with Honey Singh titled Dama dum mast kalandar.
Fine finish


Chandigarh Style Week comes to a close with designers Manoviraj Khosla and Mumtaz Khan
The carnival called fashion puts together a lot of creative heads and pulls a few stops elsewhere at the venue. Last day of Kingfisher Chandigarh Style Week saw everybody join in to further glamorize fashion, celebrate good collections and put an end to the three day event. In conversation with the showcasing designers Manoviraj Khosla and Mumtaz Khan. Metal magic: Manoviraj Khosla brought the curtains down with sequins, colours, linen, velvet and also a generous dose of the metallica and also the showstopper Meera Chopra. The 52 to 55 pieces is quite a comprehensive grand finale, by any standard.
Astro turf
ARIES: Keep your mind on the job throughout the day. Be sure to get to the bank before it closes. Romance could be an anticlimax. Be tactful in your criticism though emotions will be easily aroused. Tarot message: Health of elderly member at home will need looking after.
The year ahead
If your birthday is April 7... This year, your birthday falls on Ashtmi of Vasant Navratre making the whole year auspicious. Number 7 and Neptune influence your sign, making you intelligent, and providing you with will power and determination. You may succeed in financial matters. Carelessness may result in losses. Avoid expressing strong opinions. A family secret may surprise you. Don't make hasty decisions.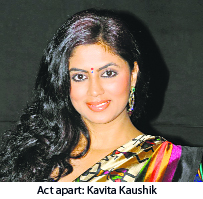 Chatter box
I don't make families on shooting sets: Kavita
New innings: After a buzz that Raqesh Vashisth has quit Qubool Hai, now the news is that Karanvir Bohra will play the lead in the show. However, he will not play Asad. Instead, he will be playing a new character. The show will take a 20-year leap soon. Kavita Kaushik loves to be playing the role of Chandramukhi Chautala on FIR. After returning on the show over nine months ago, she is now enjoying the show. She talks to us about that and more.
Star track
B-town goes to ballot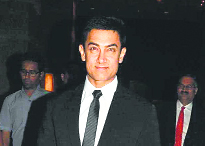 Voting is a very important duty of a citizen. Bollywood has been doing its bit by urging people to vote through various platforms. We tell you who is in town for sure to cast their vote as Election Day (April 26) clashes with the IIFA Awards ceremony in USA. Leading by example: Aamir Khan: He is the one to practice what he preaches. He has been telling people on the show Satyamev Jayate to cast their votes so he will do that too. His wife Kiran Rao will also cast her vote. Acting responsible: Amitabh Bachchan: Big B and his family comprising wife Jaya, son Abhishek and daughter-in-law Aishwarya Rai Bachchan always go to cast their vote and this year will be no different.
Stress buster
Here is how to be happy!
April is the Stress Awareness month, so it really is the time to focus on stress. It is necessary to focus on the role that stress plays in your life. There are many strategies that can help us get rid of stress, reshape our lives and help set us up for greater health and happiness. We need to go through an inner transformation and allow the month of April to gear us up for some happy times through the year.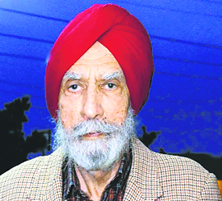 Momentous journey
Once he got down to it, it took him only five months to write what has been in his mind for 67 years. A story that has been a part of his life, his youth and now his old age, when he is almost 85, took shape of words only now, "When people have conveniently forgotten the aftermath of Independence." The self-explanatory title of the book, 1947 A Short Story, is again Har Jagmandar Singh's choice. "Two instances in my life had a huge impact on my personality, one is riots of 1984 and other is Independence.

Pen friend: Har Jagmandar Singh. PHOTO: Vicky Gharu

Twin melody
Loffer Beatz aka Rajat and Ranjha aka Karanveer are two 19-year-olds trying to make a name in the music industry. They are already out with their first album called 7 Stars, which has seven songs by different artistes. The album is out in the market, on i-tunes as well as social networking sites and they have just completed the formalities for the songs to be on air.
Welcome!
WelcomHotel Bella Vista, a member of ITCs hotel group, is set in the heart of the business centre of Panchkula. This quaint and compact hotel offers luxurious accommodation, comprehensive banqueting facilities and local and international culinary offerings. WelcomHotel Bella Vista is committed to create new benchmarks in the hospitality space in the tri-city and are presenting the "Spring Sunday Brunch at Serenade", offering the city's finest Sunday brunch experience. On offer is a wide selection of cuisine served with ITC Hotels customary warmth and efficiency, in an inspired setting. The Brunch experience is offered at an introductory price of Rs. 799 plus taxes per person. — TNS