M A I N N E W S
Hate speech: EC finds Amit Shah 'prima facie' guilty
Tribune News Service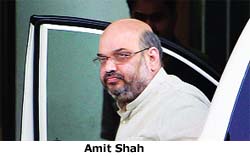 New Delhi, April 7
The Election Commission today issued a notice to BJP general secretary Amit Shah saying he had prima facie violated provisions of the model code of conduct that restrain parties and candidates aggravating communal hatred, personal attacks on rival party leaders and stoking communal feelings to secure votes.
Shah, a close aide of BJP's prime ministerial candidate Narendra Modi, has already been booked by the Uttar Pradesh police over his recent communal remarks while campaigning in western parts of the communally-sensitive state.
The EC has asked Shah to reply to its notice by 5 pm on April 9, saying "failing which it would decide the matter without any further reference to him". The EC had called for video tapes of his speeches at Bijnore, Shamli and Muzaffarnagar on April 3 and April 4 and quoted from his speeches to conclude that Shah was prima facie guilty on at least three counts laid down by the model code of conduct which was enforced on March 5.
The notice cited various clauses of the model code of conduct.