Last leg of campaigning by North East candidates
Himani Chandel
Tribune News Service
New Delhi, April 7
Actor on a makeover spree People take him more as an actor than a politician as he greets them in a Bhojpuri style. Bhojpuri actor and singer, Manoj Tiwari faces unexpected questions and is warm welcomed wherever he goes for campaigning.
"First thing people ask me is to sing a song in Bhojpuri," said Tiwari, BJP's North East Delhi candidate. "It is always different as to how they treat politicians and actors," he said.
He admits that people in the constituency used to have a sceptical feeling about him as they questioned the certainty that he will stay and not run away to the film industry. "I assure them that I have come to serve people and this is my only aim in life," he said.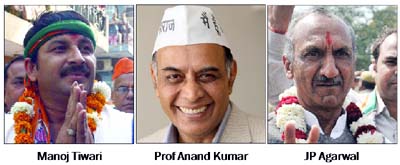 He is leaving no stone unturned to gel with the people most of which still consider him an outsider. "I have bought a flat in Bhajanpura now where I meet people and listen to their problems," he said.
He campaigns around 17 hours a day . He starts his day at 7.30 am by 10 pm returns to the party office where I have dinner and meet the party workers," said Tiwari.
Support from teaching fraternity
A large number of teachers and student communities are giving back hand support to Prof Anand Kumar, JNU professor and North East Delhi candidate of the AAP and are campaigning for him day and night to seek votes.
The teaching fraternity is extending their support to Prof. Kumar by accompanying him in his padyatras, road shows, and attending his public meetings in the lanes and by lanes of the constituency.
He is backed by the student supporters who have divided themselves in a group. They are campaigning door-to-door in the backward areas.
"I have been campaigning for him since the day he filed his nomination," said a professor.
He starts campaigning from 7 am and stretches his day till 4 am the next day. Prof Kumar also has noted journalist Kuldeep Nayar campaigning for him.
"People like Prof Kumar do understand the diversity of the country. Such people are required to get into Parliament and then only all sections of people in our country will be elevated. For the Past five years the Congress and the BJP stopped development of the North East constituency," said Nayar.
Campaign a family affair
Fighting an anti-incumbency wave in his Lok Sabha seat, North East Congress candidate JP Agarwal is campaigning extensively in his area.
Campaigning extensively during last leg of the trail, he starts his campaign by 9 am which continues till 11 pm. He has held more than 30 public meetings and padyatras in past 10 days. Toiling hard from dusk to dawn, he is also accompanied by family members, including his wife, sister, daughter-in-law.
"We are daily campaigning in different assembly constituencies. All of the family members are attending 25-30 corner meetings in a day. We are trying to reach out to maximum number of people as the constituency is very large, so we started campaigning in the second week of March," Ekta Agarwal, daughter-in-law of Agarwal. "My husband is looking after the social media and other PR campaign," she said.
Agarwal is one of the few MPs who has used the entire provision of MPLAD for development projects in his constituency.
Of the total entitlement of Rs 21.89 crore, he has booked Rs 21.40 crore for development projects of the constituency.