The Big Moment
The countdown for the two big releases of the year begins… Gippy Grewal's Jatt James Bond and Diljit Dosanjh's Disco Singh might change the face of Punjabi film industry. Fans are already placing their bets…
Here it comes — a turning point in the Punjabi film industry. No, Rakhi Sawant or Sunny Leone is not making their debuts here! But, for the first time, we have two stars of Pollywood coming up with their films back-to-back — Diljit Dosanjh's Disco Singh and Gippy Grewal's Jatt James Bond — which are the two most-awaited releases of the year.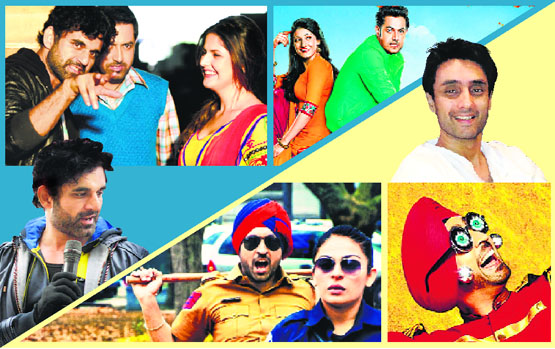 Time for some action
Gippy Grewal and Zarine Khan unveil the music of Punjabi action thriller flick Jatt James Bond
At the music launch of Pollywood's action-thriller Jatt James Bond, one gets a feel that Punjabi cinema is all game for experimentation and Gippi Grewal, the lead actor, reaffirms one's faith in change. Produced by Fortune House Productions and Gurdeep Dhillon, the film features Zarine Khan along with Gurpreet Ghuggi and Vindu Dara Singh. "The film has been directed by Rohit Jugraj, who is a professional at action thrillers. I've been persuading him to work with me for a long time, but he was keeping busy with Sanjay Dutt's film. We were rather lucky to have roped him in now," shares Gippy while adding, "I am anyways a huge fan of action thrillers. So, this film promises entertainment and is very different from the other Punjabi films."
Playing a playboy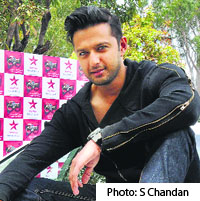 Actor Vatsal Seth, who is coming up with Ek Hasina Thi, is happy with the way Indian television has progressed
Indian television, in its endeavour to vanquish all stereotypical notions associated with its existence (remember its pet name — idiot box?), has now evolved through a rather experimental stage and exploring new trends. This time around, Ek Hasina Thi, a new show that will be telecast on Star Plus from April 14 onwards, has its lead character, Vatsal Seth, the much-loved Jai of Just Mohabbat, talking about the show's plot and his character. He maintains that the show is different from the regular saas-bahu sagas.
On fertile ground
Sowing a seed, seeing it germinate and finally plucking the fruit of labour—nothing compares the pleasure of gardening for these garden lovers from Chandigarh
The poetry of the earth is never dead…wrote John Keats and our own City Beautiful's 'green' lovers do justice to every bit of it. Refreshing, light workout; stress buster, gardening is a not just a hobby with huge benefits but a passion with some. We take a look at their green spaces thriving in colour this spring and report back a fact or two on creating your own mini-garden!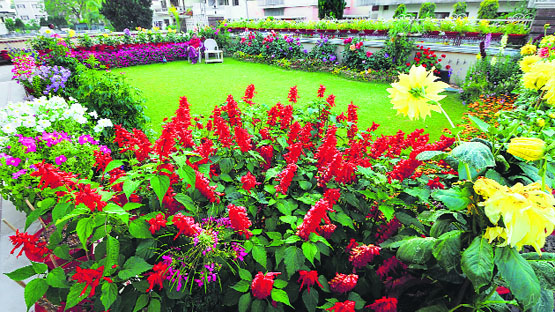 Rupinder Boparai's garden presents a riot of colours
Par Excellence
Deliberate practice
If you play regularly but do not practice or you do practice but find that your handicap remains the same, you probably are doing the wrong thing. Playing itself would certainly not improve your scores as golf is a complex sport and has many components within the game and none of us are born with them. These are developed over repeated movements or practice. Studies have shown that most of the learning by the brain is non-conscious. Learning is found in acts of adjusting, developing and recalling. This is what the brain is naturally predisposed to do through evolution. For a person to reach their full potential the brain must learn to decode, encode and recall information. This can be best done by what is called deliberate practice.
Back to the roots!
With Aamir Ali and Vivian Dsena returning to their hit shows, we take a look at other actors who too have come back to their shows after a break.
Seeking love
Rashami Desai
She has been part of the hit show Uttaran, but soon after the younger generation came in she disappeared. Now she has returned with a focus on her love story with Rathore.
Star track
Rajat Kapoor's Ankhon Dekhi will be shown as part of the 12th Annual Indian Film Festival of Los Angeles (IFFLA), and the actor-filmmaker is upbeat about it. IFFLA will begin on Tuesday. "If you are in LA - watch Ankhon Dekhi on April 9 as part of IFFLA 2014," Rajat tweeted Monday. The quirky drama has been lauded for its content by the film fraternity.
Master Chef
A healthy choice
Soya, the wonder cereal, is catching nutritionist's imagination. But besides the nutritive value, we are also looking for something to tickle our taste buds too. Try making this simple but appealing snack and you are sure to get the reaction—so gooooood!
Smooth sailing on telly
After proving himself in movies, Ashish Chowdhry took up acting on television with Ek Mutthi Aasman where he plays a grey character. He talks about his role, switch to the small screen and more.
How has the experience of shooting been? It's pretty good. I am coming to terms with television now. It's a totally different experience to do a daily show; earlier I only did weeklies. The show has been appreciated, so has my character.
Time to flaunt
The collection has two sides to it, one is that embroideries are intricate and silhouettes are neat, a balance never easy to strike! And the other, unfortunately is, that the collection is low on originality. Shweta Khanna, a Mohali-based designer, gets it almost right but with flaws that can't be ignored. A pass out of NIFT, Delhi, Shweta started her label Flaunt Couture two years back. She does bridal, couture and diffusion line in fabrics ranging from georgettes, raw silk to velvet and embellishes them with aari, gotta patti, crystals and dabka.
Cutting edge
Wella Professionals has brought back Chandigarh on the styling destination map today by associating with leading salon chain Tress Lounge spearheaded by Munish Bajaj. With a chain of beauty salons in Chandigarh, Panchkula, Mohali and Ludhiana, Tress Lounge offers a whole range of beauty services to make you look just the way you want. Armed with the top rate services and products, it has become a preferred choice of the people of this region.
Astro turf
ARIES: Be true to your ideals and don't sell yourself short for money or glamour. Monetary issues can dictate what you need to concentrate on. A secret arrangement comes to light.
The year ahead
If your birthday is April 8...
The number 8 gives you the power and potential to achieve great things. It is both your challenge and your birthright to gain dominion. Whatever your enterprise, you strive to be the best and most successful in your field. You are highly competitive and will not rest until you are satisfied that you have bypassed the opposition. You enjoy challenges and rivalry. You are a realist and a visionary planner. Money and authority are available to you if you are willing to discipline yourself.