Family tales and personal takes
Nonika Singh
When relatives take upon themselves to write biographies, do they enrich history with personal accounts or does objectivity take a backseat?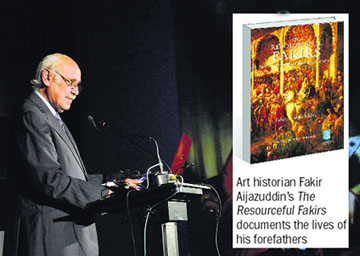 How we love to peep into other peopleís lives. And what better way to get to know people than through books. Indeed, no book can truly sum up a man. As Mark Twain said, "Biographies are but the clothes and buttons of the man. The biography of the man himself cannot be written." Yet biographies remain legitimate and accurate sketches of men and women the history must record and the ensuing generations must know. Arthur Balfour might have felt, "Biography should be written by an acute enemy", the reality can often be to the contrary.

---
Arts
Wall street journal
Aradhika Sharma
Art is no longer restricted to an artistís canvas. Dynamic and explosive, street art is redefining the genre
There are many things that define the spirit of a place: The food, the smell, the clothes, the language, the features of the people and the art, prints, graffiti that you see on the walls, the streets and the homes of people which is definitive and representative in many ways.
---
Fitness
Good health
Can vitamin C cure your cold?
Dr Ishi Khosla
There has been a strong belief that vitamin C protects against colds and diseases. But this theory is not well supported by research and large doses can even be harmful
Think of building your immunity or fighting the winter chill, the first thing you think of is good old vitamin C. While most people pop-in vitamin C tablets, some supplement their diet with orange juice, lemon or amla juice. Generally, there has been a strong belief that vitamin C protects against colds and diseases. Two time Nobel Laureate Dr Linus Pauling claimed in 1970s that the deficiency of vitamin C is the main cause for heart disease and many other degenerative diseases that can shorter our life expectancy.
Damaging strokes
Women are more prone to brain strokes, especially pre and post-menopausal women
Dr Vipul Gupta
Stroke is the third most common cause of death and disability worldwide. It occurs due to brain damage because of decrease in blood supply to brain because of a blockage in the blood vessel feeding the brain. Sometimes it occurs when a blood vessel bursts, leading to bleeding in the brain. Stroke is also referred to as "brain attack". As a result of it part of brain doesn't get oxygen and blood it needs and dies.
---
Society
Please spare me the momsense
What is the one thing that new mothers get most of without asking? It is not help but loads of advice , often unsolicited
Aiditi Garg
Everyone from your granny, neighbours and maids to colleagues and even the cashier at the store where you buy the diapers, has a gem of advice to offer. If managing a new born was not a tough call in itself, you have to go through bouts of self-doubt inflicted by well- meaning advice that points towards the direction opposite to the one you are already taking. If you identify with any of the following, relax in the knowledge that you are not a bad mom but a victim of momsense.
Where should one file a complaint
I live in Chandigarh and have a complaint against a retailer in Delhi, from whom I bought an expensive saree. When I went to file my complaint, I was told that I should file it in an appropriate consumer forum in Delhi and not in Chandigarh. Is this correct? I always thought that one could register a complaint in a forum closest to one's residence.
---
Travel
Bond with Boston
Preeti Verma Lal
This vibrant, thriving city in New England is one of America's oldest cities. It is often referred to as the cradle of liberty
In Boston, beginnings can be baffling. You do not know where to begin. Or, who to begin with in Boston. With the early European settlers who christened it Trimountaine after the three mountains (no mountain stands now!)? Or, the Puritans who renamed it after the town of Boston in England? If you like your prose, you might begin with Charles Dickens. His first rendition of A Christmas
---
Entertainment
When looks donít matter
Shoma A. Chatterji
The film industry has always been partial to those with good looks. However, many average-looking actors have evolved into very famous and successful stars in their own right
Talking movies
Ervell E. Menezes
Hereís a peep at some of the old classics that impressed with their novelty
After almost five decades on the film circuit, guess one is amply qualified to discuss movies, the ones that impressed and why, but not to impose my views but share with GenNext which I believe is better than us, or doesnít evolution teach us that.


---