It's a fight between Pandavas, Kauravas: Rahul
Pratibha Chauhan/ Ambika Sharma
Tribune News Service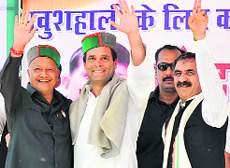 Congress vice-president Rahul Gandhi and Himachal CM Virbhadra Singh wave during an election rally in Bilaspur on Thursday. Photo: Amit Kanwar

Bilaspur/Solan May 1
Stepping up his tirade against BJP prime ministerial candidate Narinder Modi, Rahul Gandhi today said it was the common man who would decide in this battle of Mahabharta whether the reins of the nation would be in the hands of the evil forces of Kauravas or the well meaning Pandavas.
Rahul was in Himachal Pradesh today and addressed rallies at Bilaspur and Solan.
Speaking at an election rally here, Rahul said these polls were a fight between the ideologies of the Congress and the BJP. "Modi is a man who is so full of himself that his sole objective is grabbing the PM's post, without sparing a thought for the common man," said Rahul. On the other hand, there was the Congress leadership that had made supreme sacrifices for the nation.
Whether it is Modi in Gujarat or Dhumal in Himachal, it is big business tycoons who have benefited.
"It was like zamin sarkari- sampatti hamari as a sports body was given government land worth Rs 250 crore for Re one lease," he remarked in an oblique reference to the HP Cricket Association (HPCA) headed by local MP Anurag Thakur.
"Modi might harp on the Gujarat model of development but the fact is that it was due to his benevolence that Adani group made a phenomenal growth from a Rs 3,000 crore company to a Rs 40,000 crore empire," he said accusing the BJP of promoting big industrial houses.
"Today Modi is talking of empowering women but the fact is that it is RSS leader Golwalkar who had said that giving voting rights to the women was the biggest blunder the country had made," he said.
Striking a chord with the serving and retired soldiers, he said the Congress had accepted their demand for one rank-one pension. "If voted to power, the Congress will ensure free medical treatment and housing for the poor," he said. Chief Minister Virbhadra Singh said the BJP had always tried to divide the state along caste and regional lines.
At Solan, Rahul said if the BJP came to power peace would be a casualty. Addressing a public rally which was attended by the people from Shimla constituency in favour of the party's nominee Mohan Lal Brakta, Rahul said 22,000 persons had lost lives during the five-year NDA rule in various terrorist activities while merely 800 people had been killed in the UPA government's five-year tenure.
Rahul said Modi's self-proclamation of being the people's chowkidar served the interests of a few corporate houses like Adani. He reiterated his party's stand against corruption and termed the RTI Act as their biggest achievement. He said Modi had not implemented this Act in Gujarat.