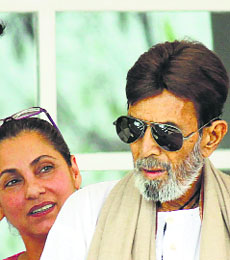 Age is just a number…
They are grinning, smiling, laughing and making all kinds of jokes about Congress veteran Digvijay Singh, 67-year-old, who recently revealed that he was in a 'relationship' with a television anchor Amrita Rai, 43, and intended to 'formalise' it after her divorce came through. It certainly doesn't come as a shock, for this is not the first case of a May-December couple!






Dimple Kapadia and Rajesh Khanna

Figuratively speaking
When the common factor in the group of artists is their hometown, you can join the dots further to pick up a few more similarities. Kalavishakar group of Mumbai comes to Chandigarh and brings along paintings inspired from Elephanta Caves, Arabian Sea, sea rocks… Motley of paintings adorns the walls of Punjab Kala Bhawan. There are works in abstract, figurative, semi-figurative, landscape, water colours, oil, acrylic, a variety that you come across only in group shows.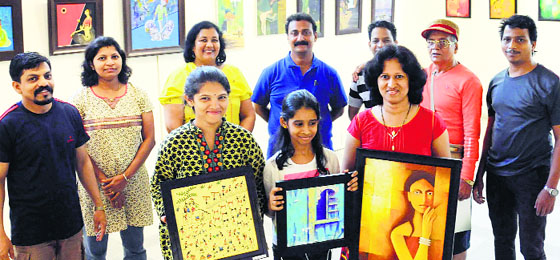 Vibrant hues:

Members of Kalavishakar with their works. Photos: Manoj Mahajan
No chickening out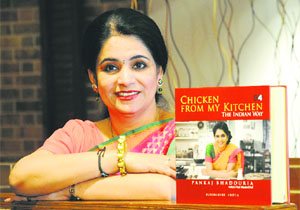 The regions as varied and as divergent as Kashmir to Kerala come together in her book where a chicken plays the protagonist. Masterchef Pankaj Bhadouria spared no region while traveling across the country to gather recipes on chicken. "I come from a family of chicken lovers. Each time, chicken has to be eaten and has to be eaten differently…Even otherwise, chicken and fish are popular food choices now as increasing number of people are avoiding red meats," while at Barbeque Nation, she responds to initial and rather obvious query on why only chicken about her latest book titled Chicken From My Kitchen.
Photos: Manoj Mahajan

A time to invest
Akshaya Tritiya is a special occasion that usually happens in the month of late April to early May on the third (tithi) of bright half of lunar month of Vaishakha according to the traditional Hindu calendar. Derived from the Sanskrit word Akshaya, which means never diminishing, imperishable, and eternal, the day brings in good luck.
Screen test
Eros Films Purani Jeans Hindi film, which was shot at various locations in Chandigarh, including Kalagram, Sector 37, Sector 43, Sukhna Lake and Industrial Area, will release on May 2.The cast of the film includes Rati Agnihotri, Sarika, Tanuj, Aditya, Izabella and city-based artist Vimal Trikha. In Purani Jeans, he plays the role of a licensing officer. The film has been directed by Tanushree Basu. — TNS
STAR TRACK
Ameesha casts her spell
Ameesha Patel, who will be next seen in Desi Magic, reveals her beauty regime...
Face value
I keep my face make-up free when I'm not shooting. I never sleep with make-up on. I cleanse, tone and moisturize. Clarins, Sisley and Guerlain are great products. Coconut water is also a great hydrator in the summer or otherwise. Stay away coffee and tea unless it's green tea. It is filled with antioxidants and super good for you.



Tiger celebrates World Dance Day with fans


Work before pleasure


Fun on stage


Congratulations and celebrations


Kajol on TV show


Priyanka's support system


Love for food


Of Sunny & sex