Mother's Day special: JSSK scheme gaining ground in Bathinda
Nikhila Pant Dhawan
Tribune News Service
Bathinda, May 10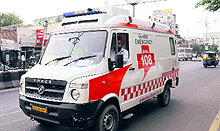 Launched with the aim of providing immediate help to patients, the 108 ambulance service has gained substantial ground in the field of encouraging institutional deliveries in the Bathinda and Mansa districts ever since its inception on April 3, 2011.

Over the last three years, the ambulance service has attended to a total of 13,803 cases of delivery and 9,938 cases of dropping the new mother and child back at their homes under the Janani Shishu Surakhya Karyakram (JSSK).

"In the first year of the service, we didn't get many cases of bringing an expectant woman to the government hospital since the larger perception was that the 108 service was for accident and mishap victims or other patients. In the year 2011-12, we received 3,117 requests in pregnancy cases and only 60 requests for the JSSK service," said Raman Garg in-charge of the service for Bathinda and Mansa.

"As the service gained popularity in 2012-13, we attended to 5,118 pregnancy cases and registered a huge jump in the JSSK cases as we got requests for 5,677 cases. In 2013-14, we attended to 5,597 pregnancy cases and 4,201 JSSK cases," Garg added.

Garg further stated that despite best efforts of the department and the company to make people aware about the service, residents of far-off villages are yet to be apprised of the usability of the service for delivery cases.

"We have 12 ambulances stationed in different parts

of the district, 30 kms being the maximum distance between two ambulances. We have two ambulances in Bathinda city, and one each in Rampura, Goniana, Nathana, Sangat, Bhagta Bhai Ka, Talwandi Sabo, Maur, Bhucho, Rama Mandi and Baluana and yet there are cases when the request for an ambulance has been made at the last moment and the child was delivered in the ambulance," Garg said.

In 2011-12, as many as 10 children were delivered in the ambulance on the way to the hospital, in 2012-13, the cases increased to 19 and in 2013-14, 29 such cases were registered.

To handle delivery cases in the ambulance, there are D-Pharma and GNM male attendants who have been trained in handling emergency delivery cases.

Interestingly, in the Mansa district while the use of the 108 service for delivery and the JSSK cases was higher than Bathinda in the first year, Mansa was left behind in the next two years. In 2011-12, Mansa registered 114 JSSK cases and 3,224 pregnancy cases. In 2012-13, 4,085 JSSK cases and 4,041 delivery cases were attended in Mansa. In 2013-14, 3,717 JSSK cases and 4,149 pregnancy cases were attended to in Mansa.

As far as cases of delivery in ambulance are concerned, 8 cases in 2011-12, 22 cases in 2012-13 and 21 such cases were registered in 2013-14.