Injured college girl recovers, takes exams
Bathinda, May 5
She can't sit in the same posture for long and her elder sister reads out books to her to help her prepare for exams, but Manpreet Kaur is strong-willed and has not missed a single exam. Manpreet, a sophomore student of BA of Government Rajindra College, who was critically injured on February 21 on the college premises after some construction material fell on her head during de-shuttering at laboratory construction site.
22 yrs on, truck-mounted water cannon still doing wonders in dispersing protesters
Bathinda, May 5
Don't be surprised to know that the 22-year-old truck-mounted water cannon of the Punjab Police is still doing the wonders of dispersing protesters or agitators the way it used to do two decades ago. Reason-its unprecedented maintenance and sturdy basic structure.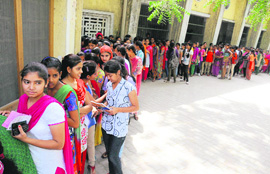 Endless wait: Students of Government Rajindra College stand in a queue to receive their roll numbers in Bathinda on Monday. Tribune photo: pawan sharma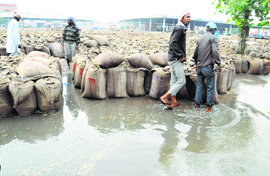 Rain of sorrow: Heavy showers in the region damaged the wheat lying in mandis. Tribune photo: Pawan sharma

Players laud govt's novel idea
Bathinda, May 5
The kabaddi fraternity is excited about the plans of the Punjab Government to organise an international kabaddi league this season. Sources said the state government is planning the kabaddi league with the aim of promoting the sport internationally and give larger exposure to young and talented kabaddi players.
Docs sensitise people on asthma
Amritsar, May 5
City doctors today came together to sensitise the masses on the early diagnosis of asthma and the right treatment to deal with the disease on the eve of World Asthma Day. The doctors warned that asthma patients, who were not undergoing the right treatment, ran the risk of asthma attacks, which often required admission to a hospital and could even be life-threatening.
Day before exam, students struggle to get roll numbers
Jalandhar, May 5
Even though the examinations in the colleges affiliated to Guru Nanak Dev University are going to commence tomorrow for undergraduate classes, including BCom and BBA, thousands of students of DAV College are upset over the delayed issuance of their roll numbers.
Teacher writes to CBSE regarding discrepancies in AIPMT
Bathinda, May 5
Prof Rajesh Kumar Singla, who has been teaching biology to students of Bathinda and its surrounding areas at his coaching institute for the past 23 years, has written to the Central Board of Secondary Education (CBSE) pointing out discrepancies in some of the questions in the biology section of the All India Pre-Medical Test (AIPMT), conducted at various centres across India.
Snatchers injure cops, arrested
Kapurthala, May 5
In an early morning incident today, two bikers, who had been trying to flee after snatching a gold chain, rammed their vehicle into a barricade, injuring two PCR cops near Sujokalia village, falling under the Talwandi Chaudharian police station.
Residents heave a sigh of relief after light showers
Bathinda, May 5
Residents of Bathinda and its surrounding areas were in for a pleasant surprise when light showers changed the weather. The light rain, which began around 4pm, was followed by cool wind that brought down the temperature by several notches in the evening.
MSc chemistry students bag top positions in varsity
Bathinda, May 5
Students of MSc at Baba Farid College brought laurels to the institute by performing well in the examinations conducted by Punjabi University, Patiala. MSc chemistry (1st semester) student Rimple bagged the third position in the university merit list.
Ramgarhia college holds placement drive
Phagwara, May 5
The Career Counselling and Placement Cell of Ramgarhia College of Education, organised a campus placement drive at the college in collaboration with the Alpha Global Enterprises. Around 90 B Ed and M Ed students participated in the drive. Principals and teachers from different schools of Jalandhar and Phagwara, including Eklavya School, Jalandhar, New Sunflower Public High School, GDR School, SD Model Sr Sec School, Punjab Public Sr Sec School, Divine Public School, DAV Centenary Public School and Sahibzada Ajit Singh School, Phagwara, interviewed the students as per the subject requirements of their schools. S Bharpur Singh Bhogal, chairman-cum-president, Ramgarhia Educational Council, congratulated the staff and the students for organising the placement drive. — OC
NGO Sahara starts free cold water service for commuters
Bathinda, May 5

NGO Sahara Jan Sewa today offered free cold water to commuters in the main Dhobi Bazar and surrounding areas to provide some relief from the scorching heat wave. NGO president Vijay Goyal said the scheme had been launched keeping in view the rising heat stroke incidents due to the rising temperature. He said the mobile water service would roam around in the busy market areas. In the coming days, 10 more water tankers along with five mobile vans would be introduced to serve people, he added. TNS

Workers of the NGO Sahara Jan Sewa offer free cold water to commuters in Dhobi Bazaar in Bathinda on Monday. Photo: Vijay Kumar

Discussions held on electoral reforms
Bathinda, May 5
The General Samaj Party held a discussion on electoral reforms at Teachers' Home. Speaking on the topic 'Existing election system, a danger for democracy', the national president of the party, Suresh Goyal, said there should be no campaigning, no budget for canvassing, no one should be allowed to hold rallies and there should be no public meetings. He said the need of hour was to free the election system from all kind of influences; all political parties should be bound by law to fulfill promises made in their manifestoes and they should not depend on subsidies and freebies. — TNS