M A I N N E W S
Poll-bound Varanasi turns fortress


Last phase to decide fate of Modi, Kejri, Mulayam


41 seats at stake in UP, Bihar, Bengal
Tribune News Service & PTI
New Delhi/Varanasi, May 11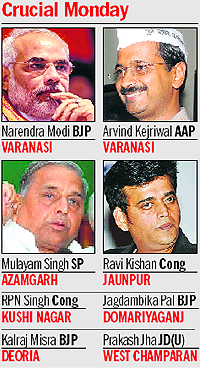 The Great Indian General Election will come to a close on Monday with polling in 41 constituencies across the three states of Uttar Pradesh, West Bengal and Bihar.
Over nine crore voters are expected to decide the fate of 606 candidates, including BJP's prime ministerial nominee Narendra Modi and AAP leader Arvind Kejriwal (both Varanasi) and SP chief Mulayam Singh Yadav (Azamgarh) in the ninth and final phase of polling.
Nearly 16 lakh voters will decide the most high-profile contest of the ongoing Lok Sabha polls, where Modi is locked in a triangular fight with Arvind Kejriwal (AAP) and five-term UP MLA Ajay Rai (Congress). The temple town has turned into a fortress with over 45,000 security personnel being deployed to ensure free and fair polls tomorrow.
Top police officers of Uttar Pradesh have come down to the city to assess the security situation and make foolproof arrangements for what is being dubbed as the blockbuster battle of the 2014 Lok Sabha polls, with the Election Commission too already appointing a Special Observer.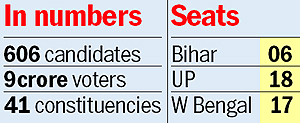 Gun-toting security personnel could be seen in almost every part of the city as well as in rural areas and police said there should not be any apprehension about any irregularities including rigging and booth capturing during the polls. Central paramilitary forces have been deployed at all the 1,562 polling stations which are also under CCTV coverage.
The stakes are high for the BJP and regional parties Trinamool Congress, Samajwadi Party and the Bahujan Samaj Party. Of the 41 seats, Uttar Pradesh will witness polling in 18 seats. Of these, the ruling Samajwadi Party has six seats, followed by BSP (five), BJP (four) and Congress (three).
In West Bengal, 17 seats will go to the polls. Fourteen of these seats are held by the ruling Trinamool Congress, while Congress, CPI and Independent have one each. Several incidents of violence were reported from the state a day ahead of the polls.
In neighbouring Bihar, six seats are slated to go to the polls, of which the BJP and JD(U) have two each, while the RJD and an Independent have one each.
Counting of votes for all 543 Lok Sabha constituencies is slated for May 16. An average of 66 per cent voters exercised their franchise in the last eight phases, the highest since 1984.
Prominent faces in the fray tomorrow are Union Minister Adhir Ranjan Chaudhary (Behrampur-West Bengal), BJP leader Jagdambika Pal (Domariyaganj), Union Minister RPN Singh (Kushi Nagar-both UP) and former minister and RJD leader Raghuvanh Prasad Singh (Vaishali-Bihar), BJP's Kalraj Misra (Deoria), Yogi Adityanath (Gorakhpur), Dara Singh Chauhan (BSP, Ghosi), Bhola Pandey (Congress, Salempur) and Bhojpuri actor Ravi Kishan (Congress, Jaunpur).
Pandey has a regrettable history. He hijacked a plane in 1978 demanding that Indira Gandhi be released from prison by the then Janata Party government.
Notable candidates in West Bengal apart from Adhir Ranjan Chaudhary are railway ex-minister Dinesh Trivedi (TMC, Barrackpore), Sougato Roy (TMC, Dum Dum), magician PC Sorkar (BJP, Barasaat), actor Tapas Paul (Krishnanagar), Chief Minister Mamata Banerjee's nephew Abhishek Banerjee, Subhasini Ali (CPM) and ex-finance minister Asim Dasgupta.
In Bihar, filmmaker Prakash Jha (JD(U)), Union ex-minister Raghuvansh Prasad Singh (RJD) and Radah Mohan Singh (BJP) will see their fate sealed.
The Election Commission has formed special teams and has dispatched observers to places such as Varanasi where the BJP is unhappy with the local District Magistrate.