M A I N N E W S
Modi effect: Sensex breaches 24,000 mark; rupee joins party
Experts warn adverse poll result may see meltdown in indices
Sanjeev Sharma
Tribune News Service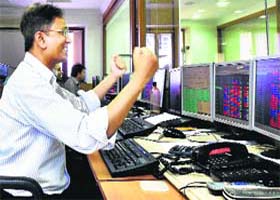 A stock broker reacts as the Sensex crosses the 24,000 mark. PTI
New Delhi, May 13
Propelled by exit polls showing Narendra Modi-led BJP and its allies heading towards forming the next government, the stock market on Tuesday continued to smash barriers.
Continuing its scorching run for the third trading session in a row, the BSE Sensex crossed the 24,000-point mark for the first time in its history. In the last three sessions, the breathtaking rally has scalped close to 1,500 points and broken new record highs everyday like a knife through butter. The Sensex ended at a new closing peak of 23,871 points recording a gain of 320 points. Given the heavy foreign inflow of $1 billion into the stock markets in May alone, the rupee is also joining the party. Tracking rising stocks, the rupee on Tuesday surged 37 paise to end at a nine-month high of 59.68 against the dollar.
Markets are excited over the prospect of the Narendra Modi-led BJP forming the government as exit polls on Monday gave the NDA between 249 and 290 seats. The formation of a stable and reform-oriented government that would boost growth and the economy is firing the market's bull run.
However, the caveat now is that since the market has shot up, any adverse election result on Friday may see a huge meltdown in the indices. Brokers say the rally would now depend on the extent of the NDA win.
Dinesh Thakkar, chairman & managing director of Angel Broking, said the exit polls predicted the NDA to be the largest pre-poll formation, which was in line with market expectations. "In view of the rally to historic highs, the possibility of an up move from these levels would depend on the incremental seats that can be won by the NDA over and above the consensus exit poll range of 257-280," he said.
The industry said a stable government would be able to move ahead on reforms. Assocham said while incremental macroeconomic indicators were largely in line with expectations, markets (both equity and rupee) remained exuberant ahead of the outcome of the General Election on Friday. "A strong and stable coalition would enable the new government to announce single-minded reform pursuing policies to de-bottleneck supply concerns, boost infrastructure investment, and revive investment climate and thereby growth in the economy," it said.
Analysts said exit polls led to markets closing at record highs. Dipen Shah, Head-Private Client Group Research at Kotak Securities, said the exit polls gave further fillip to the markets.