M A I N N E W S
special to the tribune

Obama praises India vote
Ashish Kumar Sen in Washington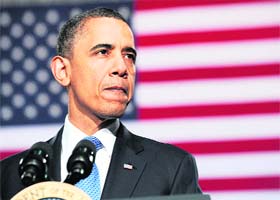 US President Barack Obama on Monday congratulated Indians for completing national elections and said he looks forward to working closely with a new government in New Delhi.
"The United States and India have developed a strong friendship and comprehensive partnership over the last two decades, which has made our citizens safer and more prosperous and which has enhanced our ability to work together to solve global challenges," Obama said.
"We look forward to the formation of a new government once election results are announced and to working closely with India's next administration to make the coming years equally transformative," he added.
On the eve of the elections, Obama administration spokespersons have been reluctant to discuss Indian politics or the possibility that Narendra Modi — who was barred by the George W. Bush administration from receiving a US visa after the Gujarat riots — may win.
Obama said India had "set an example for the world in holding the largest democratic election in history, a vibrant demonstration of our shared values of diversity and freedom". State Department spokeswoman Jen Psaki congratulated Indians for participating in"the largest-ever free and fair democratic election in human history."
"These elections are an inspiring example of the power of the democratic process inaction, and the United States, like so many others around the world, has great admiration and respect for the vibrancy, diversity, and resilience of India's democracy," said Psaki.
The US media has mostly ignored the elections, prompting late-night comedian John Oliver to devote a section of his show to mocking the sparse coverage.
The US-India relationship has suffered some setbacks over the past year, including most prominently when U.S. authorities arrested Devyani Khobragade, a consular officer at the Indian Consulate in New York, on charges that she had underpaid her Indian maid and lied on US visa forms.
On Monday, Psaki praised the role India plays in "advancing prosperity, democracy, and stability across the Indo-Pacific region." "Whether we're working together to educate the next generation of engineers and entrepreneurs, or combatting global challenges like climate change and violent extremism, the US-India partnership is essential to securing a brighter future for both of our peoples," she said.
"We look forward to working with the leaders chosen by the Indian people to advance this important partnership and to set an ambitious agenda," she added.
While the saga of Modi's US visa has dominated news reports and analyses on his relationship with Washington, analysts say this will be a non-issue if he is elected prime minister.
As Modi's election victory has appeared more likely, Obama administration spokespersons have said they would consider his visa application, if he were to apply, to determine whether he qualifies in accordance with US immigration law. Heads of state and government automatically get A1 visas to travel to the US.
Writing as exit polls predicted a victory for Modi, Ashley Tellis, a senior associate in the South Asia programme at the Carnegie Endowment for International Peace, said Mr. Modi's ascension to the office of prime minister is being watched closely by India's friends and partners "who have often been chagrined by New Delhi's recent failure to play the confident role that they had imagined would accompany India's emergence on the global stage".
"Nowhere have these expectations been dashed more grievously than in the United States,where successive administrations since 1998 have attempted to rejuvenate bilateral ties in the hope that India would become an effective strategic partner," Tellis wrote. "Many Americans and Indians alike have concluded that the partnership has flagged considerably in recent times because of the political miasma in New Delhi," he said.
BJP welcomes statement
New Delhi: The BJP on Tuesday welcomed the statement of US President Barack Obama that he was looking forward to working closely with the new government in India, saying all countries will cooperate with the new government in Delhi. "What Obama says shows in which direction the wind is blowing. All democracies and countries in the world will definitely cooperate with the new government," said party spokesperson Prakash Javadekar. — PTI