Mehbooba wins by 65,000 votes from Anantnag
Majid Jahangir/TNS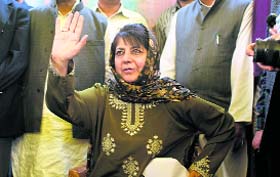 Peoples Democratic Party president Mehbooba Mufti addresses a press conference in Srinagar. Tribune photo: Yawar Kabli
Anantnag, May 16
The fort that the Peoples Democratic Party (PDP) had lost in 2009 has been reclaimed in 2014 and will have a huge impact on the upcoming Assembly elections in the state.
PDP president Mehbooba Mufti did not only defeat her nearest rival and sitting Member Parliament Mehboob Beg of the National Conference (NC) by a margin of 65,000 votes from the Anantnag Lok Sabha seat, but on her way to victory, she also defeated three Cabinet ministers.
Such was the rout for the ruling coalition candidate that NC's Beg did not win a single Assembly segment of the total 16 in the entire constituency.
A total of 12 candidates were contesting from the Anantnag parliamentary constituency, spread over Kulgam, Shopian, Anantnag and Pulwama districts.
The constituency, which went to the polls on April 24, had recorded a voter turnout of 28 per cent.
Mehbooba, 55, who spearheaded her party's poll campaign, secured 2,00,429 votes against Beg who got 1,35,012 votes.
Awami Ittehad Party (AIP) candidate Tanweer Khan got 7,340 votes.
The biggest setback for the ruling coalition candidate in south Kashmir was losing from the Noorabad Assembly segment in Kulgam district, from where Sakina Itoo, minister in the Omar Abdullah's Cabinet, had emerged as the lone successful candidate of the NC in entire south Kashmir in the 2008 Assembly polls.
In Noorabad, Mehbooba got 24,753 votes and her rival NC candidate secured 24,650 votes.
The Noorabad Assembly segment had recorded a turnout of 72 per cent —the highest in the Anantnag constituency.
Similarly, Mehbooba maintained the lead in the two Assembly segments of Dooru and Kokernag, represented by Congress ministers Ghulam Ahmed Mir and Peerzada Mohammad Sayeed, respectively.
In Dooru, Mir's home constituency, who headed the poll campaign for the coalition candidate, Beg, the PDP maintained the lead by nearly 4,000 votes.
In the Kokernag Assembly segment, represented by Peerzada Sayeed, Mehbooba maintained the lead by over 9,000 votes.
Mehbooba's victory in the Congress bastion is surely going to have an impact on the upcoming Assembly elections scheduled later this year.
In 2009, Beg had defeated Peer Muhammad Hussain of the PDP by nearly 5,000 votes.
"This is a moment of glory for our party which has the distinction of being the youngest political organisation of the state," Mehbooba said after her victory.
The counting began for the Anantnag seat at Degree College, Khanabal in Anantnag, amid tight security around 8.15 am.
The first votes to be counted were the postal ballot. Since the first round of counting, the PDP maintained the lead till the 13th round.
Anantnag seat
Total votes polled: 3,74,601
Mehbooba Mufti (PDP): 2,00,429
Mehboob Beg (NC): 1,35,012
Tanweer Khan (AIP): 7,340
Tanveer Dar (AAP): 3,252
Mushtaq Ahmad Malik (BJP): 4,720
NOTA: 5,936.