Road mishap victim dies
Kalka, May 17
A 62-year-old retired HMT employee — who sustained injuries in a road mishap on Friday — succumbed to his injuries at PGI today. As per Mohini, wife of the deceased, said her husband, Vidya Sagar, got injured in a road mishap near the Mallah roundabout, Pinjore, at 9pm yesterday.
Kataria lead from first round
Kalka, May 17
The BJP-HJC MP from Ambala Rattan Lal Kataria took a lead from his rivals Raj Kumar Valmiki (Congress) Dr Kusum Bala Sherwal (INLD), Dr Kapoor Singh (BSP) and SP Singh of AAP from the very first round of vote counting in the Kalka segment.
Co-op society to sell property of loan defaulters
Kalka, May 17
Paploha Primary Agricultural Co-operative Society (PACS), Kalka is going to sale out the property of the loan defaulters. Balinder Singh, manager, Kalka PACS, said following the directives issued by the higher authorities of the cooperative society, Haryana, the PACS will make an auction of the land and other house hold articles of the loan defaulters if required, in case they do not deposit their loan amount with interest.
Water line damaged; supply affected
Pinjore, May 17
Residents were at the receiving end today as water supply to a large number of houses in the Bhima Devi Colony and neighbouring areas was disconnected as a main waterline to the area got uprooted owing to construction work.
Man robbed
Ambala, May 17
A robber took away gold bracelet and a mobile phone of a teacher after giving him some sedative substance in the cold drink this evening. The victim Ravinder Kumar (44) is working as a teacher in a nearby village of Ambala Cantt.


Another accused lands in police net
Panchkula, May 17
In another breakthrough in the Morni 'rape' case, the Punjab Police today arrested a youth — part of the gang that levelled false rape charges on the Dera Bassi-based realtor — today.
2 youths held for thefts in P'kula
Panchkula, May 17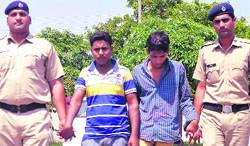 The Panchkula Police today arrested two youths for committing thefts and their involvement in a vehicle robbery case in Panchkula. The police are suspecting their involvement in the recent spate of mysterious thefts that took place here.

Two theft accused in custody of police at the Police Station, Sector 14, Panchkula. Tribune photo
3 vehicles, wheels of car stolen
Chandigarh, May 17
Thieves stole three vehicles in the city last night. They also took away two wheels of a Swift car.
Pedestrians robbed of cash, valuables
Chandigarh, May 17
Three unidentified motorcycle-borne youths robbed two pedestrians of their cash and valuables on the intervening night of May 15 and May 16. The police are suspecting that the same accused robbed both the pedestrians.
Man held for thrashing constable
Chandigarh, May 17
A Chandigarh Police constable was thrashed by a resident of Jalandhar in Sector 34 here on late Friday evening.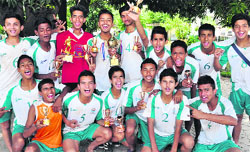 DAV-8 clinch title
Chandigarh, May 17
Hosts St Soldier International School, Sector 28, lost to DAV Senior Secondary School, Sector 8, in a tie-breaker during the final of the sixth Saint Soldier Football Trophy here today.
Players of DAV Senior Secondary School in a jubilant mood after winning the Sixth St Soldier Football Trophy in Sector 28, Chandigarh, on Saturday. Tribune photo: Parvesh Chauhan
City footballer to train with international club
Chandigarh, May 17
Right-sweeper Nikhil Prashar of SGGS College, Sector 26, has bagged laurels by making it to the final squad for attending an exposure trip to Argentina to train with the Club Athletico Boca Juniors.
Tennis tourney: Easy win for local players Vikrant, Param
Chandigarh, May 17
Local players Vikrant Dahiya, Param Pun and Aditya Sharma won their respective matches in the ongoing CLTA-AITA Men's and Women's Rs one lakh tennis tournament, being held at CLTA courts here today.