Girls prove their mettle again
Outperform boys, secure top three spots in district, set eyes on targets ahead
Aparna Banerji
Tribune News Service
Jalandhar, May 21
Yet again, girls have taken the lead in the recently-declared Class X results of the ICSE board. Girls of St. Joseph's Convent School secured the top positions in the district.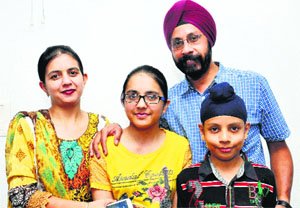 Sunpriya Kaur Bhatia (middle), along with her parents, in Jalandhar on Wednesday. Photo: Malkiat Singh
Shreya Malhotra of St Joseph's Convent School (Girls) has topped the district with 96.8 per cent marks. She is followed by two students of the same school- Prachi Goyal and Sunpriya Bhatia. Both the students bagged 96.6 per cent marks.
Shreya Manhan and Khyati from St Joseph's (Girls) have bagged the third position with 96.2 per cent marks. Muskaan Sharma from the same school has bagged the fourth position with 95.6 per cent marks and Ananya Jindal and Nikita Gupta have bagged the fifth position with 95.4 per cent marks.
Ananya and Nikita are accompanied by Shivam Mahajan from St Joseph's Convent School (Boys) on the fifth spot. He also secured 95.4 per cent marks.
Nilesh Sharma with 95.2 per cent marks stood sixth in the district.
As many of the toppers are taking coaching for various exams in Chandigarh, Rajasthan and other places, their parents had to deal with the flood of congratulatory calls.
Dr Dipple Malhotra, mother of Shreya Malhotra, said Shreya was in Chandigarh for her coaching classes "Shreya worked very hard. She studied 7 to 8 hours every day and was was consistent in studies," Dr Malhotra said. While Shreya's father Nidhi Malhotra is also a child specialist, she is planning to opt medical stream. "She is aiming at the AIIMS and we support her," she said.
Both Shreya Malhotra and Shreya Manhan are in Chandigarh for their coaching classes. Talking to Jalandhar Tribune, they said they always remained regular with their studies. "My parents wanted me choose non-medical but I stick to my plans as I was inspired by my parents," Shreya Malhotra said.
Manhan wants to be a dermatologist. "People are concerned about how they look. It is going to be much in demand in future," she said.
Both the girls, who were nervous about the results, now plan to celebrate their success with a quiet dinner tonight.
Meanwhile, Prachi Goyal, who secured the second spot in the district is preparing for IIT and is at Kota. Her father Rajesh Goyal, a businessman, said, "She always studied 10 to 12 hours every day day and never took tuitions."
Sunpriya Bhatia, who also stood second, said she was expecting a good result. She also plans to opt non-medical.
Marking system
* While the ICSE has continued with the old percentage system, the CBSE introduced the CGPA (Cumulative Grade Point Average) system in 2011.
* Students with 91 to 100 per cent marks get A1 grade. Students getting 81-90 per cent marks get A2 grade while students with 33 to 40 per cent marks get D grade. The perfect 10 CGPA is for those students who get A1 grade in all subjects.