Poachers' intelligence network superior, admits minister
Dehradun, May 24
Uttarakhand Forest Minister Dinesh Aggarwal has admitted that intelligence network of those engaged in anti-wildlife activities were at times even better that of state forest authorities.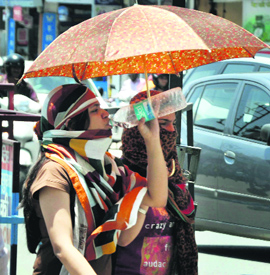 Umbrella shade: Girls cover their faces with dupattas to protect themselves from the sun in Dehradun on Saturday. A Tribune photograph

Electronic surveillance introduced at Corbett's southern boundary
Dehradun, May 24
State Forest Minister Dinesh Aggarwal on Thursday said the intelligence network of the people engaged in anti-wildlife activities were better than the state forest authorities. Addressing a press conference in Dehradun, Aggarwal said they had taken steps to strengthen their wildlife protection network.
400 pilgrims allowed to proceed to Kedarnath after 3-day delay
Dehradun, May 24
The yatra to Kedarnath dham was re-started again today after a gap of three days today. A batch of 400 pilgrims were allowed to proceed to Kedarnath shrine from Sonprayag. The pilgrims who were proceeding to Kedarnath dham were stopped at Sonprayag camp due to inclement weather for the past three days. The state Meteorological Department had issued a warning of rain and snow in the past three days in the higher Himalayan region.
High Court asks EC to furnish candidates' expenditure details
Pithoragarh, May 24
Candidates, who had not submitted their election expenditure of 2008 panchayat elections to the state Election Commission may face ban in contesting panchayat election this year.
BJP: Harish Rawat has no right to seek Rs 4000 cr aid from Modi
Dehradun, May 24
The Congress-led government in Uttarakhand should first issue a white paper on the nature of spending, having made out of the over Rs 7,000 crore allocated by the UPA government for carrying out relief and reconstruction activity in the state, in the aftermath of the mid-June disaster, demanded Trivender Singh Rawat, national general secretary of the BJP on Friday.
Work boycott by ministerial staff enters second day
Dehradun, May 24

The work boycott by Uttarakhand Ministerial Services Employees' Association entered the second day in Uttarakhand today. The stir hampered the working of various departments in the state. State general secretary of Uttarakhand Ministerial Services Employees' Association Sunil Dutt Kothari disclosed that large scale anomalies are there in the salaries of ministerial employees as compared to their counterparts in the neighbouring Himachal and Punjab states.

Awaiting response: Ministerial workers protest at the Parade Ground in Dehradun on Saturday. A Tribune photograph

CM flags off first batch of pilgrims to Hemkunt Sahib
Dehradun, May 24
The first batch of pilgrims visiting the Sikh shrine of Hemkunt Sahib was flagged off from Gurdwara Gobind Ghat by the Uttarakhand Chief Minister Harish Rawat. The batch was flagged off amidst recitation of shabads and Gurbani. Addressing the gathering, Rawat said: ''The state government has taken every step to ensure smooth conduct of the yatra, especially after the disaster that struck in the state last year.''
Music, dance competition at Summer Valley School
Dehradun, May 24
The Summer Valley School organised its 20th inter-house music and dance competition here today. Padma Vibhushan Dr Sonal Mansingh was the chief guest on the occasion. In the Indian group song category, Maurya House sang a Punjabi song, Akbar House sang a Garhwali song, Kanishka House sang a Rajasthani song and Ashoka House sang a Bengali song. In the western dance category, Maurya House performed freestyle, Kanishka House performed Bollywood electro, Akbar House performed western mix and Ashoka House did contemporary dance form. — TNS
Personality development programme for DIT University staff
Dehradun, May 24
A week-long personality development programme for the administrative staff of DIT University was conducted by Manya Education (P) Ltd . The programme included office etiquette, email etiquette, telephone etiquette, written and oral communication, personal grooming and customer relationship management. The programme was appreciated by one and all. The valedictory function for the distribution of the certificates was held here today. The certificates were given to the participants by KK Raina, VC, DIT University. — TNS
Elections held to form working committee of DMC
Dehradun, May 24
Elections were held to constitute the working and development committee of the Dehradun Municipal Corporation (DMC). Out of the 12 members of the working committee, seven belonged to the BJP while five belonged to the Congress. BJP continued its domination in the development committee, as six of its members were chosen as compared to three from Congress. — TNS