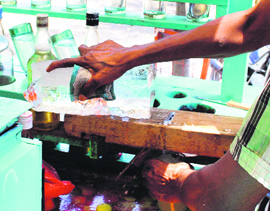 Beating the heat: A vendor makes 'golas' from ice. The Health Department has initiated a drive to check the quality of ice and ice-creams. Photo: RK Soni

Sharma directs hard-htting film "47 to 84"
Amritsar, May 26
From the director of national award winning film "Nabar" comes another hard-hitting drama "47 to 84". The digits, understandably significant, tell a story about the darkest hours our nation has seen. In Amritsar to promote the film, director Rajiv Sharma along with Babli Singh and actor Natasha Rana interacted with the media. " The film is a story of a woman who witnessed communal massacres during Partition in 1947 as a child and then again in 1984 as a mother. The story is about losing faith and a sense of belongingness, a struggle for identity and justice," said Sharma.
Chheharta sewerage work stops midway
Amritsar, May 26
While the work of laying sewerage pipeson Chehharta road stopped around a month ago, the area residents are a harried lot as they are waiting for the time when the road would be paved again. The road leading from Chehharta Sahib Gurdwara to Warehouse godowns was dug to lay sewerage pipes. As the work continued even when the election campaign was at full swing, it was stopped abruptly merely four days before the election.
Majithia assembly constituency
Cong leaders allege registration of false cases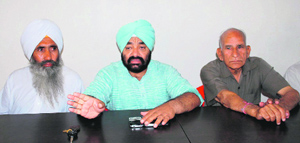 Amritsar, May 26
Congress leaders of Majithia Assembly constituency represented by Cabinet Minister Bikram Singh Majithia accused the police of registering false cases against their workers after the Lok Sabha elections.

Congress leader Jagwinder Singh at a press conference in Amritsar on Monday. photo: RK Soni

Better amritsar encroachments-II
Encroachments hamper traffic movement
Amritsar, May 26
Rampant encroachments of the city roads have become a biggest bane for the smooth and unhindered flow of the traffic. It points to the tall claims of the state government falling flat as a number of projects to make the holy city a model one remains a cherished dream on papers only.
City bus shelters a neglected lot
Amritsar, May 26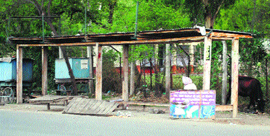 Bus queue shelters on roads in city are either in bad shape or have been encroached by nearby shopkeepers due to which passengers have no place to wait for buses. After the recent launch of the city bus service by the state government, many people have started using the same as it is more economical and convenient for passengers to travel.

A view of a dilapidated bus shelter in Amritsar. Photo: RK Soni
GNDU sixth in region, says survey
Amritsar, May 26
Guru Nanak Dev University (GNDU) has once again emerged as the sixth top ranking university of the north zone and 14th top ranking university of the country. This was disclosed in a survey conducted by 'The Week - Hansa Research Best University Survey - 2014' on the basis of overall individual performance of universities.
Drug peddlers give police a tough time
Amritsar, May 26
The Police Department is facing tough time in its drive against drug abuse as almost all the drug peddlers arrested by the police so far are acute drug addicts. It is difficult to keep them in lock up for long as they become violent and uncontrollable as soon as the withdrawal symptoms appear. The police, therefore, prefer to send them to jail after initial questioning rather than seeking police remand for interrogation.
Placement drive at Amritsar College of Engineering
Amritsar, May 26
As many as 21 students of Amritsar College of Engineering and Technology (ACET) were offered jobs in Wipro through a campus placement drive, said ACET chairman Amit Sharma. Thrilled students said they were happy to have studied at the ACET. They said during their stay at the college they were made self-dependent through placements in companies.
From schools & colleges
Taekwondo championship
AMRITSAR: The Taekwondo team of International Fateh Academy (IFA) won 15 medals in the district-level Taekwondo Championship held at Government Girls Senior Secondary School, the Mall.
Honda recruits ITI students
Amritsar, May 26
As many as 82 students of Universal Industrial Training Institute (ITI) were selected by Honda car company (Noida) during a campus placement session on the institute premises here today. Chairman of the institute Harinder Singh Sandhu said 200 students from various trades took part in the placement drive.
Construction of roads needs to pick up
Jalandhar, May 26
The construction of roads in the city, which was on at a brisk pace till about a month ago, under the Municipal Corporation, Jalandhar, seems to have lost momentum post Lok Sabha polls.
Snatching accused held
Amritsar, May 26
The Sadar police have reportedly arrested a person allegedly involved in snatching and robbery incidents in various parts of the city. The accused also fired reportedly at the chasing police party which had a narrow escape in the incident. They later overpowered and arrested him. Police sources said the accused was a notorious criminal and the kingpin of a robbers' gang and was wanted in many cases. He was arrested from the 88-foot road. A police official said further investigations were under progress to arrest the other members of the gang. TNS
Mobile, smack recovered from undertrial
Amritsar, May 26
Guards posted at the Amritsar Central Jail have recovered a mobile phone and smack from an inmate during the routine search. The accused has been identified as Stephen, a resident of Nehru Colony, Mehta Road. He was lodged in the jail under the NDPS Act, which was registered at the Sadar police station. Jail Supertintendent RK Sharma said a case under Sections 21/61/85 of the NDPS Act has been registered against the accused. "We have recovered a mobile phone and around 2.5 gram of smack from his possession," said Sharma. ASI Kuldip Singh of Gumtala police post has been deputed to investigate the matter. TNS
Rs 13 lakh stolen from bank ATM
Amritsar, May 26
Unidentified persons decamped with Rs 12.64 lakh after breaking open an ATM machine belonging to the ICICI bank located on a 100-foot road here late last evening. Avtar Singh, an employee of the bank, stated to police that this morning he received information from the staff that some unknown persons had stolen cash from the machine by breaking it open with a drill. The police have registered a case under Sections 457 and 380, IPC, in this regard while further investigations have been started, said the police authorities. — TNS