Saif Ali Khan unplugged
Saif Ali Khan's Humshakals is releasing in June. The actor talks about love, life, family and movies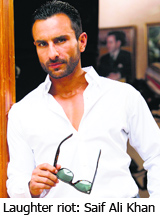 Special film: I am planning to make a film on my father, the late Mansoor Ali Khan Pataudi someday. It will be in English and it will be shot in India and England. It will be set in the 1960s and will be the story of a man who lost his father at 11, lost his title in 1971, lost an eye at the beginning of his career but became India's youngest Test cricket captain who married a Bollywood heartthrob. I am too old to play the young Pataudi so maybe I could play the older version and get an Italian actor to play the younger version in the film.
Pataudi Palace: It's a twelve bedroom country house. My mum looked after it till Dad gave it to the Neemranas. Darshini Shah, who did my home in Mumbai, is doing it up. She knows that I like understated luxury and style as opposed to opulence. I am excited about renovating the library, fixing up my grandmother's fireplace and turning the ceiling into a Zodiac night sky. There is something spiritual about the place now. My ancestors seemed to have returned and even Kareena felt the same when we were there sometime ago.
Better half: Kareena Kapoor Khan is a beautiful woman with her own life and I don't look at any one else because of her. My mom pushed me to marry her and I thank her for that. We give each other space and celebrate our differences. She is fun and relaxes me. I miss her when she is away. We will have a family of our own later on when we get more time.
Humshakals is fun: I have seen the movie with my family and we had a great laugh. Some parts are absurd. I like doing different things and surprising people. Sajid and I will team up again for a movie that UTV will produce but it depends on the success of this movie. Making this movie was exhausting and it is completely commercial.
Vijender Singh, Mohit Marwah sweat it out on the sets
Shot in the picturesque foothills of Leh, Grazing Goat Pictures introduced their third track from the upcoming film Fugly, titled Banjarey. The song which talks about friendship and travelling is being greatly appreciated by music lovers internationally.
On the sets of Banjarey, since there were no gyms in Leh, the boys Mohit and Vijender used the rocks lying around for free weight training while shooting for the song. Banjarey has been composed by music sensation Yo Yo Honey Singh and is unlike any of his previous compositions.
Fugly, directed by Kabir Sadanand, is shot extensively in Delhi and the breathtaking locations of Leh. It is a story of four friends: Dev, Devi, Gaurav and Aditya and how this carefree bunch, at the threshold of their lives, get caught in a Fugly incident, which sucks them slowly into the big bad world.
Hrithik takes the plunge!
Hrithik Roshan and Katrina Kaif have just returned from a three-week-long Abu Dhabi schedule of Siddharth Anand's action thriller Bang Bang after shooting some heavy-duty chase sequences. The scenes were choreographed by Hollywood action director Andy Armstrong who has the mind-boggling gravity-defying stunts of films like Charlie's Angels, Planet of the Apes and The Amazing Spiderman 2 to his credit. Bang Bang, produced by Fox Star Studios, is an Indianised adaptation of the Tom Cruise-Cameron Diaz starrer Knight And Day.
A source present on the sets said, "Hrithik is in prime physical form. Despite fears of aggravating the head injury that he sustained during the film's first schedule that led to a surgery and a long recuperation, Hrithik insisted on doing all the action sequences sans a body double. Such action will be seen for the first time in Hindi cinema."
It was a hectic schedule and the stars were shooting almost 12 hours a day. On the last day of the shoot, as soon as Siddharth shouted, 'Ok, Cut, Wrap', Hrithik, who was shooting on the beach, made a 100-metres dash for the ocean. "He plunged into the water, splashed around and then started swimming. Watching him chill out, the assistant directors couldn't resist the lure of the cool blue sea and joined in. It was an impromptu party," adds the source.
The actors flew in on May 19 and filmed across the Emirates, at the Corniche, Liwa Oasis, Hyatt Capital Gate Hotel, Qasr al Sarab, Emirates Palace and Yas Island. Bang Bang opens on Gandhi Jayanti, October 2.
Tiger Shroff, Kriti Sanon seek blessings!
Actor Tiger Shroff is quite happy with the positive response his debut film Heropanti has got. After a lavish success party, the actor and his leading lady Kriti Sanon headed to the Babulnath temple in south Mumbai to seek blessings.
While Tiger Shroff wore a dark blue shirt and black pants, Kriti Sanon was spotted in a salwar suit. Even prior to the release of his film, Tiger had visited the Kashi Vishwanath temple in Varanasi, Uttar Pradesh, to seek blessings from Lord Shiva for his successful landing in filmdom.
Despite not so good reviews by the critics, the film managed to make Rs 21 crore in its first three days. Jackie Shroff recently hosted a star-studded success bash which included Salman Khan and Aamir Khan in to celebrate his son's success.
Check out
Take a look at the new poster of Villain starring Riteish Deshmukh, Shraddha Kapoor and Sidharth Malhotra. The movie releases on June 27.
First look
Here's the first look of Ayushmann Khurrana's next film titled Hawaizaada. He is currently shooting for the film. Directed by Vibhu Puri, Hawaizaada is based on the life of eminent Maharashtrian scientist Shivkar Talpade.
Shooting plans
Abhishek Kapoor is looking forward to shooting Fitoor with Aditya Roy Kapur and Katrina Kaif in Kashmir. He is also engaged to long time girlfriend Pragya Yadav and they are living together.
Value addition
Ananth Mahadevan made The XPose for Himesh Reshammiya in exactly nine crore. The movie has grossed nearly twenty crore and a sequel is being planned. Ananth wants a fee hike for the same and is hopeful of directing the sequel.
In happy space
Preity Zinta has revealed in a recent interview that she is dating someone though she will not reveal the name. She will also be seen in a couple of movies like Happy Ending. She is in a happy space.
Go, going, gone…
Remember Bollywood actor Deepika Padukone's "RK" tattoo — the symbol of her love and Rabir Kapoor's betrayal? It's not there anymore — at least in her latest cola advertisement. Her new soft drink commercial cleverly makes insinuations at her famous "RK" tattoo at the nape of her neck. Interestingly, the ad is directed by Anurag Kashyap who claims that he did not see any tattoo, but only the camera while shooting.
Second chance
Director Sujoy Ghosh has reportedly approached Kareena to play Durga Rani in Durga Rani Singh after Kangana Ranaut declined the role. Kangana is currently in US completing her scriptwriting course.