M A I N N E W S
UP rape horror
2 suspects confess to gang rape, murder
Badaun, June 1
Two of the men arrested for allegedly raping and murdering two cousins whose bodies were found hanging from a tree have confessed to the crime, Uttar Pradesh police said today. The police asserted it was in the process of collecting "concrete" evidence to nail the culprits in the court.
"Two of the accused, who have been arrested in connection with this incident, have confessed to their crime during interrogation," Superintendent of Police Atul Saxena said, but refused to identify the men.
He said in such cases, the accused usually resile from their statements in the court so they would ensure that there is evidence which could stand judicial scrutiny.
"In most of the cases, the accused change their version before the court.... but instead of depending upon their confession, we will support the case with concrete evidence," the SP said.
Five accused - three brothers Pappu Yadav, Awadhesh Yadav and Urvesh Yadav and constables Chhatrapal Yadav and Sarvesh Yadav - have been arrested in the case that has sparked a nation-wide outrage. The two teenage girls, who were cousins aged 14 and 15 years, were allegedly gangraped and murdered with their bodies were found hanging from a mango tree in a village in the Ushait area here.
The girls went missing on May 27 and their bodies were found on May 28 in the district. — PTI
Maya wants Prez rule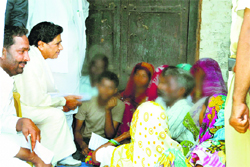 BSP chief Mayawati on Sunday met the family of the victims and announced Rs 5 lakh each to their kin from her party fund. Mayawati also slammed the Akhilesh Yadav government and reiterated her demand for the imposition of President's rule in the state. "If the government is unable to control the situation, it should relinquish." power," she added.
BSP chief Mayawati with victims' kin at Katra Shahadatganj village in Badaun on Sunday. PTI