M A I N N E W S
Heavily armed men storm Karachi airport, five killed


Gunfight continues

Army called in

All flights cancelled
Karachi, June 8
Heavily armed gunmen have attacked Pakistan's busiest airport in the port city of Karachi, forcing suspension of all flights. According to DawnNews, five Airport Security Force (ASF) personnel have been killed in the attack. A hand grenade attack was carried out on the Isphani Hanger.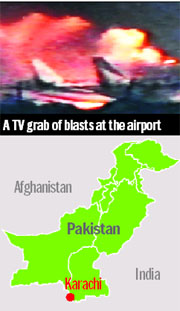 DawnNews reported that two terrorists managed to get inside a plane. One plane each of the PIA and AirBlue and a cargo plane of a foreign company have been damaged. The firing came to a halt for some 15 minutes, but resumed again.
Sources said eight to 10 gunmen reportedly lobbed grenades at the old terminal of the Jinnah International Airport, used mainly by Haj pilgrims. The Pakistan Army has been called in to deal with the situation and troops from Malir Cantonment have been dispatched. The militants are said to have entered from the Fokker gate, which is used by engineering staff to go to the runway and hangers.
PM Nawaz Sharif has called DG Rangers Sindh and asked him to ensure the safety of passengers. The attackers are said to have used fake ID cards to enter the airport. Senior police officer Rao Muhammad Anwar said the militants were armed with automatic weapons and grenades. "Exchange of fire is continuing. We don't know the exact number of the attackers," he said. — Agencies
Under siege

Airport sealed, emergency declared by officials

One plane each of PIA and AirBlue and a cargo plane of a foreign company have been damaged

Militants armed with automatic weapons, lobbed hand grenades at old terminal

Pakistan Army called in to deal with situation

DG Rangers Sindh asked to ensure safety of passengers

Attackers used fake ID cards to enter airport