Day 3: Smoke continues to billow out of debris
Chandigarh, June 10
The operation by the Fire Department at the collapsed building of the National Institute of Electronics and Information Technology continued for the third day today.
Smoke billows out of the debris of the collapsed building in Sector 17, Chandigarh, on Tuesday. Tribune photo: Pradeep Tewari
Punjab & Haryana Civil Secretariat
Fire safety a casualty
Chandigarh, June 10
Politicians, bureaucrats and government officials are caring two hoots to the fire safety guidelines at the Punjab and Haryana Civil Secretariat here. Construction of illegal temporary structures at various floors, closure of corridors separating the Punjab part of the building from the Haryana at six floors, installation of private fire systems by some individuals and balconies converted into retiring rooms are some of the major violations that galore here.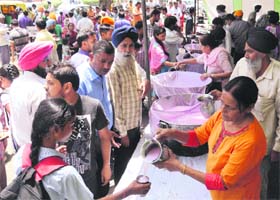 Sweetened water being offered to residents outside the GMCH, Sector 16, on Tuesday. The service was initiated by residents of Sector 10. Tribune photo: Manoj Mahajan
Legal frameworks & lack of transparency
Survey ranks Chandigarh worst Indian city
Chandigarh, June 10
Chandigarh, which has the third highest per capita income in the country, has been announced the worst Indian city in the annual survey of India's City-Systems by Janaagraha, a non-profit organisation, which was carried out in 21 major cities across 18 states.
City youth's disappearance shrouded in mystery
Chandigarh, June 10
Three days after a 27-year-old brother of a Chandigarh Inspector went missing, the family today received a call from the Hisar police that the victim had been murdered and his body thrown in a rivulet in Sirsa. The body has not been recovered. Divers will start the search operation tomorrow.
Health Secy orders action against 8 doctors found absent
Chandigarh, June 10
Accepting the recommendations of the inspection committee that found eight doctors absent from duty during a surprise inspection at 13 dispensaries recently, UT Health Secretary Anil Kumar today ordered action against the doctors.
Fire tragedy: Cops question suspects
Chandigarh, June 10
As part of the investigation to identify the accused responsible for the fire incident at the National Institute of Electrical and Information Technology (NIELIT) in Sector 17 that claimed two lives and injured four others, the UT police today questioned four suspects in the case.


Fire safety: Traders in congested city markets not ignited minds
Chandigarh, June 10
Even as fire reduced congested markets in the city to ashes in the past, most markets in the city are not observing fire safety norms. Ironically, these markets seldom pay heed to the notices issued by the authorities concerned in this regard.
Encroachments by shopkeepers have narrowed the passage in Sadar Bazaar, Sector 19, Chandigarh. Tribune photo: S Chandan
combustible material
SCO owner files plaint against NIELIT
Chandigarh, June 10
The owner of SCOs adjacent to the National Institute of Electronics and Information Technology (NIELIT) building has sought a legal action against officials of the institute for storing combustible material in the basement of showrooms occupied by the institute.
power supply snapped
Office work, business hit in nearby buildings
Chandigarh, June 10
The fire incident that led to the collapse of a building in Sector 17 has left the offices, food joints and other commercial establishments in the nearby buildings of SCOs 60 to 70 on the receiving end as the power supply to these buildings is snapped for the last two days.
Tragedy waiting to happen at PGI
Chandigarh, June 10
The PGIMER is awaiting a tragedy. Leaking roofs of wards and operation theatres, huge cracks in buildings, seepage in the offices of the faculty and frequent short-circuits courtesy over 50-year-old power cables suggest so.
Braveheart Ravinder's family seeks job for his son
Chandigarh, June 10
The family of 46-year-old airman Ravinder, who died in the inferno in Sector 17 three days ago, today requested the Chandigarh Air Force Station and the UT Advisor to provide job to his 21-year-old son.


Building bylaws violated in civic body's building
Chandigarh, June 10
The Municipal Corporation (MC) office in Sector 17 does not abide by the building bylaws. The basement of MC building, which is meant for parking of two-wheelers, accommodates offices with nearly 20 employees.

Some offices of the municipal corporation function from the basement of its building which is otherwise meant for parking. Tribune photo: Pradeep Tewari
Violations galore in UT Secretariat
Chandigarh, June 10
Fire safety violations galore in the UT Secretariat building in Sector 9, which houses offices of the UT Adviser, Home Secretary, Finance Secretary and other senior officials.
20 months on, UT Advisory Council to hold meeting on June 16
Chandigarh, June 10
After a gap of 20 months, the UT Administrator's Advisory Council (AAC), which is responsible for advising the Administration on development issues and policy matters affecting the city, will meet on June 16.
MC chief in spot
Mohali, June 10
Mohali resident Jatinderpal Singh, president of Mohali Phase 3B2 Market Association, lodged a complaint to SSP against Mohali Municipal Corporation Commissioner Uma Shankar Gupta of issuing him threats of implicating in false cases by using his official power, here today.
It's Sahibzada Ajit Singh Nagar, not Mohali: DC
Mohali, June 10
'It's Sahibzada Ajit Singh Nagar, not Mohali or Ajitgarh or SAS Nagar', said Mohali deputy commissioner Tejinder Pal Singh Sidhu today. Issuing fresh directions in this connection to all government, semi-government, private and other institutes, Sidhu clearly asked them to use Sahibzada Ajit Singh Nagar as name of the town, not anything else.
Mohali police launch security mobile app
Mohali, June 10
The Mohali police today launched 'smart 24X7 security mobile application' for persons in need of support during any emergency. Mohali SSP Inder Mohan Singh Bhatti, who formally launched the mobile application today afternoon, said the smart technique will help in providing immediate help to persons in danger and get direct feedback from the residents about unsafe locations in the area with just a tap on mobile phone.
De-addiction centre comes up at Civil Hospital
Mohali, June 10
With the appointment of a psychiatrist at the Mohali Civil Hospital, Phase 6, the health authorities today made its de-addiction center functional at the hospital. SMO Dr Andesh Kang said a special ward with 15 beds was created at the hospital. To help Dr Sidhu, two psychologists from NGOs have also been arranged by the authorities.
Three post offices switch over to CBS
Chandigarh, June 10
Three post offices in the city switched over to Core Banking Solutions (CBS) yesterday. These includes the ones at the PGIMER in Sector 12, Sector 9 and Sector 11. The migration of the sub-post office on the PGIMER campus was inaugurated by Manisha Bansal Badal, Director Postal Services (HQ), Punjab, and Chandigarh.
Light rain expected on June 13: Met
Chandigarh, June 10
Relief from the scorching heat is around the corner as there are chances of the city experiencing light rain. As per the Met forecast, there will be a dust storm along with light rain in the city on June 13, which will bring down the temperature. At present, the mercury is hovering around 44 to 45 degree Celsius.


Class XI admissions begin today
Chandigarh, June 10
The admission process to Class XI — for all Government Senior Secondary Schools of Chandigarh — will commence from June 11. The prospectus will be available at six government schools of the city for Rs 130.
college admissions
Volunteers to help students submit forms online
Chandigarh, June 10
To provide assistance to students in the online submission of forms — to seek admissions in colleges — the UT Education Department is mulling to appoint 20 volunteers each in all government colleges of the city.


Despite odds, she set a precedent
Chandigarh, June 10
She overcame life's struggles with determination and proved that a mental disability could not deter her from achieving her goals. Jasmeet Kaur (19), secured 50 per cent marks in the Class X Open Board Examinations, the results of which were announced here today.

Jasmeet Kaur (centre), in a jubliant mood with her teachers in Chandigarh on Tuesday. Tribune photo: Manoj Mahajan

LLB examination leak
NSUI seeks inquiry, re-test
Chandigarh, June 10
In the wake of rumours of an alleged paper leak in the Bachelor of Law (LLB) entrance examination, the National Students Union of India (NSUI), today submitted a memorandum to Vice-Chancellor Prof Arun Kumar Grover seeking a probe into the matter.
NSUI representatives discuss a point before submitting a memorandum to the Vice-Chancellor at Panjab University on Tuesday. Tribune photo: Manoj Mahajan



ABVP submits memo to VC
Chandigarh, June 10
A delegation of students of the Akhil Bharatiya Vidyarthi Parishad (ABVP) along with Shri Dhanwantary Ayurveda College Association (SDAC), today met Vice Chancellor Prof Arun Kumar Grover regarding the conduct of examinations.
ABVP representatives and students of Shri Dhanwantary Ayurveda College Association at Panjab University in Chandigarh on Tuesday. Tribune photo: Manoj Mahajan


UGC-aided summer school begins
Chandigarh, June 10
A UGC-sponsored summer school today commenced at the University School of Open Learning (USOL), Panjab University (PU). The 21-day-long summer school is being organised on the theme of 'Higher education: national repository of human capital.'
UIFT & Vd courses
Interview, counselling schedule announced
Chandigarh, June 10
Panjab University (PU), has announced the interview and counselling schedule for the Department of University Institute of Fashion Technology & Vocational Development (UIFT & VD), PU.