Rudy tears into Cong, Kharge launches attack in Hindi
New Delhi, June 10
Taunts and jibes today marred the spirit of the debate on Presidential address in the Lok Sabha with leaders across the Treasury and Opposition benches engaging in a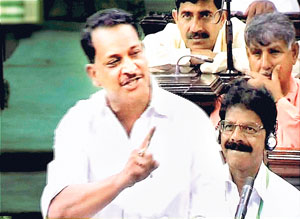 verbal tit for tat for the most part. The trend set by BJP's lead speaker Rajeev Pratap Rudy with his caustic lament for Congress' fall from the electoral grace (the party is down from 206 to 44 MPs in 2014 in the Lok Sabha) was carried forward by Congress' leader in the House Mallikarjun Kharge who equated BJP members to "Kauravas" saying they "would not be able to overwhelm the Pandavas".


BJP member Rajiv Pratap Rudy initiates debate on the Motion of Thanks on Presidential address in the Lok Sabha. PTI

Congress accuses NDA of copying its agenda
New Delhi, June 10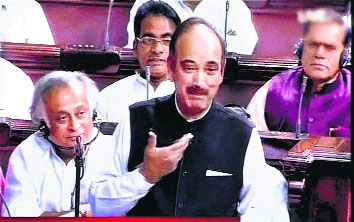 Leader of Opposition in the Rajya Sabha Ghulam Nabi Azad today charged the BJP-led NDA government with "copying" UPA's schemes and policies. Leading the attack while spaaking on the Motion of Thanks on the President's address, Azad said the NDA only listed those programmes that had already been implemented by the UPA.

Leader of Opposition Ghulam Nabi Azad speaks in the Rajya Sabha in New Delhi on Tuesday. PTI

Cong demands VK Singh's resignation
New Delhi, June 10
The bitter succession battle that rocked the Army in the past three years has taken a new turn with the Congress demanding resignation of former Army Chief General VK Singh (retd) as minister in the BJP-led NDA government.
Bhagwant makes Rudy eat his words
Aditi Tandon/TNS
New Delhi, June 10


BJP's principal speaker on the motion of thanks for President's address to the two Houses of Parliament faced some stiff resistance from unexpected quarters today. BJP member Rajiv Pratap Rudy went overboard on many occasions, saying things that hurt and enraged members of the Opposition. One such occasion arose when Rudy trashed the Aam Aadmi Party as a "bhuli bhatki party". While Rudy was going on with his AAP bashing, AAP member from Sangrur Bhagwant Mann lashed out at him for insulting its supporters in Punjab. "In Punjab, we have a vote share of 24.6 per cent. You mean to say that those who voted for us lost and the ones who voted in your favour are sane and fine?" said Mann, asking Rudy to take his words back. Rudy relented shortly and ate his words.
Sena steps on gas, BJP reels from Munde's loss
Mumbai, June 10
The BJP in Maharashtra is still looking for a leader to take the place of Union Minister Gopinath Munde who died in a road accident earlier this month. The Shiv Sena has, however, stepped on the gas to take leadership of the saffron combine in the state.
UP rape horror
Under pressure to withdraw CBI probe demand: Victim's father
Lucknow, June 10
The parents of the two cousins who were raped and hanged in Badun district are sitting on an indefinite dharna in their village, demanding an immediate CBI inquiry. The father of one of the rape victims, Sohanlal, said he was under pressure to withdraw his demand for a CBI probe and was being promised a plot, house and even job if he did so.
Sonia hosts lunch for UPA MPs
New Delhi, June 10
Congress president Sonia Gandhi today hosted a lunch for UPA MPs a day after she held a strategy session with leaders of the Opposition alliance. The lunch was earlier scheduled on June 5, but was postponed after the death of Union Minister Gopinath Munde in a road accident last week. Apart from MPs and leaders from Congress and constituents of the UPA —- NCP, National Conference, RLD, IUML— leaders of parties supporting the UPA such as RJD chief Lalu Prasad and JMM chief Shibu Soren also attended the lunch.
Techie's murder case
Right-wing outfit chief arrested
Pune, June 10
Self-styled chief of the Hindu Rashtra Sena (HRS) Dhananjay Desai was today arrested for his alleged involvement in the June 2 murder of an IT professional at Hadapsar here. Mohsin Shaikh (28) was attacked by a violent mob following the appearance of an objectionable Facebook post denigrating Maratha king Shivaji and Shiv Sena founder late Bal Thackeray.
UIDAI among four Cabinet panels scrapped
KV Prasad
Prime Minister Narendra Modi today decided to discontinue four standing committees of the Cabinet by transferring the work of three to other panels. He did away with one on Unique Identification Authority of India (UIDAI) and announced five committees, including one on security, to be recast. As per the latest order, functions of the Cabinet Committee on Management of Natural Calamities will be handled by the committee under the Cabinet Secretary whenever natural calamities occur; functions of the Cabinet Committee on Prices will be now taken care by the Cabinet Committee on Economic Affairs (CCEA), which will also oversee the functions relating to the Committee on World Trade Organisation Matters. The order said since major decision in regard to the Cabinet Committee on UIDAI had already been taken, the remaining issues would be brought to the CCEA. TNS

Four Cabinet panels scrapped
New Delhi, June 10
Prime Minister Narendra Modi today decided to discontinue four standing committees of the Cabinet by transferring the work of three to other panels. He did away with one on Unique Identification Authority of India and announced five committees, including one on security, to be recast. Functions of the Cabinet Committee on Management of Natural Calamities will be handled by the committee under the Cabinet Secretary; functions of the Cabinet Committee on Prices will be taken care by the Cabinet Committee on Economic Affairs, which will also oversee the Committee on World Trade Organisation Matters. TNS
UP Cong unit dissolved
New Delhi, June 10
The Congress today dissolved its Uttar Pradesh unit after the party received a severe jolt in the recently held Lok Sabha elections where the BJP and its ally walked away with 73 seats out of 80. The Congress was able to retain only two seats. The only seats the party has won in UP are Sonia Gandhi's Rae Bareilley and Rahul Gandhi's Amethi. The Congress chief approved the dissolution of the state unit in which only state Congress president Nirmal Khatri has been allowed to stay. TNS

2 Russians killed in Uttarakhand road mishap
Dehradun, June 10
Two Russians were killed and 11 others were seriously injured as the mini-bus they were travelling in fell into the Bhagirathi river on the Gangotri route in Uttarkashi district here today. One of the passengers is missing. Fourteen persons, including 13 Russian tourists, were travelling on the Gangotri-bound min-bus from Rishikesh when the accident occurred at Bagori village on the Rishikesh-Gangotri National Highway today afternoon. Uttarkashi Superintendent of Police Jagat Ram Joshi said 10 injured were airlifted to Jolly Grant Hospital in Dehradun. The bodies were being taken to Uttarkashi city from Harsil. TNS
Arunachal to get 54 more ITBP posts
New Delhi, June 10
To fortify defence along the China border, 54 posts are being planned for the Indo-Tibetan Border Police (ITBP) force in Arunachal Pradesh. Sources said a plan for creating 54 modern posts for the ITBP was under consideration of the Union Home Ministry after the border guarding force recently submitted a proposal in this regard. — PTI